Zoe Granjon at the top of the world!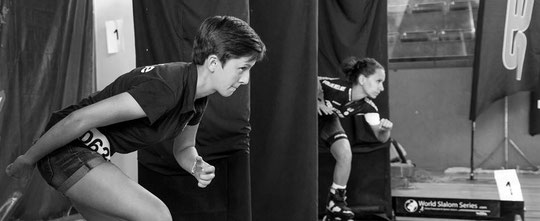 French skater, Zoe Granjon kept improving her results during all 2015 season. The most significant moments for her were the triple victory of the Battle Warsaw, when she won all main disciplines in a row; then the European Championships Speed Slalom bronze medal, which she brought from Italy. She also took second places for the Speed Slalom Disciplines of the Asian competitions : Namwon, Lishui and Shanghai Slalom Open and the 1st place in Speed Slalom during the RollerClub Cup in Moscow. Last but not least, she won for France the gold medal in the Speed Slalom Competition of the 2015 World Championships! To finish this season, Zoe added one main title for her collection : she became the new Speed Slalom World number one. The only French female skater before her on the Speed Slalom World Top was Chloe Seyres in 2008, 2009 and 2010. 
"I feel extremely happy about my new ranking!", Zoe said, "I could not end better this season!! I didn't expect it because the WFSC doesn't count for the ranking so I though I would keep my second place... I would like to keep this title as long as I can and I'll fight for it next year!
I have no words to describe my feelings, it's a great achievement to finish the season being the world number one!"
Polina Semenova for WorldSlalomSeries.com
Photo by Stephane Bouquet
November 2015