INTERVIEW w/ Feng Hui

"I gained a lot of experience from various competitions in 2014"
Feng Hui (CHN)
Freestyle Slalom Women's World #5
Nb of Comps in 2014: 13
Total score: 2685
Best-5: 1314
Polina Semenova for WorldSlalomSeries.com
Proofreading by Maryam Amiand
Translation from Chinese by Carroll Wong
Photo by Ksenija Komarchuk, Ban Ban, Wu Cheng Hong Mouse
Video by TeamSomeWhatThere
April 2015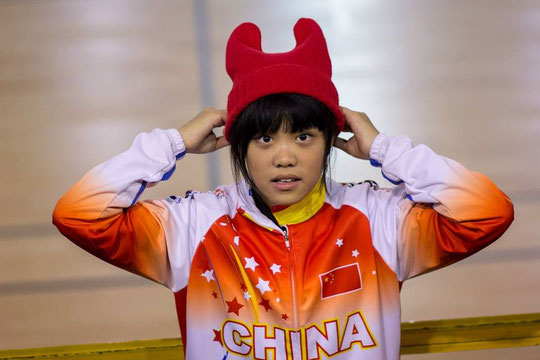 Here is a brand new interview of Feng Hui, Women's Freestyle World #5 and 2014's World Champion in Classic Junior, about her past season.

INTERVIEW
P.S. How was 2014 for you?

Feng Hui. I felt joy and happiness in the past season, and I also gained a lot of experience from various competitions.
P.S. What are your feelings and thoughts about the WFSC 2014? Are you satisfied by your results? Who impressed you the most?

Feng Hui. I was worried before going onstage, because I wanted to prove what I could do after my failure in the Shanghai Slalom Open 2014. I was so excited and moved by my victory in the WFSC 2014, and I'll keep on making great efforts to improve. My coach and Mr Mouse (Wu Cheng Hong) greatly inspired me, and so did Mr Kelvin Gu. They encouraged me to be brave and helped me get past my nervousness, and to learn from my mistakes and failures.
P.S. What do you think was your best competition performance in 2014?

Feng Hui. I think it was definitely the "Lies" in the Shanghai Slalom Open, because it was the first time I experienced my new style and music, and at the same time, it was my first big failure, and I drove me to train harder and think more about my classic combo.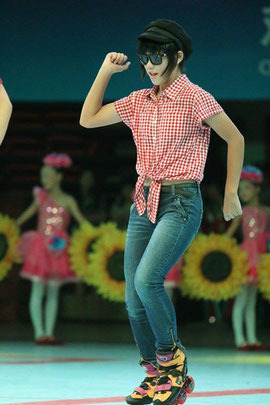 P.S. You've been Classic World Champion in the Junior Category 4 times already… How long do you need to create your classic runs?

Feng Hui. I usually create my classic runs in 3 days, together with my coach and Mr Mouse.
P.S. How much do you train every week?

Feng Hui. : I train three times a week, on Fridays and during the weekend.
P.S. Is there a skater you particularly admire?

Feng Hui. I admire Miss Daria. First of all, she's really beautiful. She wasn't at her best when I met her in Germany, but she made tremendous progresses and she won two World Champion titles in Paris. I respect her hard work and her spirit very much, and I can learn a lot from her battle and classic runs.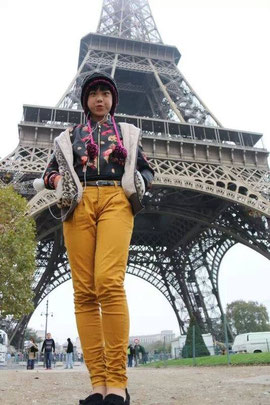 P.S. Are you doing any other sport?

Feng Hui. Yes, I do other sports than skating, like skipping, aerobics and dancing, you know.
P.S. What are your goals for 2015?

Feng Hui. I want to do something that only I can do, and I also want to keep up and get my 5th World Champion title. And, of course, I want to make new friends!
P.S. Do you have someone you particularly want to thank to finish this interview?

Feng Hui. I want to thank all my friends, they gave me strength and power, and I also want to say thanks to my coach, Mr Mouse, and to Mr Kelvin Gu! And I'd like to say thanks to my fans too! Lastly, I want to say "I miss you all guys~~~~see u."
Video by TeamSomeWhatThere
Polina Semenova for WorldSlalomSeries.com
Proofreading by Maryam Amiand
Translation from Chinese by Carroll Wong
Photo by Ksenija Komarchuk, Ban Ban, Wu Cheng Hong Mouse
Video by TeamSomeWhatThere
April 2015