Three first places in Wuyishan for Yu Jin Seong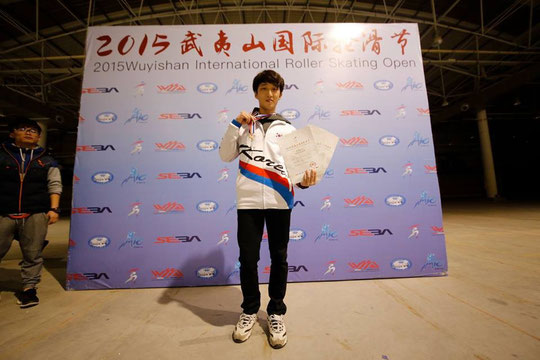 The last Asian prime event 2015, held in Wuyishan at the end of November, gathered more than 30 skaters from all around the world. The Korean skater Yu Jin Seong showed an excellent result, winning three disciplines in a row : Freestyle Classic, Slalom Pair and Speed Slalom (Speed Slalom results were made according to qualification time due to weather conditions). Here, the triple winner of the Wuyishan competitions shares his emotions : 
"This time I didn't practice enough, because I was working on my new video", YJS said, "That's why I think I was very lucky to get 3 gold medals of this competitions and for sure I am very happy with my results.
Even if I was feeling very tired during this event (we had only one day of competition for both  Classic, Pair and Speed Slalom Disciplines), the luck was still on my side! In Speed Slalom, the KO part could not be made because of the rain, which was good for me, as I am much stronger in trial.
For the Pair Slalom, we worked hard on our runs combos, which we showed in WFSC where we got the bronze medal. After hard work we won this time in Wuyishan and I am very happy with this victory. Especially I am happy for my partner, Kim Jun Kyeom! I am training with him this year and he is improving very fast. He was also second in Youth Classic in this event and it makes me very proud!
I probably will not compete in Classic next season, but will focus on Speed Slalom and Pair Slalom Disciplines. I will spend more time to prepare my video project, sharing my skating skills with skaters all around the world."
Polina Semenova for WorldSlalomSeries.com
December 2015