7 Champion titles for Klaudia and Michał!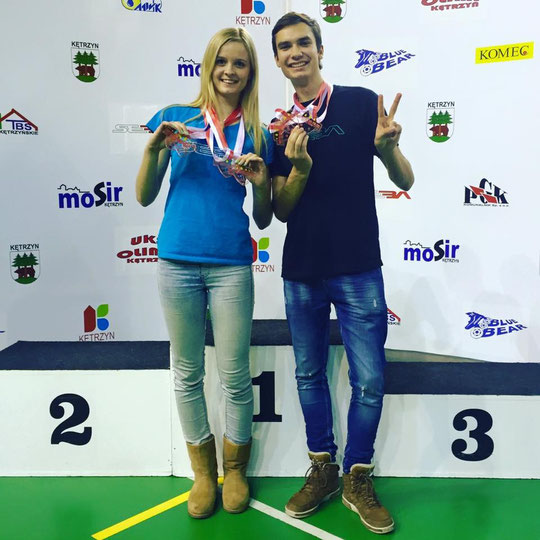 7 Polish Champion titles were won by Klaudia Hartmanis and Michał Sulinowski on December 12-13 in Kętrzyn. They won all categories they took part in! They are extremely happy to finish the 2015 year so well and are very motivated for the  next season!
Klaudia is now 4 times Polish Champion with her victories in Speed, Classic, Battle and Pair Slalom!
"I'm super happy!, Klaudia said, "I really didn't expect to win 4 Golds during such an important event. I was very busy at the University, so again I practiced only once. However, I tried to focus more and to do my best, to show skills that I have been training for years. It worked! I couldn't dream of a better season ending. I did fast and clean runs in Speed, perfect Classic performance and really good runs during Battle final.
9 titles from all Polish Championships that sounds incredible and makes my heart beating faster. I'm extremely proud of these results and I will keep going and progress to reach higher and higher level."
Michał didn't compete in Speed Slalom, because of his injury, but he still won the Battle, Classic and Pair Slalom categories as well!
"Firstly I would like to say "Thank you!" to every person who is supporting and believing in me, shared Michal, "It gives me incredibly big motivation and helps me a lot! I'm very proud that I managed to win all my categories although I had no training before the event due to ankle injury (It still hurts so I can't compete in Speed). Those 3 Champion titles prove for me that I reached very high level and this is amazing feeling but I won't stop. I want to develop my skating skills more and more! Such a great success at the end of this season doubles my motivation for upcoming year!"
Polina Semenova for WorldSlalomSeries.com
Photo by Ania Wojtkiewicz
December 2015