Four medals and new world record for Chinese Taipei skaters !!!
Four medals at a time went to Chinese Taipei after the Junior Speed Slalom competitions!
In the Junior Men category, Chen Yu-Chi won the first gold for his country! He was fighting for the victory with his teammate, Wang Jung-Hsin. After one victory on each side, Chen Yu-Chi won the third run, leaving the silver medal for his opponent and making his best result so far. This is the first gold medal in the Men's Speed Slalom for Taipei ever!
Ranjbar Vakili Pedram (Iri) and Chan Man Fung Anson (Hkg) met in the Consolation Final. Showing the best qualification time (4,434 sec), the Iranian skater won the bronze medal after 2 runs against Anson, who was the bronze medalist of the last year's World Championships. 
" I feel a little sad, Pedram shared his feelings after the final, "I really feel that I could have won the gold this time, even if there were many strong skaters… Anyway, it's too late to change the situation already, so I will try better for the next time to win the competitions as I already did in Moscow and Warsaw."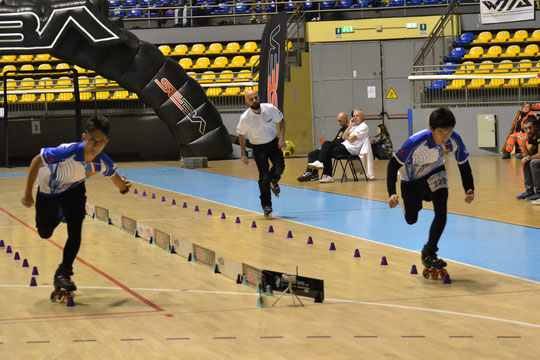 In the Junior Women category, Lo Pei-Yu brought one more gold medal to Chinese Taipei! She finally improved her result from the last two years when she was second and made a new WSSA world record in the Women's category, beating with a time 5,301 sec the last one, which was just achieved in the previous round by Lu Qian Qian beating the best time of Barbara Bossi during the PSWC 2015 (5,382 sec)!!! 
"I am very thankful to my family for everything that I achieved today" - the world champion said.
Another skater from Chinese Taipei, Chen Bei-Yi got her first World Championships medal and won the silver! 
Three times World Champion (2014, 20012 and 2011), Lu Qian Qian from China met Chen Bei-Yi from Chinese Taipei in the consolation final. Two runs only was needed for Lu Qian Qian to win this race and to bring the bronze medal to China!