INTERVIEW w/ Klaudia Hartmanis

"That was another great year for me. Looking back on all my performances and remembering all those amazing trips makes me smile."
Klaudia Hartmanis (POL)
Freestyle Slalom Women's World #2
Speed Slalom Women's World #5
Nb of Comps in 2014: 29
Total score: 6193
Best-5: 1480
Polina Semenova for WorldSlalomSeries.com
Proofreading by Chloé Seyrès
Photo by Kitty Emily, Michal Sulinowski, Tiphaine Bourbon
Video by Michal Sulinowski
February 2015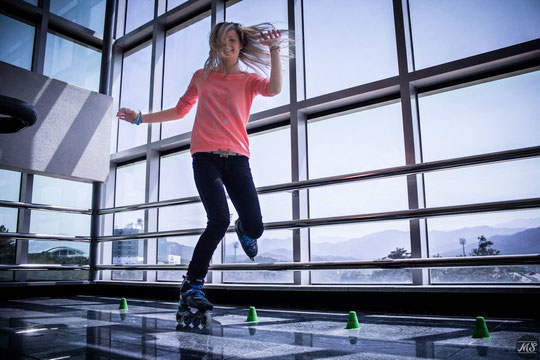 Season summary and traveling memories of Klaudia Hartmanis, the Freestyle Slalom Women's World #2, in her latest interview…

INTERVIEW
P.S. Are you satisfied with your personal improvements this year?

Klaudia. Yes! That was another great year for me. Looking back on all my performances and remembering all the amazing trips of the season makes me smile. I really tried to do my best and fight till the end, and many times it helped me a lot! Never give up!
As for my personal improvements, I considered a new classic run. So far I'd always been skating to similar kinds of music and this year I changed it a little. "A different beat" (by Little Mix) is a dynamic and positive song, which helped me a lot to create a new performance where most of my movements could match to the rhythm. I really enjoy that classic. But unfortunately, due to some small mistakes I didn't manage to make that run fully perfect. That's why I'm quite confused whether I should perform it one more time or not… But time will tell (anyway if you have some suggestions or music propositions for me, I'll be grateful to read your comments).
I have also noticed some technical improvements, which I'm quite satisfied of and some "bases of next progress", and I will work on them for sure.
P.S. You finished the season one place away from the TOP of the World Ranking. Do you think it's possible to reach the first place this year?

Klaudia. To be honest that would be a fulfillment in my skating carrier. Of course everything is possible but it costs a lot of efforts and really hard training. Even keeping your position is not as easy as most people may think.
I wish Dasha and other top skaters to keep going and develop themselves so that freestyle slalom becomes more and more interesting, and so that we all get bigger motivation.
P.S. What was your best competition performance in 2014?

Klaudia. It's hard to say which one was the best… I think I may sum up that all were good for me. Sometimes for the medals, sometimes just for the experience and motivation I got from them.
P.S. What was the best competitions experience of the 2014 for you?

Klaudia. Without any doubt, it was the European and World Championships, where we meet and compete with the best skaters. It is like final exam for my skills and emotions, that gets more and more difficult each year.
I like going to Asia, when after a long and -usually- exhausting trip, a change in time zone or climat, I have to put my skates on and compete. If moreover the floor is not that perfect and the weather is hot, then I can be sure that I will go back home tanned and with great experience! It is a challenge I love to take up.
P.S. Some words about your new video? Was it hard to shoot? How much time did it take?

Klaudia. I was really impressed when Michał showed it to me. I love it and according to me, he's getting better and better at making videos. This one was about showing fluent slalom skills in a beautiful and modern city. These awesome shots, especially the timelapses, present the views of the best city I've ever visited. The captured moments are wonderful memories. It wasn't easy to skate, because of the high temperature and humidity, but it was worth it. We spent less than a week on shooting (evenings after competition included). It took us some time so we have a good excuse to go back and visit the rest of city (haha).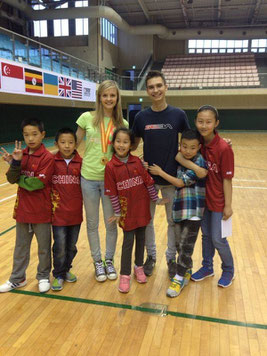 P.S. Are there any rising competitors who impressed you during 2014?

Klaudia. No doubt that the new Chinese generation is growing! Russia is training hard too. The most serious rising competitor for me is Sofia Bogdanova. I love to watch her skate, because she is so young and does highly difficult tricks with amazing smoothness. Congrats to Sofia one more time, and to her coaches Kristina and Andrey.
There is one more skater I want to mention. She is just a beginner from Poland but I see huge potential and she is very hardworking, so hopefully we will be able to see her one day. I will not say more because I don't want to jinx it; but I wish she becomes a top skater someday.
P.S. Do you plan to travel and compete a lot this season?

Klaudia. I hope to travel and compete as much as possible. I simply love it!
P.S. What are your competition goals for 2015?

Klaudia. For the moment my goal is to find some music suitable for my skating, and then create a new run for 2015. It would be perfect if I could achieve some more medals and titles. I hope that my experience and hard training will help in it.
P.S. Free space.

Klaudia. Thank you Polina for this interview. A huge thank you to the Seba Team for offering those great possibilities too! Thank you's to all my family and friends for their support! Can't wait for the new season. Keep skating!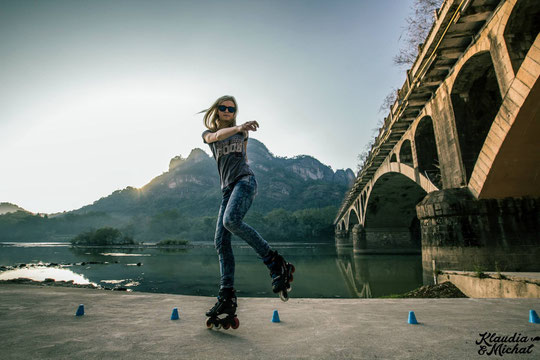 Polina Semenova for WorldSlalomSeries.com
Proofreading by Chloé Seyrès
Photo by Kitty Emily, Michal Sulinowski, Tiphaine Bourbon
Video by Michal Sulinowski
February 2015