2010 NEWS

Report of Battle Moscow 2010, which took place on March 19-20 at Adrenalin Skatepark.
By Chloe Seyres.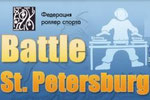 Report of the second edition of Battle SPB, which took place on March 13-14, 2010 in St. Petersburg.
This is the first Main Event of 2010!
Chloe Seyres.

Full REPORT of the WSS 2009 Season.
Included: Figures, Exclusive interviews of the Top-3 skaters of all categories (Men-Women, Freestyle-Speed Slalom)...