Thomas Rataud and Maeliss Conan bring two gold medals to France!!!
France received two gold medals in one blow with Free Jump Open discipline. 
The current world number one, Maeliss Conan repeated her result from the last year and won the second World Champion title of her career. She stayed unbeatable and won the Free Jump final with her best jump of 117 cm.
"I am really happy", double World Champion said, "It's so good to see so many participants. Other girls had very good level, so it was not so easy for me to win. I tried to make a new World record but, unfortunately could not reach the height. Never mind,  I was close to the record and I will continue to train! I am the World Champion and i am so happy about that! See you next year!"
The European Champion 2015, Claudia Massara from Italy received the silver medal, taking 115 cm jump. This is her first World Champion medal and best result so far, she brought first World Free Jump podium to her country. 
Maud Oguey from France repeated her result from the last year and received one more bronze medal for her collection with the best jump of 115 cm. 
Bronze medalist of the EFSC 2015, Valeria Raccuglia from Italy took the fourth place of her very first World Championships with her best jump of 110 cm.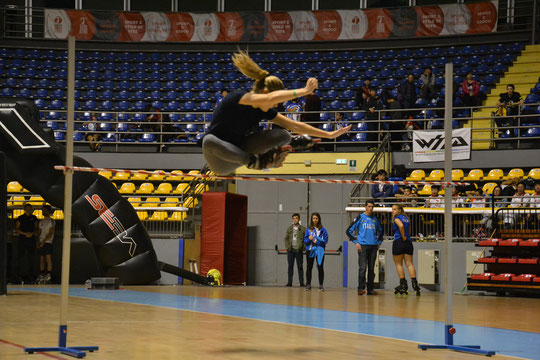 Thomas Rataud from France, despite the long injury break, confirmed his World Champion title from the last year. He made 150 cm Jump and won one more gold medal for France! 
"I feel great", Thomas said, "I am a little disappointed about my performance, but it's never finished, I am going to do better and better! Thank you for everything!"
The European Champion 2015, Italian skater Gianmarco Savi received his first silver medal of the World Championships! He performed 150 cm jump as well but he took more tries to reach this height. 
Third place and bronze medal went to the bronze European medals 2015, Alexandre Fantuz from France. He made 145 cm jump and got his first World Championships podium ever!
Vice European Champion 2015, Enrico Sordi from Italy, who was third last year, reached the height of 140 cm and took the fourth place this time.