INTERVIEW w/ Ricardo Batiz Lopez

"I would love going to all the competitions in the world"
Ricardo Batiz Lopez (MEX)
Freestyle Slalom Men's World #16
Nb of Comps : 10
Total score : 1863
Best-5 : 995
Polina Semenova for WorldSlalomSeries.com
Proofreading by Maryam Amiand
Photo by Mariana Mercado, Concepcion Cueto Reyes de Etcheverry, David Gonzalez, Rodrigo Morgado
July 2015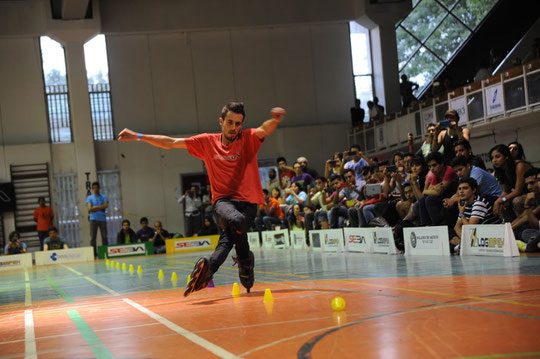 Ricardo Bátiz López is in the TOP-16 of the Men's World Ranking. At the passed prime event, the biggest competition of North America, Mexico Slalom Fest, he showed the excellent results, winning Men's Classic competition and taking second place of the Battle final, letting to go in front only very strong opponent, Alexandre Claris from France (#4). Here is the interview with Ricardo, where he shares his impressions about Slalom Fest and his plans for the future events.
INTERVIEW
P.S. Are you happy with your results? What is the general impression you keep of the Slalom Fest event to compare to the last year?

Ricardo. Yes I am very happy, it was an incredible competition with the great skaters and i achieve the 1st place in Classic and 2nd in Battle, I'm really excited. With each year passing, the Slalom Fest is getting better, more fun and more competitive; with the time, more competitors from all over the world travel to get the experience, it is a really important competition at which I prepare year by year, the organization has been growing every year and for the competitors is very attractive because there are really good prizes.
P.S. Did you expect to win the Classic competition? What do you think, it would be possible to win the Battle as well?

Ricardo. I did not expect to win the competition, I was going to compete against Alex form France, which I knew he was really good in Classic and in more disciplines from Slalom, I'm very happy of winning against such good competitors, this competition leaves me with a good taste in eager to continue training to obtain more in this extraordinary discipline . I think that it was possible to win Battle with a better strategy and with a bigger number of tricks made in combos, I hope this year I can keep training a bigger number of tricks, get more accurate combinations and so that I can show more of me in the next competition. Even though, I'm extremely happy for doing in "Last Trick" my corvo wheeling of 34 cones, it was something really exciting and new to see; I hope to return to my next Battle for more.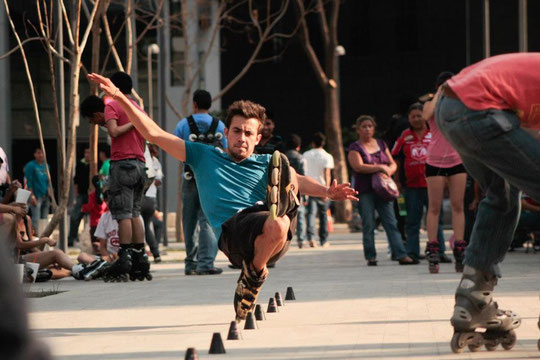 P.S. What was the most difficult discipline to perform, Classic or Battle?

Ricardo. In my point of view, Classic is the most difficult discipline as it's needed a lot of inspiration, coordination and memory to perform your competition run. It is a discipline that requires all your energy, keeping your mind focus as possible and try to get in the beats of your music. In Classic, nerves do not work you have to be concentrated and have a good heart rate.
P.S. Did you train a lot before the Slalom Fest? How often and how long do you usually train?

Ricardo. I trained a lot before the Slalom Fest, but it was not too constant I repass my main tricks and I don't allow that my Freestyle low down, I like so much skating with my favorite music and have a good time with my friends besides doing sport of course. Talking about my time it is no constant, as I said before, but I expect doing 8 hours per week, I'm glad training with the #1 in Mexico Carolina and take together our skating to another level, we share tricks and remain positive to continue showcasing the best of our dedication.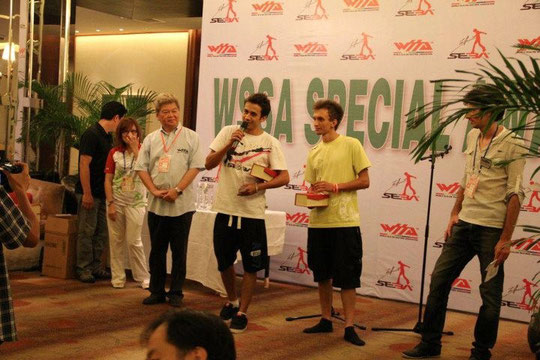 P.S. Is there a skater you particularly admire?

Ricardo. I admire many skaters for their artistic level and technical level, when we talk about Classic it comes to my mind Su Fei Qian, she will be the skater to admire as she can accomplish the perfect technical-artistical match making believe that the skates are part of her body; at the same time, in Battle I can not stop thinking how Sergey Timchenko defy the physic controling impressively his skates and in Speed Slalom discipline getting to the 4 secs. and making us believe that is easy to cross 20 cones with that agility and speed is Brivio Savio, he makes it seen really easy but we must know that it takes years of practice, constancy and a lot of passion achieve such high standards.
P.S. Do you plan to compete a lot this year? What are your goals for 2015?

Ricardo. What can I say? I would love going to all the competitions over the world, previous years I achieve going to Asia, Europe and North America to compete against the best athletes in the world. This year I would be so excited to go to some competitions I have been before such as: Shanghai Slalom Open or Lishui Slalom Open in August, I would like to go as last year to Wuyishan Competition in November because is a beautiful city, I also saw that the Rollerclub Cup in Russia has a great level and I would be happy to visit Moscow for first time, of course I will leave a space in my schedule for the World Championship that will be in Italy. If we speak about my goals, I particularly would like to return to heel tricks after a hard injury on a ligament I had before and I paused that tricks for almost 2 years so i hope I can start training little by little.
P.S. Do you have a final word for this interview? People you'd like to thank maybe?

Ricardo. I'm really grateful with my sponsor SEBA skates for giving me huge opportunities, and for giving me the chance of competing with the best skaters in the world, also I want to thanks to my Roller School for keeping me with the desire of learning to teach them more every day and last but not least to my family and friends that help me a lot, most of them belong to the biggest skater group in Mexico "Rollers en Mexico, no patines sol@".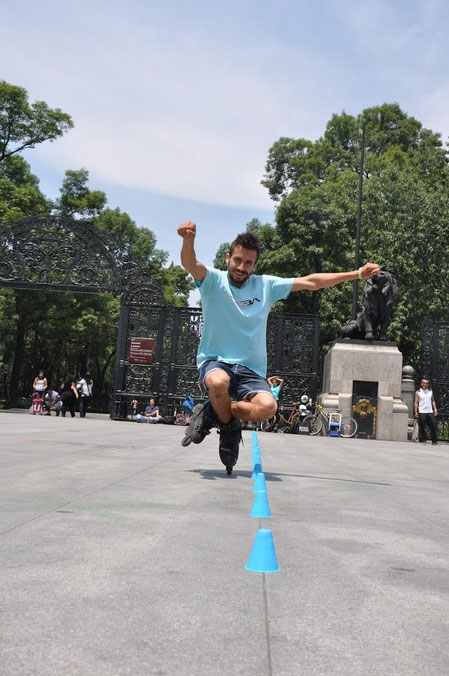 Polina Semenova for WorldSlalomSeries.com
Proofreading by Maryam Amiand
Photo by Concepcion Cueto Reyes de Etcheverry, David Gonzalez, Rodrigo Morgado
July 2015