INTERVIEW w/ Zhang Hao

"This year I want to challenge myself"
Zhang Hao (CHN)
Freestyle Slalom Men's World #3
Nb of Comps in 2014 : 8
Total score : 1806
Best-5 : 1419
Polina Semenova for WorldSlalomSeries.com
Proofreading by Maryam Amiand
Translation from Chinese by Carroll Wong
Photo by Carroll Wong, Ksenija Komarchuk
Video by SlalomTimTeam, zen so cool
June 2015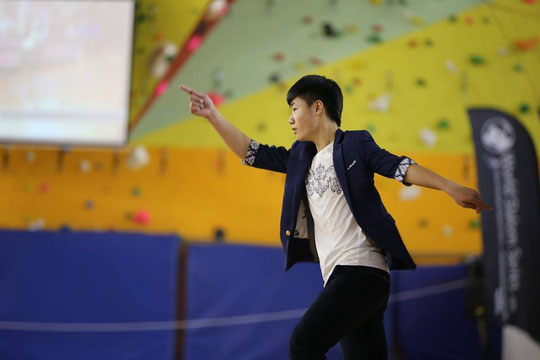 Triple World Champion 2014 and current Men's Freestyle World # 3, Zhang Hao, talks with us about his very successful year 2014 and his plans for the upcoming season in this brand new-interview.

INTERVIEW
P.S. You are triple World Champion 2014 and Men's Freestyle World Number 3. Are you happy with your achievements of the past season?

Z.H. Yes, I am satisfied because everybody recognized my efforts. This year I will continue to try to do my best.
P.S. What was the most difficult victory of the year?

Z.H. I think it would be the Pair competition in Paris WFSC. Me and my partner Guo Fang live in different cities in China and therefore we did not have enough time to practice together. We were worried that we would make serious mistakes in the performance due to a lack of practice. This victory was certainly the most difficult one.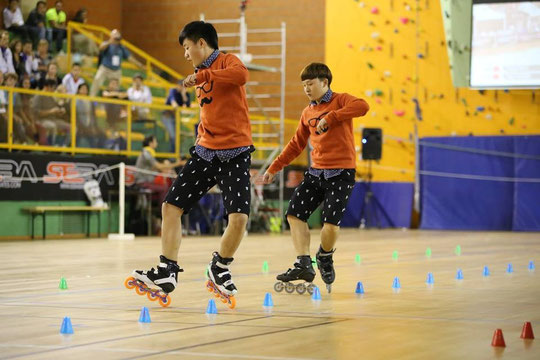 WFSC 2014. 1ST PLACE. VIDEO BY SlalomTimTeam
P.S. Is there a competition moment you are particularly proud of in 2014?

Z.H. I am proudest of my classic run in the China National Championship, Shanghai Slalom Open and Asian Championship. In all these three events I tried to create a different style. Everybody seemed to have approved and accepted this. I felt confident to try other different styles.
P.S. Who impressed you the most in the past season?

Z.H. I am impressed by Sergey (Russia). I was very surprised by his improvement and I felt a great pressure. Same for the 9 years old girl Sofia (Russia), after watching her classic run, I feel that she has great potential! I really can't wait to see their performance this year.
ARSC 2014. 1ST PLACE. VIDEO BY zen so cool
P.S. What are your goals for 2015? Any tricks to learn or titles to win?

Z.H. I set myself a very high goal for 2015 and that is to be the champion of all four events in the WFSC (i.e. Speed, Battle, Classic and Pair). In 2014 WFSC Paris I got three champion titles, all except in speed slalom. This year I want to challenge myself. I am not particularly good at speed slalom, so I need to practice harder in order to win.
P.S. Do you have a final word for us? Something you wish to say?

Z.H. I am now a Secondary school year 3 student and schoolwork loads are heavy. I have not much spare time to practice. This year I have only joined one competition in Hong Kong so far. Many people asked me if I would retire for a few years to study like Pu Hao Yang. Here it is: I want to tell you guys that although study is hard, I will try to adjust my time and I will keep on competing in my high school years. I want to thank all my friends who have supported me, cared for me and helped me. Their kindness and supports motivated me in keeping on skating. I will do my best!!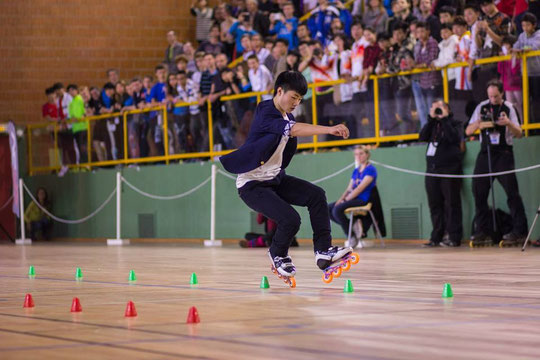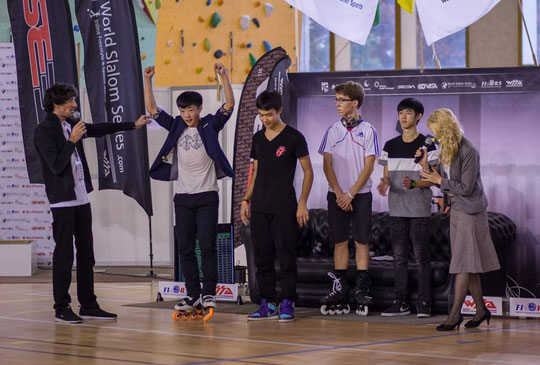 Polina Semenova for WorldSlalomSeries.com
Proofreading by Maryam Amiand
Translation from Chinese by Carroll Wong
Photo by Carroll Wong, Ksenija Komarchuk
Video by SlalomTimTeam, zen so cool
June 2015