INTERVIEW w/ Alexandre Claris

"It was the most amazing season I've ever done."
Alexandre Claris (FRA)
Freestyle Slalom Men's World #4
Speed Slalom Men's World #3
Nb of Comps in 2014: 26
Total score: 5424
Best-5: 1369
Polina Semenova for WorldSlalomSeries.com
Proofreading by Maryam Amiand
Photo by Chris Luca, CP Slalom, Nadia Zelenova
Video by SlalomTimTeam
February 2015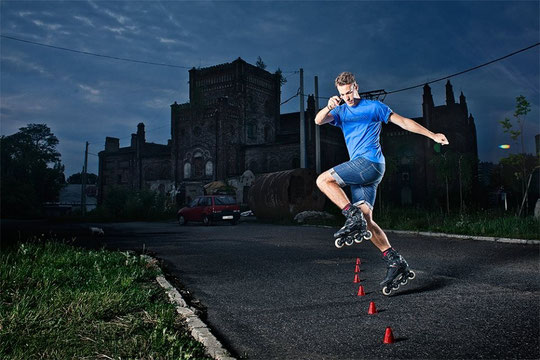 Last season overview from Men's Freestyle Slalom World #4 and Men's Speed Slalom World #3, World Vice-Champion in Classic 2014, Alexandre Claris…
INTERVIEW
P.S. Are you satisfied with your personal achievements of the past year?

Alexandre. Sure, I am! It was the most amazing season I've ever done. I've traveled in a lot of countries, took part in many events and met a lot of new skaters.
P.S. Do you think it's possible for you to climb even higher in the World Ranking this year ?

Alexandre. Well, nowadays I'm in the 3rd position of the World Ranking in Freestyle and Speed Slalom (January 2015). In Freestyle, I'm just behind two monsters: Ye Hao Qin and Sergey Timchenko. I'm already glad to be able to say that I am on the podium, just behind them, but they are getting stronger and stronger every day, it's just too fast for me! So I'll try to keep my position as long as I can, until another phenomenon comes around! In Speed slalom, the competition is getting harder because there's more and more riders becoming really fast, which makes the events even more exciting. So I'd say that to be 3rd today is a good result, but I'm training to be even faster and more regular, to reach an even higher place in the ranking.
P.S. Your feelings about your results at the WFSC 2014?

Alexandre. For me, the WFSC held in Paris was the perfect opportunity to get my first medal in a senior category of a World Championship. I already participated in 4 WFSC before, 3 of them in Senior category, and often I was close to the podium (on the 4th place) but I was never in it. I knew that I had a good classic run which could bring me a medal, so I eventually started to put pressure on myself for it! In the end, right after my run I knew that what I did was good enough to be on the podium. I just felt it…. And oddly, when I learned that I finally had this long-awaited medal, I didn't felt that happy, because I realized that, in fact, all I wanted was the Gold one! ;)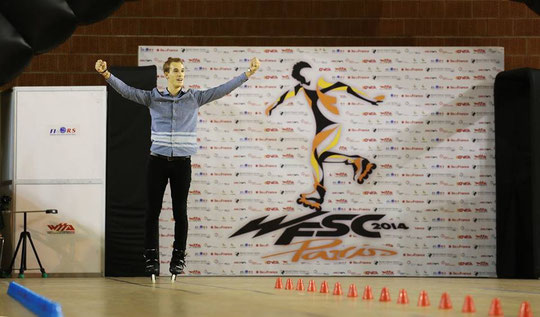 P.S. Your classic run was one of the public's favorites! How much time did it take you to prepare it? When was in your opinion your best performance with this run? Do you plan to change your run for the new season?

Alexandre. Yeah, I saw after my first performance of this run that the public liked it. It wasn't an easy one to prepare, mainly because I had to change my style of skating, which is usually faster and not so meticulous and precise. I worked everyday for 3 weeks non-stop to make it. Then, it took me quite a few months to be able to do it perfectly in events, and I think that my best performance with this Classic was for the WFSC (hopefully, it was just the right time!). Next year, I will have a new run, but I'm not going to say more about it…. I want to keep surprising people with my performances (Hah)!
Video by SlalomTimTeam
P.S. In your opinion, what was the most stimulating competition this year?

Alexandre. Well, I went to many different events last year, every time with a different state of mind, but I would say that my favourite event was probably Battle Warsaw. Why? Simply because it's an event with different skaters, with a different spirit…. We just skated, without any pressure. Just for fun.
P.S. What was the most important and the most unexpected achievement of 2014?

Alexandre. Ahaha, I can't help but read "how did you win the slide competition in Moscow?" instead of "unexpected achievement", and I think you did too! Honestly, I don't really know, I was thinking about some slides, and then I tried to repeat them in front of the judges. Luckily, I managed to do this quite well!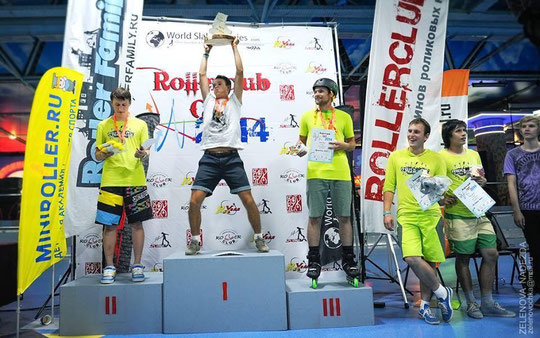 P.S. Who would you name "skater of the year"?

Alexandre. Hum, I would say Alexandr Timchenko simply because we all know he is a good skater, and even though he didn't win big events, he only didn't because of small mistakes which I'm sure he will not repeat this year.
P.S. What are your goals, your objectives for 2015? In Freestyle Slalom, Speed or World Ranking?

Alexandre. Unfortunately, I will have much less time to skate this year, so I don't really have any objectives or goal, I just want to have fun skating!
P.S. Is there anything you want to add? Any last word?

Alexandre. I'd like to thank my father who kept pushing me this year so I could finally have this title of Vice World Champion. I also want to thank to Polish crew, and, of course, SEBA for giving me the opportunity to skate is so many countries for the last 4 years! Time is on but keep skating!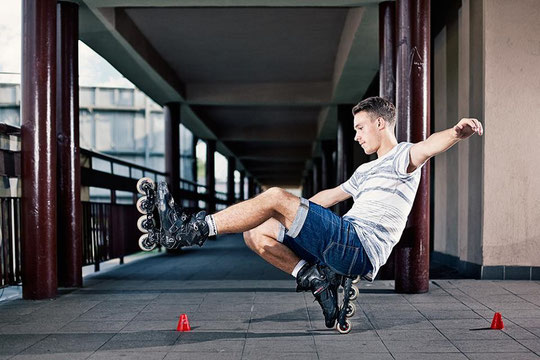 Polina Semenova for WorldSlalomSeries.com
Proofreading by Maryam Amiand
Photo by Chris Luca, CP Slalom, Nadia Zelenova
Video by SlalomTimTeam
February 2015