INTERVIEW w/ Alexandre Claris

"That's always a big adventure, going to China!"
Alexandre Claris (FRA)
Freestyle Men's World #3
Total score : 4864
Best-5 : 1388
Polina Semenova for WorldSlalomSeries.com
Proofreading by Maryam Amiand
Photo and Video by Ksenija Komarchuk
August 2015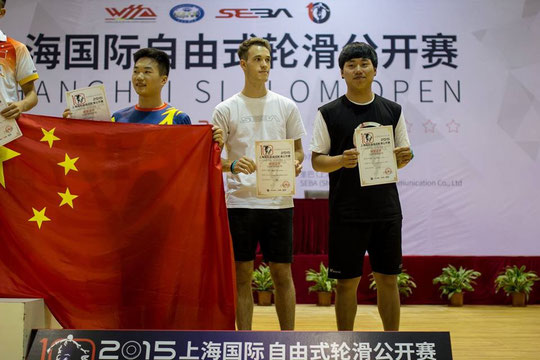 Here is a brand new interview of Alexandre Claris, where he shares his impressions about his Asian trip to Shanghai Slalom Open and Lishui Roller Skating Open events!
INTERVIEW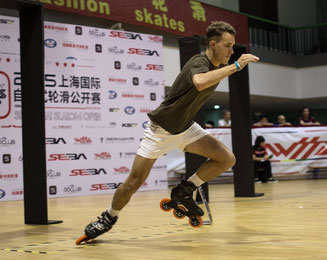 P.S. Are you happy with your performances in both events?

A.C. I'm not satisfied at all about my performances for the Chinese events. I wasn't able to pass all of my tricks for my Classic, I didn't pass the first round in Speed Slalom and I never got into the final in Battle. I knew I wasn't ready for that yet, so I'm not worried. This season took a crazy start and I fixed my objective really soon by focusing mainly on 2 main events: the European Championship and the World Championship. I'm sure to be ready for them.
P.S. Who impressed you the most?

A.C. Definitely Alexandr Timchenko. He is the skater who showed things which were somehow forgotten! I mean, his heel... Everyone is doing more and more toe wheeling and they tend to forget about heel wheeling. I'm really happy to see that he goes far in events with that. 
PS : I love his new hair color.
P.S. How did you like your Chinese trip? What was the most memorable moment of it?

A.C. That's always a big adventure, going to China. Those who went there at least once know what I mean. The Chinese culture is so different from the French culture that it makes it fun just simply going for a walk in the street! For sure my most memorable souvenir was Justyna Czapla's birthday. She's a young kid, very emotional, and all the slalom community was regrouped in one small hotel room just to wish her a happy birthday, it was nice!
Video by Ksenija Komarchuk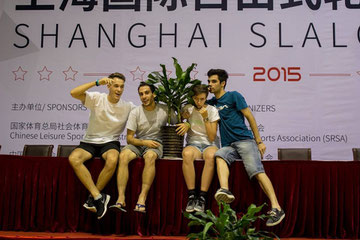 P.S. What is your aim for the EFSC?

A.C. I'm an all-rounder skater, so my goal is to get a podium in each event I'll take part in.
P.S. What do you wish for the skaters before the Championships?

A.C. I wish everyone to be well prepared for this event, because I can tell you one thing: the French team will not come back home without medals!
Polina Semenova for WorldSlalomSeries.com
Proofreading by Maryam Amiand
Photo and Video by Ksenija Komarchuk
August 2015