INTERVIEW w/ Barbara Bossi

"I always skate for myself, not just for the results."
Barbara Bossi (ITA)
Speed Slalom Women's World #4
Nb of Comps in 2014: 5
Total score: 1230
Best-4: 1050
Polina Semenova for WorldSlalomSeries.com
Proofreading by Maryam Amiand
Photo by Francesca Florian, Stephane Bouquet, Ksenija Komarchuk
March 2015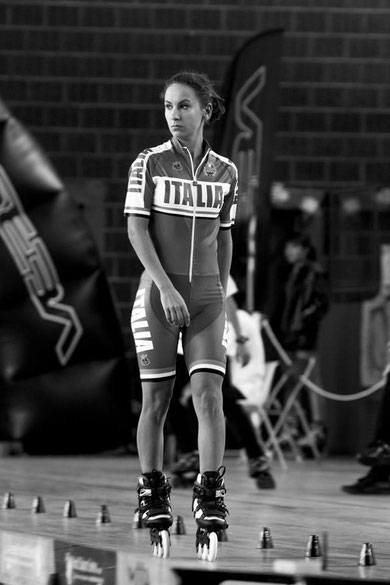 Barbara Bossi, Speed Slalom Women's World number #4 and Vice-World Champion 2014 of Speed Slalom, summarizes her season in her latest interview…

INTERVIEW
P.S. How can you analyze your results for this past season?

Barbara. As usual, my season followed a "crescendo" pattern: in the beginning it was more difficult to have top performances but then it got better and better. I have a good feeling about my 2014 season, I think it was really a nice one. :)
P.S. What were your feelings and thoughts about the WFSC 2014? You were competing, once again, against Wang Tzu Chien and ended up with a silver medal, just like in 2013. Do you think you could win?

Barbara. I'm happy about the WFSC 2014. It was my first Championship with my new 3×110 frame, and I was a bit nervous because I didn't really know what could happen: I tested the frame for a few months and I also competed in EFSC with it, and did not experience any problem… but you never really know! I think Wang Tzu Chien is a great athlete: she is strong, accurate and has a very good focus during competitions. Both of us had chances to win, and in Speed Slalom it's always like this: if you get to the final, it means you can win or lose by just a few hundredth of seconds. I ended up with a silver again, but I have no regret because I know I did my best and I did better than I used to for the last few years.
P.S. Will you do your best to get back on the top of the world ranking for this season? Or do you prefer not to have a precise objective and just focus on your skating? Who do you think will be your strongest opponent in 2015?

Barbara. Of course I'll do my best!! I can't do things without putting 100% of me in it. I'm prone to self-criticism and I'd rather stop doing something if I have to than do it in a bad way. So yes, I will do my best to get back being #1, I will do my best to do every competition with 100% of me every time, but I don't think I have to prove anything to anyone anyway. I have my career, I have my results, and I'm happy with them. I always skate for myself, not just for the results. I believe that skating just for the purpose of results is counter-productive. When you skate just for the simple pleasure of skating, you will end up with better results, because you won't think "OMG I absolutely must win"… thinking this way puts a lot of pressure that can easily turn into disappointment if the final result is not up to your expectations. I can't really predict who will be my strongest opponent in 2015, but I'm pretty sure there will be talented young skaters coming to the front row to challenge the "old ones", like Lily Granjon.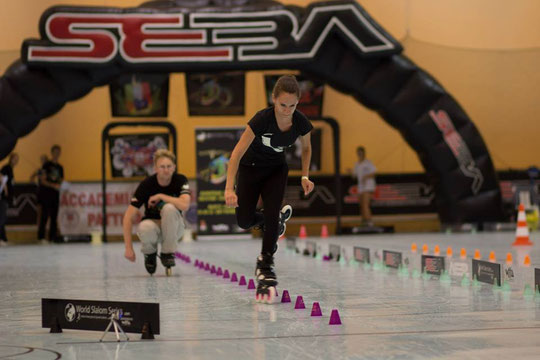 P.S. What do you think was your best competition performance last season?

Barbara. Even if I only ended up being 2nd, I still think my best performance this season was at the WFSC. I did great times and managed the competition in the best possible way.
P.S. Do you have any regrets concerning 2014?

Barbara. I would say no. I don't have any regrets, it was my best season so far. I was in a good shape, I had good results, I competed the best I could, and I had great times during the events, and met great people. I think it's the perfect mix!
P.S. What was your most important competing experience of the last season?

Barbara. This is the most difficult question of the whole interview! Polina, you know me, I've been competing at international level since 2004, and I have a lot of experience thanks to the dozens of competition and events I participated in. I can't honestly choose. I'd probably say the WFSC 2014, again. But not just for myself, it's because it was the first time that I felt so good with the national team.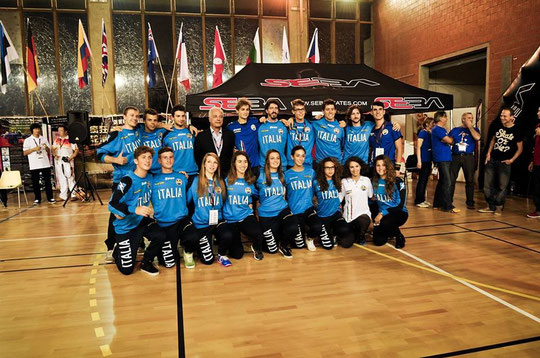 P.S. Who made the strongest impression on you in 2014? Not necessarily in Speed Slalom.

Barbara. Another difficult question… If I had to give "awards", I'd give the best classic to Su Fei Qian, the best slider to Bohdana Hotsko, the best speed slalom to Wang Tzu Chien (for her performance, behaviour and persistence during the competition) and finally the best battle to Sergey Timchenko.
P.S. What are your objectives for 2015?

Barbara. To have a season as great as the last one! :)
P.S. Do you want to give special thanks and say a last word to finish the interview?

Barbara. First of all, I'd like to thank you Polina for interviewing me and for these tricky questions you asked. I'd also like to thank all the people who supported me as a friend, an athlete or an opponent. Thanks to my team, my coach and my friends. I wish everybody a great 2015 season, and see you soon!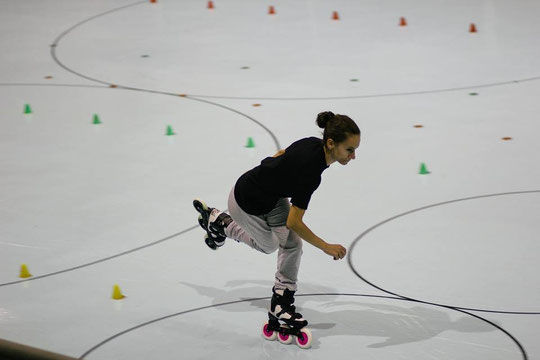 Polina Semenova for WorldSlalomSeries.com
Proofreading by Maryam Amiand
Photo by Francesca Florian, Stephane Bouquet, Ksenija Komarchuk
March 2015