INTERVIEW w/ Wang Tzu Chien

"No Pain No Gain"
Wang Tzu Chien (TPE)
Speed Slalom Women's World #1
Nb of Comps in 2014: 5
Total score: 1500
Best-4: 1300
Polina Semenova for WorldSlalomSeries.com
Proofreading by Maryam Amiand
Translation from Chinese by Carroll Wong
Photo by Carroll Wong
May 2015
Before the WFSC 2015, check the small interview with double World Champion and World Number One in the Women's Speed Slalom category, Wang Tzu Chien, which was made just at the beginning of the season.

INTERVIEW
P.S. World #1 and WFSC Champion : that was a good season for you. Do you think it's possible to keep your titles for 2015? Who will be your strongest opponent?

W.T.C. I wish I could keep my titles through more training. My strongest opponent will still be the athlete I respect most, Barbara Bossi (Ita). And another one will be Lu Qian Qian (Chn) who has just moved to the senior category.
P.S. A competition moment you are particularly proud of in 2014?

W.T.C. The WFSC in Paris, during which I won the most important title of the year in a place far from my homeland. It was not easy. I woke up at 5:30am every day at that time to train before going to school. There is really "No Pain No Gain".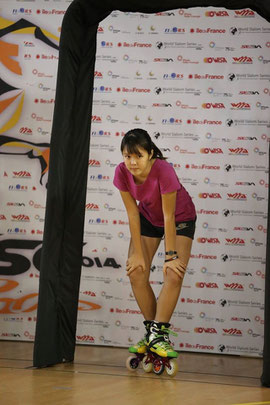 P.S. Can you see serious competitors rising who impressed you during 2014?

W.T.C. Sofia (Russia). I already heard of her in Taiwan, but I was still amazed when I saw her. Age is obviously not a problem at all to her. She has a good grasp of both technique and artistic side. She has a kind of charisma.
P.S. What are your goals for 2015?

W.T.C. So far this year I have been busy preparing for my university entrance exams and I have not practiced for quite some time. I hope to get back to normal practice quickly. I hope I can win the world championship again this year. I hope I can continue to represent Redbull and to join more competitions.
Polina Semenova for WorldSlalomSeries.com
Proofreading by Maryam Amiand
Translation from Chinese by Carroll Wong
Photo by Carroll Wong
May 2015