INTERVIEW w/ Natalia Krykova

"The best motivation for me is competition, I have many times went beyond my expectations in this sport thanks to my opponents."
Natalia Krykova (RUS)
Freestyle Slides Women's World #1
Free Jump Women's World #3
Polina Semenova for WorldSlalomSeries.com
Proofreading by Maryam Amiand
Photo by Ksenija Komarchuk
September 2015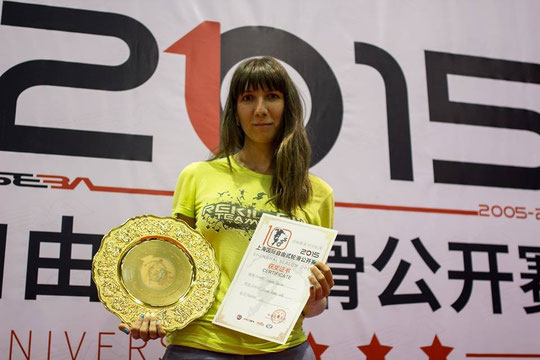 Here is our interview with the Freestyle Slides World #1 and winner of the Shanghai Slalom Open Slides competition, Natalia Krykova (Rus), where she shares her feeling about the Asian trip, her victory and her new title.
INTERVIEW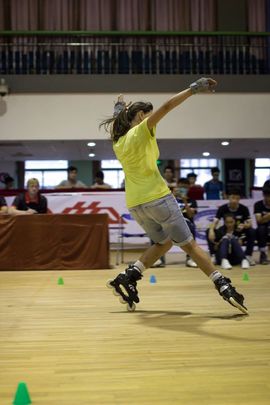 P.S. Are you happy with your performances in both events?

N.K. I am very happy with my performance in Shanghai and not satisfied at all about Lishui, but it's a good experience anyway, I want to draw the right conclusions out of it.
P.S. Did you expect to win the Shanghai event? What did you feel?

N.K. I have a favorite video of the SSO 2013, I watched it a million times. I really wanted to participate to this event, so when I was offered to go to China, I did not doubt for a long time. The fact that I managed to win one of the top-rated competitions of the season still seems unbelievable. I hope to experience this feeling again.
P.S. Who particularly impressed you during this trip to China?

N.K. I never stop to be impressed by Huang Hai Yang with his long and well controlled slides, it's a pleasure to watch them in real life. The Chinese girls were also really impressive, each one has one strong slide, which they do incredibly well, and it makes me want to train more.
P.S. How did you like your Chinese trip? What was the most memorable moment of it?

N.K. The most memorable was the driving style in China! It seems very dangerous, looks like the rules for drivers and pedestrians do not exist!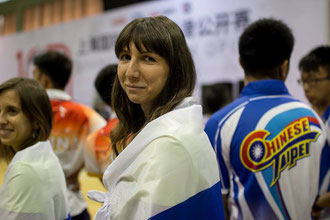 P.S. What does it feel like, to be the world number 1?

N.K. I am very happy!!! I want to tell everyone about it :) I do not remember the last time it happened to me. :)
P.S. You are competing in the Free Jump as well. Do you think you can reach the TOP in this category as well?

N.K. For me, the world of the competition began with Free Jump, I love to jump, but I could not practice for a long time because of an injury. Now my results are far from my personal record - 117 cm-, but I'm very happy to be able to jump without feeling pain. This season, I did not set the objective to get to the top. In Europe, girls jump very high, I think they deserve to lead the ranking!
P.S. For how long do you think you can keep the first place of the Rank?

N.K. I've been competing in the slides discipline for a long time now, I've had victories and defeats, and I understand how things can change quickly, so I'll just enjoy this moment.
P.S. Will your new rank change something for you? More motivation, more responsibility? Or nothing will change at all?

N.K. I do not think that being first in the ranking will change things that much for me. The best motivation for me is competition, I have many times went beyond my expectations in this sport thanks to my opponents.
P.S. What are your goals for the European Championship this year?

N.K. I plan to slightly change my program before the EFSC, hopefully I'll have enough time to be ready.
P.S. What do you wish to skaters before the European Championships?

N.K. I want to wish all the athletes not to focus too much on the results, and rather try to enjoy the trip. Italy is beautiful!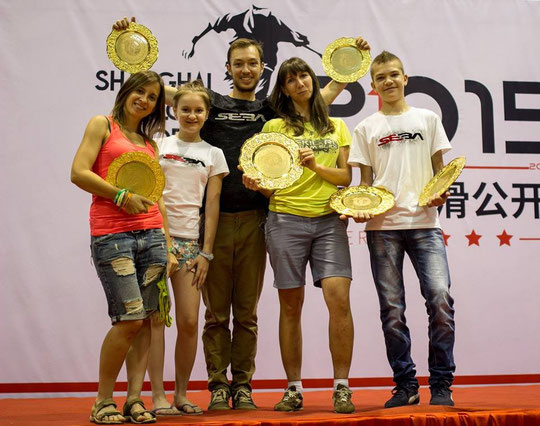 Polina Semenova for WorldSlalomSeries.com
Proofreading by Maryam Amiand
Photo by Ksenija Komarchuk
September 2015