INTERVIEW w/ Daria Kuznetsova

"Last season was definitely my most successful season."
Daria Kuznetsova (RUS)
Freestyle Slalom Women's World #1
Nb of Comps in 2014: 19
Total score: 4976
Best-5: 1600
Polina Semenova for WorldSlalomSeries.com
Proofreading by Maryam Amiand
Photo by Rollerclub & Francesca Florian
Video by SlalomTimTeam
March 2015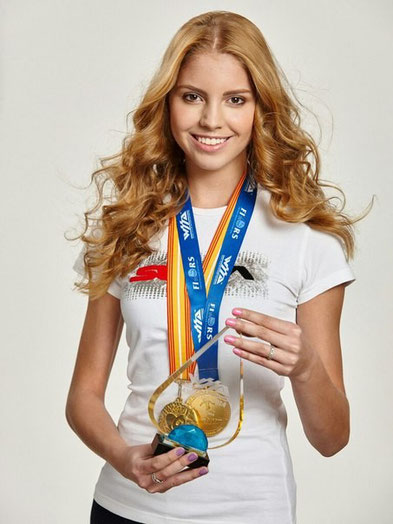 New interview of Russian Daria Kuznetsova, double European and World Champion of 2014, on her more than successful season and her plans for the upcoming year.

INTERVIEW
P.S. Last season, you won almost everything that could possibly win. You came back on the top of the World Ranking, you became the double European and World Champion... When you look back to what happened in 2014, what do you feel and think about this season ? Did you ever expected to achieve such things ?

Daria. Last season was definitely my most successful season. I travelled a lot and came back with lots of new experiences. I'm very happy with my victories in the European and World Championships. Of course, I always try to do my best during events, but I'm not always happy with my performances. I never thought I'd achieve such results this season. Especially at the WFSC, it was really a big surprise for me.
P.S. Which event of 2014 do you think was the most difficult for you?

Daria. Every events has it own difficulties. It always takes a lot of time to train and to avoid doing mistakes during your runs. And even with training, nothing guaranties you that you won't make errors and kick cones during the competition. I'd say that, for me, the most difficult events are the Asian one, because of the difference of climate and the jet lag, and of course the WFSC, because it's the most important event of the year.
P.S. Which of your victories of 2014 are you particularly proud of?

Daria. I'm particularly proud of my performance at the WFSC. I had a new Classic run, which I had only tried once before (at the EFSC) and it was the first time I did it perfectly, clean, without kicking any single cone, and I managed to do almost all my tricks.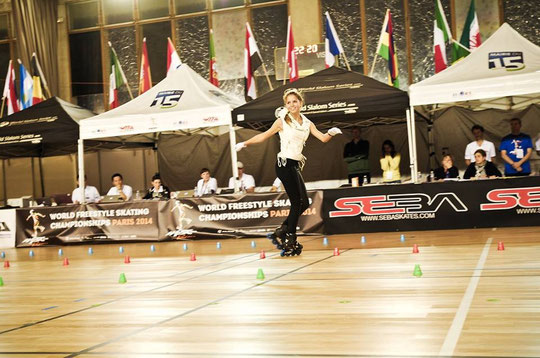 WFSC 2014, 1st place. Video by SlalomTimTeam
P.S. Is there any rising competitor who impressed you in 2014?

Daria. This season there wasn't too many rising newcomers, but in my opinion we have some young and talented competitors, that you can't really call beginners, who really increased their level a lot. I'm thinking of Sofia Bogdanova for instance, who has a really good potential, and makes hard tricks despite her young age.
P.S. In a previous interview you said that the main thing for you is to achieve stability in your performances. How do you train to skate so cleanly?

Daria. I train like everyone does. There's nothing unusual, no big secret. I just train. I repeat my Classic and Battle runs, and I do my best to avoid kicking the cones. I also work on all the components and combos of my runs separately.
P.S. What are your objectives for the new season? Do you have special competitions you wish to attend? New tricks you want to make?

Daria. I want to participate in all the major events, to visit new and interesting places, to see all my skating friends (I miss them a lot) and to bring back emotions and memories from my travels. I'm currently creating my new Classic, and I'm trying new combos.
P.S. Do you have a final word for this interview? People you'd like to thank maybe?

Daria. First, thank you for the interview. Thanks to my friends, my coach, my parents, and all those who supports me. I'd like to give a special thank to the SEBA team and Rollerclub, thanks to whom I'm able to participate in many international events and to travel all around the world. Good luck with your slalom everyone, see you soon :)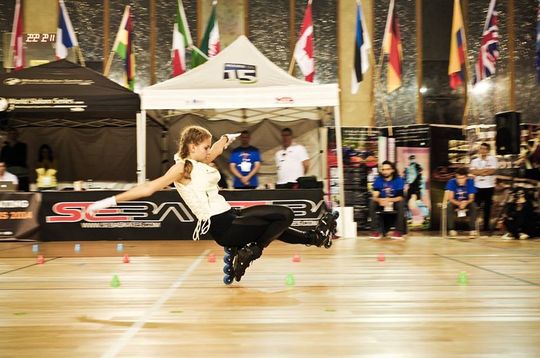 Polina Semenova for WorldSlalomSeries.com
Proofreading by Maryam Amiand
Photo by Rollerclub & Francesca Florian
Video by SlalomTimTeam
March 2015