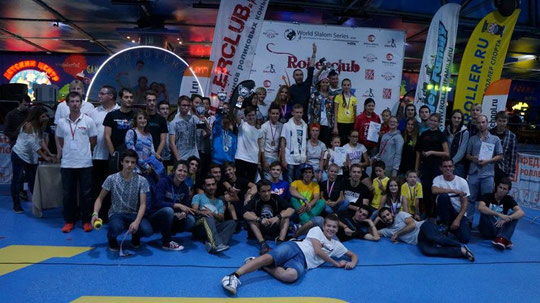 Rollerclub Cup 2015, the biggest main event of the World Slalom Series in Russia, was held in Moscow, on September, 4th - 6th. More than 50 skaters from 9 countries came to participate in this famous event. This year, there were some interesting results. Here is a short overview and some feedbacks from the skaters.
- Alexandr Timchenko (Rus, #4) was victorious in the Battle Final leaving his brother, world number one Sergey Timchenko, the second place. However, Sergey got revenge in the Classic competition and won first place while Alexandr stood on the second step of the podium. Daria Kuznetsova (Rus, #1), came back to the competition race and, despite a long summer break, immediately earned two main victories in the Battle and Classic disciplines.
- Three French skaters, Nathan Ménard (#36), Marius Rutard (#67) and Ambroise Nicolao (#62) took all 3 steps of the Junior's Battle podium. Sofia Bogdanova (Rus, #15) won another double victory (Battle and Classic) in the Women's Junior category. Ambroise Nicolao (Fra, #62) won the Men's Classic competitions. 
- Iranian representer, Mohammad Shervomidvaripour got an excellent result and won the Senior Speed Slalom competition, in front of Alexandr Timchenko (Rus, #13), for whom it was the first main Speed Slalom podium. Zoé Granjon (Fra, #2) did the best qualification time (5.121 sec) and won the Women's Speed Slalom competition. Svetlana Stepanova (Blr, #65) did great as well, getting the first main podium of her career with a second place. 
- Ranjbar Vakili Pedram (Iri, #157) from Iran, showed the second best qualification time of all the event (4.455 sec) and won the Men's Junior Speed Slalom final. Anna Smirnova (Rus, #84) did great, winning her first Speed Slalom competition at a main event in the Junior category. 
- Vlas Rud (#62) from Ukraine, continued to improve his results, getting his first Slides victory on a 3 cones event. Olga Fokina (Rus, #2) repeated last year's victory, winning Women's Slides Final.
- French skater, Flavien Du Peloux (#6) was the best in the Free Jump contest with a 140-cm jump. Natalia Krykova (Rus, #3) did great, winning the Free Jump event in the Women's category with a 100-cm jump.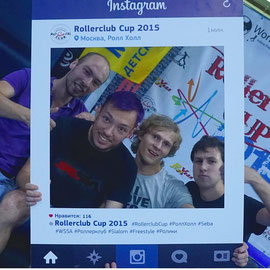 Alexandr Timchenko (Rus)
P.S. What are your thoughts about your victory in the Battle? Are you happy with your result in Speed Slalom? What do you think about your opponents in the finals (Speed and Battle)?

A.T. I am very happy with my results! In the Speed Slalom final, my opponent was objectively faster and more stable, but I'm glad I went to the final anyway, because it was my first speed slalom final in a 3-cone event. In Battle, I decided to change my runs a little, compared to China. I am very happy it worked and that I managed to win. Of course, Sergey's level is very high, and if he had managed his last trick, the result would've been different. I'll try to prepare even more interesting tricks and transitions for the next competition!
P.S. How did you find the event?

A.T. Unfortunately, not so many foreigners came to the Rollerclub Cup this time, but the atmosphere and the competitions themselves were excellent, thanks to the organizers, helpers and speakers!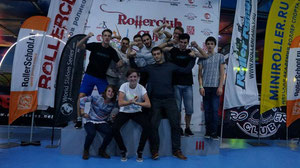 Eva Cochey-Cahuzac (Fra)

P.S. How was this Moscow trip for you?

Eva. This trip was very cool, the organisation was really serious and helpful for the foreigners. There were a lot of people in the public, and the atmosphere in the French team was really friendly.
P.S. Are you happy with your performance in Moscow?

Eva. I am happy with my speed performance, this is my best result so far. Of course, best ranked girls in speed weren't at this competition. I am not really happy with my Classic and my performance in jump, I think I felt some pressure because it was my first main event of the season.
P.S. Who impressed you the most?

Eva. Ambroise impressed me the most because I train with him and he's had a really good evolution. Iranian guys impressed me in speed slalom junior and senior, and Flavien always impresses me in jump.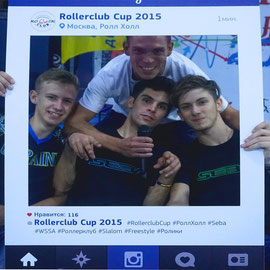 Romain Lebois (Fra)
P.S. How was this Moscow trip for you?

R.L. This Moscow trip was really good ! Much more than the previous one in China. I brought Ambroise with me and we did pretty good results! I am really proud of him. Unfortunately it was raining a lot so I am very happy we decided to come inside, this was a wise choice from the organization. The organization was really good too, big congrats to them! And hope to come back next year.
P.S. Are you happy with your performance and 3/3/3 results ?

R.L. I am not really satisfied with my Classic performance, I was really nervous for nothing... During speed slalom I did a really good time, I was about to beat my record! But during the semi final I did too many mistakes.
In the Battle, I did pretty good runs. I remember the semi final against Roman Gordin, where our performances were so close that the juges asked for a best trick to choose who would go to the final. For the final, I somehow did a good first run, but after trying too many new tricks, I missed it... ANYWAY it's my first time doing three third places on a three-cone event (what a triple). I'm really proud of these podiums ~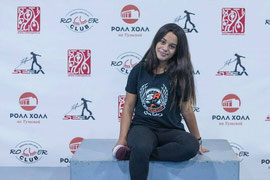 Miriam Fatmi (Esp)
P.S. How was this Moscow trip for you?

M.F. It was awesome. I've never been in Moscow before, so for me it was something totally fascinating. The trip was a bit long but worth it. Russian people are very kind, I hope to go back again next year!
P.S. How did you find the level of the competitions in Moscow?

M.F. One of the reasons I wanted to go to this competition was because of the incredible level of the Russian skaters, especially the kids. It was great watching this level live, how those kids can do all those difficult tricks so easily.
P.S. Are you happy with your performance?

M.F. I'm happy with my results especially with my 4th position in slides, but I want to get better results in Busto, I will train very hard this week!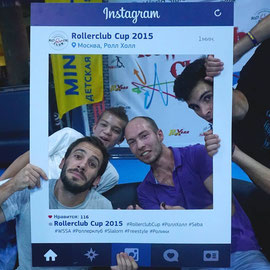 Herve Guillou (Fra)
P.S. How was the Moscow trip for you? What was the most memorable?

H.G. Moscou Competition is one of my favorite events (after Paris of course!). The competition area was unbelievable and the organization took care of us before and during the entire event. It was a good opportunity to see the awesome "old generation" Russian skaters like Roman Gordin and Andrey Shitov. The only problem was that the weather was terrible the entire week end! I hope that next year the organization will order some good weather! Personally, I enjoyed every moments of this competition, particularly when French skaters were in front of the audience. But if I had to choose  only one, I would say it was during my battle semi final after the announcement of the last trick between Romain Lebois and Roman Gordin. There was a lot of pressure on both side, the fight was spectacular and it finally ended with the well-earned victory of Romain: pure happiness.
P.S. Who impressed you the most?

H.G. The skater which impressed me the most at this event was Sergey Timchenko, just like throughout the whole year. He is definitely the best skater of the last 2 seasons due to his incredible balance and his high consistency on top level tricks. You would think that this hard-working boy is a robot but, after seeing him miss a trick during a competition for the very first time this season, I realized he was a human after all. I wish my friend Sergey all the best for the European and World Championship.
P.S. Are you happy with your performance?

H.G. It's been the first year, since my huge accident in 2012, where I participated to all disciplines: battle, classic, speed, jump and slide. I'm feeling a lot better on skate and it shows. This competition was also a competition of discovery: speed slalom with 3*110 frames. I felt really fast and comfortable with them although it wasn't reflected in my final ranking (9th). I now have 3 weeks to prepare and adjust myself for the European Championship in Busto. So, I can say that I'm happy with my performance. But for me what's most important is that both the judges and the audience had pleasure seeing me skate, so maybe ask Igor to answer this question!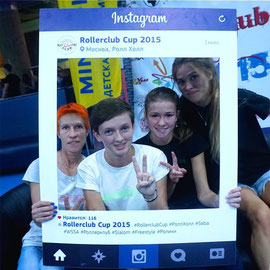 Zoe Granjon (Fra)
P.S. How was the Moscow trip for you? What was the most memorable?

Z.G. My trip was awesome! I really enjoyed the competition and the time I spent with my friends, we had a lot of fun. Special thanks to Dasha for hosting me!
P.S. Are you happy with your performance?

Z.G. Yeah, for sure I'm happy about my performance! I won the speed slalom so I couldn't expect better place, I skated really well in battle final, and I did a good performance in classic.
P.S. Who impressed you from the opponents?

Z.G. Without any doubts, Dasha impressed me the most... She stopped skating for a few months and she is still at the top! It wasn't easy for her because Rollerclub cup was her first 3-cone event this year, and she showed a really good classic and a very technical battle performance! She is a champion!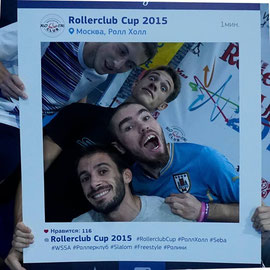 Krzysztof Kowalik (Uru)
P.S. How did you like the trip? What was the most memorable?

K.K. It was a great trip, I loved it. Moscow impressed and surprised me a lot, and Roll Holl, the place where the competition took place, is just amazing! Being able to skate and compete there was the most memorable thing for me.
P.S. Are you happy with your performance?

K.K. I'm happy with my performance in battle, but very disappointed with my classic run. Anyway this experience served me well, the mistakes I've made have motivated me to train harder in order to get ready for the WFSC.
P.S. Who impressed you the most?

K.K. That's a tough question. I think Roman Gordin would be the one who impressed me the most in Moscow, he's got a great balanced technique with very nice flow and some cool freestyle, plus I'd never had the chance to see him live before.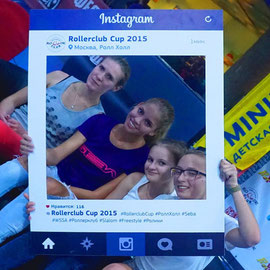 Daria Kuznetsova (Rus)
P.S. How was your first event after a break?

D.K. It was hard to compete after a long break, I was very stressed because I was not confident enough in my abilities.
P.S. Are you happy with your performances?

D.K. I am very happy that I was able to concentrate and perform well. Of course, there were some mistakes, but I did my best.
P.S. How long you've been skating after the injury?

D.K. Two weeks before the Rollerclub Cup I put my skates on after two-month break. It took about 3-5 days for me to get used to skates and to repeat my runs.
Polina Semenova for WorldSlalomSeries.com
Proofreading by Chloe Seyres
Photo by Hannes Jähnert, Elena Lukashova and Se Rueda Roller Shop
September 2015