Cara Brooks is the triple American Champion 2015!!!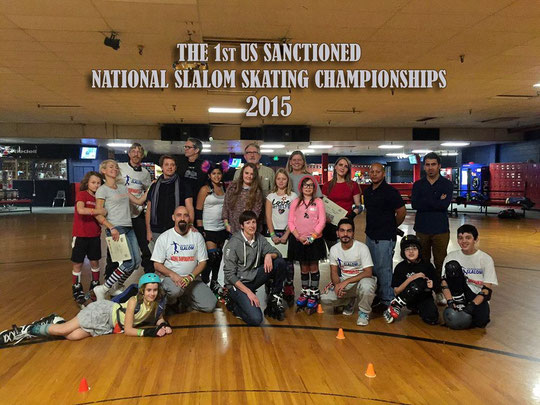 The first sanctioned USARS USA National Championship was held on the 14th and 15th of November in Seattle, USA. Organized by Mason Sherry, the event took place in the indoor skating rink of Lynwood. Naomi Grigg, Polina Semenova and Gregoire Pinto were judging this competition and welcomed everyone to the workshop to share some skating skills.
"It's great to see the level to increase over the past year!", Naomi said, "I look forward to seeing everybody at the next USARS Championships, which will be organized at the same time as the other USARS national sports."
According to the USARS rules, the foreigners were welcome to fight for the titles as for all USARS roller sports disciplines. More than 20 skaters from USA, Canada and even Iran were competing in Speed Slalom, Freestyle Classic and Battle disciplines. Iranian skater Lak Hamid Reza won two National Champion titles, in Speed Slalom and Freestyle Battle. Joe Walker from USA became a National Champion in the Classic Discipline. The best overall result was made by American, Cara Brooks Bowman, who won all three competitions in a row, Classic, Battle and Speed Slalom! This is her best result so far! 
"I feel so good", Cara shared, "I become more confident after every event! The World Freestyle Skating Championships, where I was skating just one month ago, made me less nervous about the competitions. I am very happy! I plan to visit even more events in the next season!"
Polina Semenova for WorldSlalomSeries.com
Photo by Tamara Sherry
November 2015