In memory of Pascal Falcini

German-French freestyle skater Pascal Falcini died suddenly on March, 26th. We would want to express our sincerest condolences to his beloved girlfriend, friends and family during this hard time for all of them. Pascal was a very active competitor of the world slalom series events since 2009. He reached the TOP 5 and TOP 4 of the Freestyle and Speed Slalom German Ranking in 2011. For more than five years he took part in the German Championships. He also performed at the Paris Slalom World Cup, the Inline Games, the European Championships in Paris and Berlin, and the World Championship in Geisingen, Germany, where he even participated in the opening ceremony. But the most important thing is that Pascal was always very positive and kind to everyone he met and that's why this tragedy touches every heart. We are very, deeply sorry to hear about this loss. He will be greatly missed. Here are some words for Pascal that his closest friends dedicated to such a brilliant guy who left too early...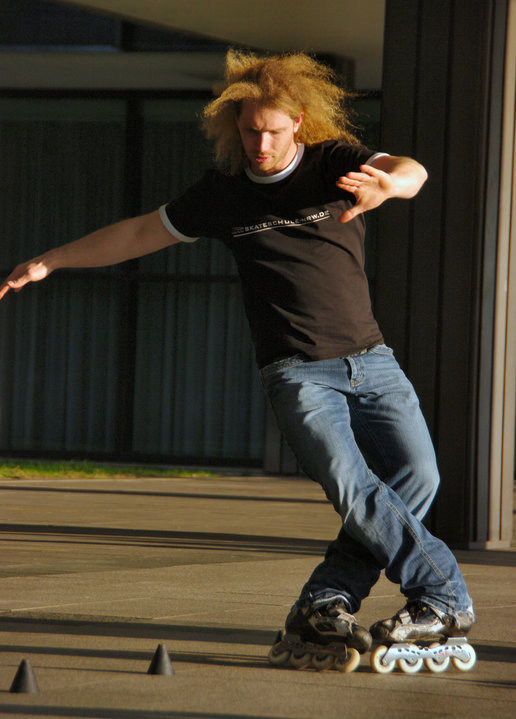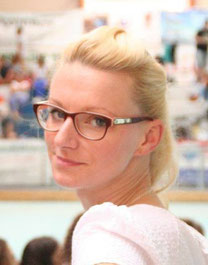 Linda Dams :
Dear reader, I'd like to introduce you to Pascal Falcini. You could recognize him from far away by his blond bushy hair. When you came closer, it was his bright smile that caught your attention. And when you were close enough to say hello, it was possibly him who would open the conversation. For sure he would have invited you to have a skate session together or just for a nice talk. In any way you would have discovered how pleasant it was to spend time with him. Now that he is gone you might feel the tragedy of never making his acquaintance, enjoying his hospitality and discovering his warmth. I will miss you Pascal! All my thoughts are with your beloved Maria. I will try my best to make her smile, but I'm sure I could never do it the way you did. Adieu!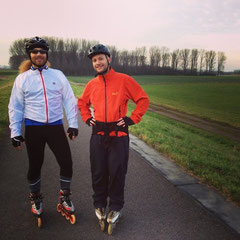 Daniel Ullrich : 
With his mane and his cheerful smile Pascal was distinctive. He taught me lots of tricks and styles, but above all I am grateful for the many hours we spent together. I'm lucky I could tell Pascal a friend, as sad as I am for losing such a friend.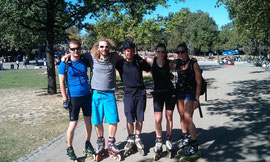 Benjamin Jaegle :
I met Pascal 4 years ago and it's thanks to him that I started freestyle slalom together with the Styleskaters of Cologne. I learn most of the tricks from him and I will always remember his incomparable style and his hair always floating in the wind together with his smile giving you energy to train again and again ! Thank you Pascal !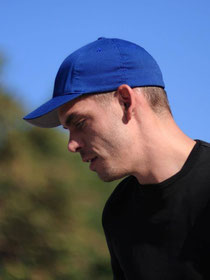 Hannes Jähnert :
What to write about Pascal Falcini? Maybe three facts to remember: A gentle guy! A good friend! A known slalom skater!
Back in 2011 when I met Pascal first time I got to know him as a friendly and skilled skater. His tricks and his very personal beautiful style impressed me a lot. But what impressed me even more was that he did not hesitate to show me - a beginner with half a year of skating experience - tricks and moves to learn. Every time we met on skates he asked me 'what to learn next' ...
One movement I learned from Pascal was a quite simple heel-flat backward pivot - half one to the left, half one to the right and it looked like smooth walking through the cones. As I didn't know how to name this move and as I learned it from Pascal and as it fits so perfectly to his style, I was so impressed about it, I named it "Falcini". There's probably several other names for this move out there. However, I'll remember it as "Falcini" - a smooth style trick from a gentle guy and good friend I'm proud I got to know !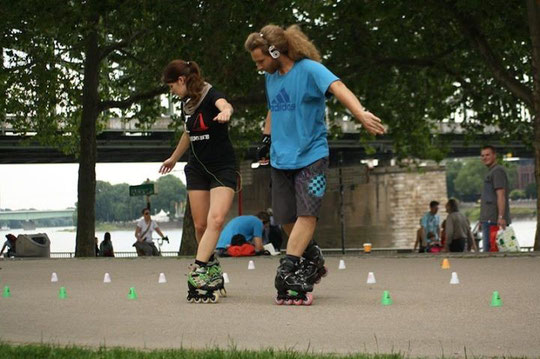 Video by DigitalPlazaFilms
Polina Semenova for WorldSlalomSeries.com
Proofreading by Maryam Amiand
Photo by Pascal Falcini, Maria Eggert, Benjamin Jaegle, Hannes Jähnert, Linda Dams
March 2015