INTERVIEW w/ Klaudia HARTMANIS

"My best skating year so far..."

Chloé Seyrès for WorldSlalomSeries.com
2013 Top-5s Interview Series
Collected January 2014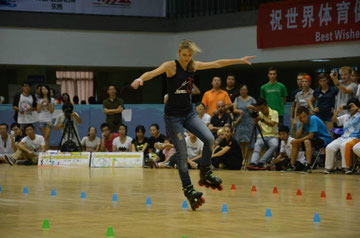 Hartmanis Klaudia (POL)
ID: 21461000988
Freestyle World #3 / Speed #3
Nb of Comps in 2013: 27 / 13
Total score: 5918 / 2443
Best-5: 1479 / Best-4: 1035
Polish Klaudia Hartmanis is the only Freestyler successfully playing on both fronts of freestyle and speed slalom, reaching place #3 in both rankings. She has been in both Top-5s for more than a year, proving that her double success has nothing to do with luck.
Klaudia collected an impressive list of podiums this year: double winner in Battle and Classic at Namwon and at the Senigallia Conero Xmasters Award, 1st in Battle and 2nd in Classic at Lishui, 2nd in both Battle and Classic at the Hannover Inline Games, 2nd at Battle Masters Beijing, 2nd in Classic and 3rd in Battle at Busto, 3rd in both disciplines at the PSWC, 3rd in Classic at the European Championships and at the Rollerclub Cup Moscow, and four times 2nd in Pair Classic with partner Michal Sulinowski at Namwon, Shanghai, Lishui… and Taipei for the WFSC.
The list is long because she is quite a traveller with 27 competitions for 2013. However it doesn't lack quality with a bronze medal at the European Championships in Classic and a Silver medal at the Worlds in Pair Classic… and not to forget a win that is probably worth a dozen titles: her 1st place at Lishui Battle in front of Su Fei Qian, the unbeatable Chinese.
In Speed slalom, she is always around although her result list is far shorter: 1st at Moscow and 2nd at Namwon, which enables her to keep place #3 behind the two unremovable Italians.
INTERVIEW
C.S. You have travelled even more than last year in 2013 (27 vs. 22 competitions), how did you get organized with your studies, your trainings, your jet lags and all?
K.H. I wasn't even aware that I participated in so many events! With school it's always alright, I have no problem to study well, train and travel at the same time. It's just motivating for me to get good marks before some competition. Especially that in 2013 I did two huge trips like Korea-China and Russia-China-Taipei which took about 3 weeks each! I missed so many days at school but I'm really satisfied with my final results for the first term! I'm enjoying my life as much as I can. Jet lags? Usually when I am back home from Asia I feel strange for one week, but luckily when I need to compete I feel alright.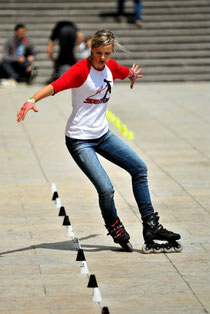 C.S. Are you ready to renew the hectic travelling next season?
D.K. I really hope to have the opportunity to travel as much next year. I will keep on training hard to be 100% ready.
C.S. What aspects of your skating did you improve this year?
K.H. I feel more confident than before with my technical tricks, in style I often try to create and insert some new elements. With all the events I've taken part in so far, I've gathered experience and I think I'm improving more and more in competition management. Last year I created some combos which I used in battle and classic. I have more ideas in my head but it was really hard to transpose them, so maybe this year I will be able to show them...?
C.S. According to our last interview, your 2013 trick objective was toe christie. What is the next step for 2014?
K.H. Toe Christy is still on my to-do list. I still cannot find the good balance for that trick. Maybe I will be strong enough to manage it soon. There are soooo many tricks and combos I would like to learn so that I will keep on skating.
C.S. Are you satisfied with your 2013 season...
In terms of ranking?
K.H.I'm really exhilarated about my final ranking! It's an awesome feeling to be in the Top-3 for the second year in a row in both categories. That makes me so happy and pushes me to be better and better, because it's not easy to keep such a position for a long time.
"what doesn't kill me makes me stronger"
C.S. In terms of results?
K.H. I got the bronze medal (Classic) at the European Championships and the silver (Pair) at the World Championships, that's what I'm really proud of! Moreover I took the 2nd place at Battle Masters in Beijing and in Italy. I got the titles of Polish Champion in Classic and Battle and I finished 2013 at the top of the Polish Ranking in freestyle for the 3rd year in a row, and in speed slalom for the 4th year in a row. For the rest of the events, I brought back home about 25 medals! It has been my best skating year so far! I will do my best to continue in 2014.
LISHUI OPEN - WOMEN'S BATTLE FINAL
C.S. In terms of pure performance?
K.H. As I remember I only failed once on competition like never before. I was angry at me but what doesn't kill me, makes me stronger. Anyway I still had a good rank, 6th, and it was a new experience. Taking into account all my results of 2013, I can easily say I mostly skated well! During the season I wasn't sure I was improving, but looking back, I see how experience and training helped me and I feel I improved my tricks and the quality of my skating. I can see the difference between my runs of the beginning and of the end of the year. I hope I will still keep on going up for the new season.
"I won in front of Su Fei Qian,
I still can't believe that"
C.S. A competition moment you are particularly proud of?
K.H. Each time I was standing on the podium, especially for the European and World Championships and at Battle Masters! Final ranking and all results are important for me. But the most memorable day is the Battle in Lishui, which was my best performance ever! I did my runs clean and close to perfection and I won in front of Su Fei Qian. I still can't believe that, because I couldn't even think it was possible to take the 1st place in that event. After that, I know everything can happen.
C.S. Last year you said you would feel fulfilled if you could get the gold at the European Championships. It didn't happen this year, 2014 is the good one?

K.H. I will do my best to make this year the good one. In May I have big exams finishing high school. Depending on my results I will get to dream about university or not. I hope for the first option. So I'm going to focus more on my studies now, and then pass these exams well, and keep on skating like before. My aim is to create a program which I am satisfied of and show it on competition! Gold medal became my dream, since I've won the bronze and two silvers on European Championships. And I will really feel fulfilled when achieving it.
C.S. Do you think you can get place #1 or #2 from Dasha Kuznetsova or Su Fei Qian?

K.H. Both of them have the maximum Best-5! It's easy to be #1… Just do like them! Haha. Seriously, although nothing is impossible, it would be really hard to beat Dasha and Su Fei Qian. The same for them, it is not easy to keep such high positions! I think we will all do our best.
"we will all do our best"

C.S. What do you think of the new rules coming for Classic?
K.H. It might be more attractive for audience and skaters as well. Now there will be even more difference between classic and battle. As classic is more artistic now, with a lot of footwork and just a few good tricks, compared to battle in which I fight against myself in technical combos and put some style to make it look better. I love both of them for those differences.
C.S. What about speed slalom? Did you train to keep your ranking?
K.H. No, I didn't practice speed slalom. Only sometimes I pass the line a few times before or after training, depending on the day. During events, I focus and try to do my best. It works more or less.

Free space:
K.H. Thank you Chloe for this interview and for all your articles on the WSSA page! Big thanks to Seba and Igor who are giving me unimaginable huge opportunities to develop my skills and travel around the world! And of course I'm really grateful to my family, Michał and best friends for being with me and always supporting me!! Also thanks to all skaters for making our skating environment! See you soon everyone and keep on enjoying skating.
Chloé Seyrès for WorldSlalomSeries.com
March 2014
RELATED ARTICLES: