INTERVIEW w/ GUO FANG

"Stability is what I am the most concerned about"

Chloé Seyrès for WorldSlalomSeries.com
2013 Top-5s Interview Series
Collected January 2014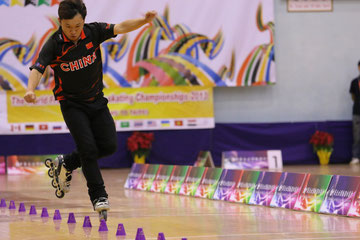 Guo Fang (CHN)
ID: 10411000279
Speed Slalom Men's World #2
Nb of Comps in 2013: 5
Total score: 1395
Best-4: 1157
Chinese Guo Fang has been climbing back up the Speed Slalom World Ranking for more than a year now, especially after having seized back the 2012 World Title at Lishui after two years of French domination (Yohan Fort: 2010, 2011), a gold medal he added to his 2008 and 2009 Speed Slalom World Titles. He started the 2013 season at place #4, being the first Asian of the World Ranking, to seize place #3, then place #2 in August in which he stayed until the end of the season.
He reached the Top-4 at each of the 5 Speed Slalom competitions he took part in this year. After two loses in consolation finals awarding him the 4th place at the competitions of Namwon and Paris, he got a 2nd place behind his team mate Lan Wang Heng at Shanghai, won Lishui and failed close to a 4th world title, becoming the 2013 World Vice-Champion and leaving the gold to Italian Davide Piacentini.
Guo Fang is just as much, and probably more, famous for his freestyle performances. This year he was crowned World Champion in Pair Classic with partner Zhang Hao, a discipline the pair had also won the previous week at Lishui as well as at Shanghai during the summer. Yet, with no qualification in Battle Top-5s and only one bronze medal, at Lishui in Classic, his individual performances were not enough to keep him in the Top-10 this season, and he finishes 2013 at the #13 place of the Freestyle World Ranking.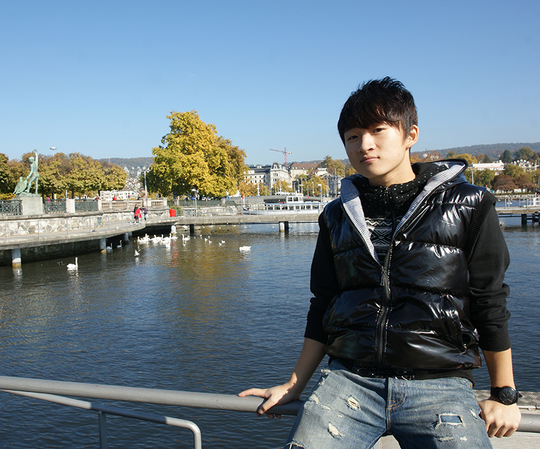 INTERVIEW
C.S. You were one run away from a 4th World Title in Speed Slalom. What happened in your head during the final at the WFSC Taipei? Can you describe your feelings?
Every skater try their best until the end when they are in a competition. We compete not only with speed but also with stability, which is the factor I am the most concerned about. As for that final at the WFSC, I think I had to adjust my mindset. And the other competitor pulled out all the stops during the race. So that you can't get the first place easily just by skating at your usual level, you need to get something really strong inside of you, a firm faith, and then only can you be in good condition during the competition. Frankly, it was not easy for me to qualify in Final at the Taipei WFSC. It was a real challenge to beat the other skaters and get the ticket for the final. So that when I was standing on the starting line, I was still immersed into the happiness of the victories of the last rounds and I felt that I could win. But Davide is super reactive, he was always faster than me at the buzzer. That put pressure on me and made me miss the first cone. And when you make mistakes, you feel nervous and can't concentrate… and I lost.
"Davide is a dark horse, really talented"
C.S. What do you think of Davide Piacentini, did you know him already?
G.F. I think he is a dark horse, really talented. It was the first time I saw him.
C.S. According to you, what are the differences between European and Asian speed slalomers?
G.F. European skaters have good physical condition, they have a lot of explosive power, which helps for speed slalom. Asian skaters are more stable, and tend to make less mistakes during competition.
C.S. What were your speed slalom objectives of 2013?
G.F. My aim was to get the World Title for Speed Slalom at the WFSC. I didn't achieve it but I was close. Maybe because I didn't train enough for it.
C.S. Did you discover new talented speed slalomers this year?
G.F. The Iranian skaters really surprised me this year, they really improved a lot in speed slalom.
C.S. You are one of the most complete freestylers on the planet, with great level in freestyle AND speed slalom.
How much do you train for speed slalom? and for freestyle slalom?
G.F. Actually, I spend 90% of my time on freestyle slalom and the rest for speed slalom. I train 2 days a week, with sessions of 2-3 hours.
"in order to improve my reaction speed,
I reduce the distance for each cone to 50cm"
C.S. How do you train for speed slalom? Describe a typical training.
G.F. I think that physical condition is a very important factor for speed slalom. Then there are the reaction, stability and balance parameters. Hence, I believe separate trainings for starts and cone crossing are better. You can get to know how many steps you need to take before crossing the first cone according to your personal habit. When crossing the cones, you need to practice how to avoid touching them. So in order to improve my reaction speed, I reduce the distance for each cone to 50cm. Based on that, you can practice your ability for not touching the cone, when passing the first cone after a set-off with high speed or inside the cone line. And after a long time of practice I get a conditioned response to avoid every cone.
C.S. What do you prefer between freestyle and speed, and why?
G.F. I prefer freestyle, you can see it from my training schedule arrangement. It brings me amazing imagination, artistic expression and happiness. I can perform magic tricks and movements with freestyle.
C.S. What are your goals for 2014? Do you want to get back to place #1 at the world ranking?
G.F. Of course, I always dream of standing on the champion podium, but I know it can happen only after hard training.
C.S. Your goals in freestyle for 2014?
G.F. I hope I can do better than this season and create a better performance.
Free Space: I really want to say something from the athlete's point of view: I think that the new starting mode for speed slalom is not as good as before.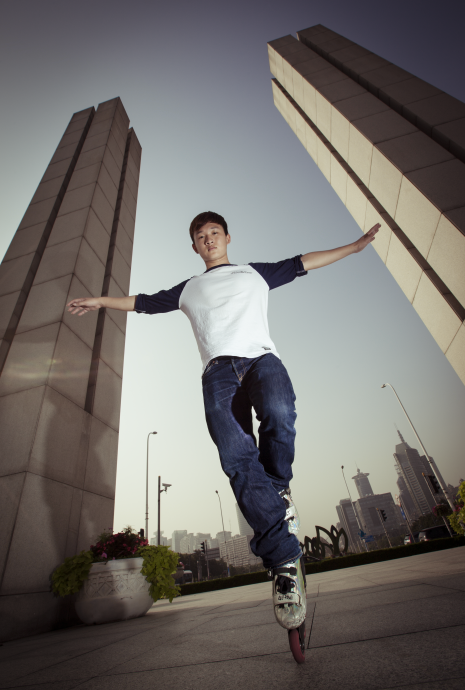 Chloé Seyrès for WorldSlalomSeries.com
  March 2014