INTERVIEW w/ LAN WANG HENG

"Speed slalom is more exciting and more intuitive"

Chloé Seyrès for WorldSlalomSeries.com
2013 Top-5s Interview Series
Collected January 2014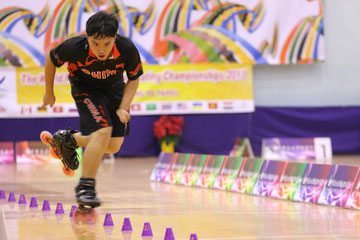 Lan Wang Heng (CHN)
ID: 10411000405
Speed Slalom Men's World #4
Nb of Comps in 2013: 4
Total score: 1040
Best-4: 1040
Chinese Lan Wang Heng hadn't been spotted in a Top-5 for a while, until last May when he reappeared in the surroundings, hitting rank #9 of the Speed Slalom World Ranking. Two months later he gained one place, and then directly reached rank #4 in August, from which he was destitute for a brief month by current #5 French Alexandre Claris, before gaining it back and securing his position until the end of the year.
Just like his team mate Guo Fang, Lan Wang Heng is also and first of all a renowned freestyler. Yet this year his results were not convincing, with only two bronze medals at the Classic and Pair Slalom (with partner Ye Hao Qin) of Shanghai, which places him at rank #28 of the World Ranking of Freestyle.
However, Lan Wang Hang may have run out of steam in Freestyle for a couple of years, he proved over the last several months that he was still in the running in speed slalom.
In only 4 speed slalom competitions joined during the season, Lan Wang Hang collected a gold medal in Shanghai and two bronze in Paris and Lishui, scoring a Best-4 of 1040. He finishes the year 48 points away from World #3 Diego De Araujo.
INTERVIEW
C.S. What were you objectives for 2013 in Speed Slalom?
L.W.H. My speed slalom objective for 2013 was to get the World Champion title at the WFSC, but I didn't achieve it. I think I haven't adjusted my condition in a good way, and I couldn't show my usual level.
C.S. In only 4 speed slalom competition, you did 3 podiums, including a 1st place at Shanghai and two 3rd places at Paris and Lishui. Are you satisfied?
L.W.H. Actually I am not satisfied with my 2013 results, especially for the WSFC, I have real regrets for that one.
"Chinese prefer stability"
C.S. What differences of technique did you spot between European and Asian speed slalomers?
L.W.H. I think European skaters have a good explosive power, but Asian skaters are more stable. Italian skaters are good at raising their speed when they are in the cone line, French skaters will do it at the set-off, but Chinese prefer stability.
C.S. In speed slalom, who are you impressed by?
L.W.H. Guo Fang for sure, he is my team mate and my opponent. We always meet in finals, we know each other very well, it's like a ding-dong fight.
C.S. How much do you train for speed slalom? and for freestyle slalom?
L.W.H. My time arrangement for speed slalom and freestyle is half and half, 4 times a week, and every day when I am on holiday.
C.S. How do you train for speed slalom?
L.W.H. When I train alone, I focus on stability. I always train with others like on a competition, because it is easier to spot my weaknesses than with a specific training.
"speed slalom is more exciting"
C.S. What do you prefer between freestyle and speed, and why?
L.W.H. I prefer speed slalom, I think it's more exciting and more intuitive. The results are obvious. In freestyle, I get satisfaction from the applause of the audience when they watch my performance. But for speed, it is a straight way to judge results, and it gives me a huge sense of achievement.
C.S. Your goals for 2014?
L.W.H. I want to get a World Title in Speed Slalom at the next WFSC, because I really love this discipline and the WFSC is the largest skating event. Lots of athletes have excellent skills, especially in speed slalom. It wouldn't be just an affirmation to myself, but it would also fill the blank of "no world champion title in speed slalom" in my competition record. That's my first goal for 2014.
Chloé Seyrès for WorldSlalomSeries.com
  March 2014