INTERVIEW w/ Kristina LYSENKO

"I worked hard for it"

Chloé Seyrès for WorldSlalomSeries.com
2013 Top-5s Interview Series
Collected February 2014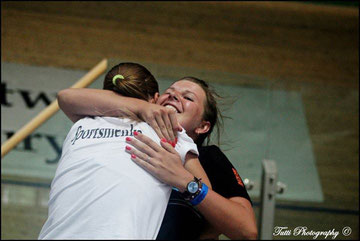 LYSENKO Kristina (RUS)
ID: 21511001014
Speed Women's World #4
Nb of Comps in 2013: 6
Total score: 1350
Best-4: 1024
Kristina Lysenko was #9 at last season's final ranking. She hits place #3 for one month (Feb.13) before disappearing from the Top-10 for three months. She reappears in July at rank #7, visiting places #8 and #9 the two following months, to finally re-enter the Top-5 at place #5 in October, and improving her rank by one place by the end of the year, finishing the 2013 season at the World's #4 place.
An inconsistent evolution for the Russian who scores a Best-4 of 1024 points, only 9 points behind World #3 Polish Klaudia Hartmanis.
With 6 participations this year, she gets the bronze at the European Championships and in Lishui, the 4th place in Hannover and the 5th place at the PSWC and in Moscow.
INTERVIEW
C.S. How do you explain your ranking variations during 2013?
K.L. My variations of this year are due to a lack of competition participation. There are two reasons to it: the first is that I worked hard with my skating students and the second is that I judged on most events of this year.
"I had a sports anger"
C.S. What were your 2013 objectives in Speed Slalom?
K.L. I was quite satisfied with my third ranking in February but as I'm a human being, I wanted to be better and have more. Honestly I worked hard for it. During the previous years I hadn't been really lucky in semi-finals and qualification runs. But I had a sports anger and I was full of desire to beat French and Italian girls one day, because they are the strongest and the fastest. That's quite a challenge!
C.S. How do you train for speed slalom?
K.L. My typical training starts in the morning with physical exercises such as running, skipping rope, push-ups, press, stretching etc.. I workout 3-5 times a week. Skating depends on my free time, sometimes twice week, sometimes only once, sometimes three times or even zero.... I'm training with Irina Davydova. Usually we do different exercises. I train on free-starts and signals. We write down the times of each run, to compare my training to my result variations. I recommend it to every skaters who wants to be good at speed slalom!
"the winner is the skater who does clear runs"
C.S. You get the bronze at the EFSC in Warsaw, how was your competition?
K.L. EFSC in Warsaw (I loved it) was the best and hardest competition ever for me! To go to the next round, I had three attempts each time. I fought with all the French girls and I kicked them out just like in a dream. It was my revenge for the 2011 WFSC where I finished 4th after giving the 3rd place to Tiffany Derisbourg, that time was the other way around. I didn't believe I was able to do that. I was scared to make a mistake. Vladimir Tkachev once told me in 2008 or in 2009 in Kiev, in the final with you Chloe, that the winner is the skater who does clear runs. It came back to my mind and with that thought, I won the 3rd place! If not for my good friends who were next to me at every run, I could not have done it. Irina, special thanks for you!
C.S. Any regret this year?
K.L. Unfortunately I don't have the opportunity to travel a lot and get more experienced. I would show better results probably, who knows. I particularly feel sorry about my absence at the WFSC in Taipei this year, I really wanted to go and take part… I won the Russian Championships but I couldn't spend such a big sum of money for the trip.
"I'm thinking about stopping competition and giving all my knowledge and power to the next generation!"
C.S. What are your objectives for 2014?
K.L. I haven't yet decided for 2014. First of all I want my children to take part in the WFSC in France. I would like to develop Junior Sports in Russia for Inline Figure Skating and slalom. I'm thinking about stopping competition and giving all my knowledge and power to the next generation!
Free Space: I would like to thank Irina Davydova, she helped me a lot to reach the 3rd place in Warsaw and the 3rd place in China.
Train hard, enjoy each moment you are skating. Smile to everyone and it will come back to you with double smile and success. NEVER give up! Just go for it!
Chloé Seyrès for WorldSlalomSeries.com
  March 2014