INTERVIEW w/ Ewelina CZAPLA

"I try to be a varied skater"

Chloé Seyrès for WorldSlalomSeries.com
2013 Top-5s Interview Series
Collected February 2014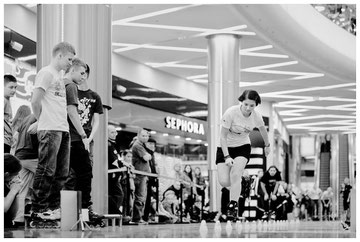 CZAPLA Ewelina (POL)
ID: 21461000983
Speed Women's World #5
Nb of Comps in 2013: 9
Total score: 1791
Best-4: 1005
Ewelina Czapla spends half of the year in the Top-3 of Speed Slalom, with six months in a row at the #3 place from April to September, before being brushed off by Klaudia Hartmanis (#3) and then by Kristina Lysenko (#4). She finishes the year at the World's #5 place, consequently improving her ranking of last year (Dec.12: #8) and still hanging on to the Top-5.
Winner of Namwon Slalom Open and of Battle Summerstyle Gava, 2nd at the RollerClub Cup Moscow and 5th at the Hannover Inline Games, the Polish skater is also a hardened freestyler with 7 months in the Top-10 of Freestyle this season.
INTERVIEW
C.S. What do you think of your speed slalom performances in 2013?
E.C. Looking back on all my performances of 2013, I must conclude that it was quite good year. I've never been focused only on speed slalom. I started the season with a victory in Korea (I think that's my biggest achievement), then I won in Barcelona and I took the 2nd place in Moscow. During the year I also had some bad performances, but I finished 2013 in a perfect way, gaining a title of Polish Champion.
C.S. How much do you train for speed slalom?
E.C. I don't limit my training to only one discipline. I try to be a varied skater, I practice speed, battle and classic too. Generally I spend little time on speed slalom. Of course it depends on periods. During the school year, I practice speed once or twice a week, or more if I have more free time. I've never had any special plan for training so far. Now I'd like to work on some exercise which could help me improve my efficiency. The biggest problem is that currently we even don't have the possibility to measure our times accurately.
"my luggage was missing and I was devastated,
I couldn't use my own skates."
C.S. What is the speed slalom result you are the proudest of this year?
E.C. My victory in Korea made me the proudest. My luggage was missing and I was devastated, I couldn't use my own skates. Because of that, I didn't expect any special result. I still remember my happiness when I realized that I had won!
C.S. A competition you wanted to go to in 2013, but couldn't?
E.C. Of course the World Championship! In September I started to prepare for my final exam. I missed school because of Busto and Moscow. If I'd gone to Taipei I would have missed two weeks more, too many absences in school, so I could not afford it. I'll join in this year for sure.
C.S. Did you have objectives for speed slalom in 2013?
E.C. My objective this year was to win the Polish Championship, and I have achieved it. I was also really happy to reach the Top-3 in April and I wanted keep it for a few months. I am satisfied because I kept this position for half a year.
"I want to be faster and totally clean"
C.S. What are your plans for 2014? Re-entering the Top-3? And more?
E.C. It would be great to re-enter the Top-3. I am going to skate as much as possible, I'll work on my runs, I want to be faster and totally clean. Apart from the European and World Championships, I would also like to take part in some events in Asia.
Free Space: Big thanks to best team manager ever Tomasz Szymczyk for his involvement, all SpokoSpot Team for support and help, Barbara Bossi and Alexandre Claris for speed slalom tips! My family, Jupka, Boska, Edzia and my friends! Of course, Kim Tae Bin, you are my hero.
Chloé Seyrès for WorldSlalomSeries.com
  March 2014