INTERVIEW w/ Dasha KUZNETSOVA

"18 months at the top and it's still incredible"

Chloé Seyrès for WorldSlalomSeries.com
2013 Top-5s Interview Series
Collected January 2014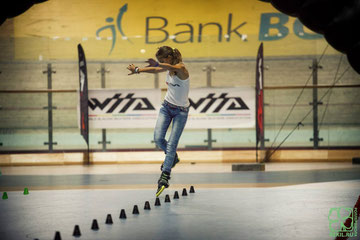 Kuznetsova Daria (RUS)
ID: 21511001011
Freestyle Women's World #1
Nb of Comps in 2013: 16
Total score: 4305
Best-5: 1600
Just like her masculine twin Romain Lebois, Russian Daria Kuznetsova investigated the #1 place of the World Ranking in July 2012 and never let go of it since then… Yet the noose is tightening and Chinese Su Fei Qian seems more decided than ever to seize back that place that once was hers. They both finish the year with Best-5s of 1600 (max) but the Russian still has the upper hand thanks to her number of competitions (16 vs. 6).
Classic and Battle winner of the Hannover Inline Games and of the RollerClub Cup Moscow, 1st in Classic at Busto Battle, 2nd in Classic behind Feng Hui in Paris and 2nd in Battle at Busto, doubly 3rd in Classic and Battle in Shanghai, she renews her double feat of last year at the European Championships in winning once more the title in Battle and Classic, and betters her performance at the Worlds in collecting two medals: Silver for Battle and Bronze for Classic.
Her constant presence on podiums as well as her regular wins in both disciplines of Classic and Battle enabled Daria Kuznetsova to keep the much coveted leading place of the ranking one more year.
INTERVIEW
C.S. In last year's interview, you were aware that the #1 place was hard to keep, and this year you are still at the top after 18 months. Do you get used to it?
D.K. It's still incredible for me. I couldn't even imagine that I could be world #1 for 18 months. This year I will try to be world #1 too, but there are a lot of strong skaters, especially Chinese girls. But anyway I am so glad that I had the #1 place at the World Ranking these 18 months among such strong skaters.
"it's still incredible for me"
C.S. Last year, you wanted to beat the Chinese national team. So far you beat Feng Hui once in battle (at the WFSC). Do you think it is a good start?
D.K. After 2013 I think that beating the Chinese team is almost impossible…! For me it's a good start, but Feng Hui is only one girl in their very big team. I like to compete with the Chinese, they are very strong and we are often in the same groups in battles. First time in Lishui (WFSC 2012) we were skating together and I was a bit afraid of them, but now when I look at their skating they stimulate me to skate better.
C.S. Su Fei Qian seems hardly reachable in Battle AND in Classic. And she has never been that close to you (Best-5 tie). Do you have plans to outdistance her?
D.K. Su Fei Qian is a very strong skater, I like her skating and her style, her classic runs are always clean and she has a lot of hard tricks and combos in them. It won't be easy to outdistance her, but I will try! However, having the #1 place at the world ranking is very cool, but it is not my only motivation. It's a veeery big pleasure for me to skate with my friends and take part in competitions, learn new tricks and be happy when I can do them. I just try to make my classic and battle runs clean. I am glad when I don't have too many mistakes in it.
"it takes a lot of time
to learn new wheeling combos"
C.S. Did you reach all your goals for 2013? And what are your goals for 2014?
It was an amazing year with a lot of competitions in different countries. It was hard to come to all competitions because of my studying at school. But I spent very good times with my friends, they support me a lot on competitions and next year I will try to save my 2013 titles. This year I had the #1 place at the world ranking, I am very proud about it. I was also the European champion in Battle and Classic, and I got places 2 and 3 in Battle and Classic at the World Championships in Taiwan. But the level of skating is very high, tricks and combos are very hard, and it takes a lot of time to learn new wheeling combos. It won't be easy to keep them. For 2014, I also want to improve my style and tricks for my classic choreographies and do new battle runs.
C.S. What new trick(s) did you work on this year?
D.K. I worked on front toe christie almost one year, now it's better and it's cool when I do all the line. I am currently working on back toe christie, it's harder than front, but I want to do it on competitions for 2014.
"I am currently working on
back toe christie"
C.S. Do you plan to have a go at pair freestyle one day?
D.K. On competitions, pair freestyle looks very cool and interesting, but it takes a lot of time and it's hard to do the same moves at the same time for both people, you must train more than usual to make your pair classic run look good. Maybe one day, why not?
C.S. Some skaters go up to 30 competitions a year, which is twice more than you. Will you take part in more competitions this year or do you still have strict studies obligations?
D.K. I would like to take part in more competitions this year, but I don't think it is possible because during competitions not only do I miss a lot of school days but there is also no time and possibility to do my homework. Next year I will have big exams and I must be ready for them. Only in summer do I have a lot of free time for preparing competitions and going to them.
2013 ROLLERCLUB CUP MOSCOW
Chloé Seyrès for WorldSlalomSeries.com
January 2014
RELATED ARTICLES: