Tiffany Derisbourg & Jimmy Fort: 2014 Speed Slalom European Champions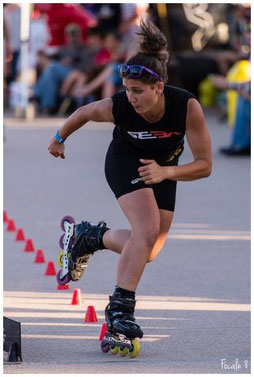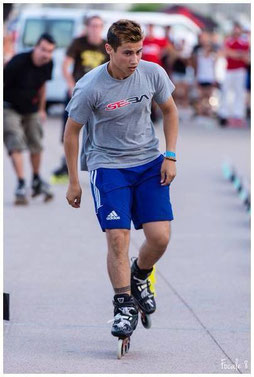 They are the French Power: The fastest skaters of the 2014 European Championships brought two gold medals to their country. Here is are flash-interviews with the Speed Slalom winners. Their emotions after their victory and their thoughts, after the European Championships and before the 2014 World Championships.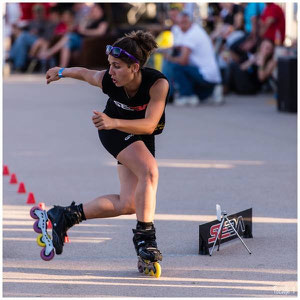 Tiffany Derisbourg (FRA)
Speed Slalom Women's World #6
Nb of Comps in 2014: 11
Total score: 1660
Best-4: 941
INTERVIEW
P.S. This is your best result so far. How does it feel like to get the European Champion title? Did you expect it?

T.D. For sure, this is my best performance so far and I am really satisfied with this title! I did not expect to win necessarily, but I felt that I was able to fight for the victory. Winning at the European Championships just after my PSWC victory... I am still in the middle of a magic dream!
P.S. You are having good results this season, did you change something about your trainings?

T.D. I don't think that I have changed anything about my trainings... I have just grown up, both psychologically and mentally. I don't doubt anymore when I find myself against competitors who are potentially faster than me. I also think that my 20-day trip to China helped me a lot to get this European title. And last but not least, this victory was made possible thanks to the huge support that I got from Team France.
P.S. What are your goals for the 2014 WFSC? Who will be your main opponent?

T.D. My personal goal for the WFSC is to get a medal. My main opponents will be the same as the previous years, Cristina Rotuno and Barbara Bossi from Italy and Wang Tzu Chien (Tpe), who won the 2014 Shanghai Slalom Open.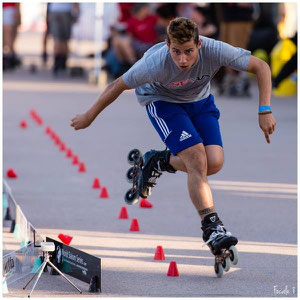 Jimmy Fort (FRA)
Speed Slalom Men's World #36
Nb of Comps in 2014: 6
Total score: 764
Best-4: 608
INTERVIEW
P.S. This is your first European victory , did you expect it?

J.F. Yes, this is my first victory at the European Championship! I did not expect to win at all: The goal that my coach had set for me was to reach the quarter-finals! 
P.S. What were your feelings during the competition, with such a big atmosphere?

J.F. During the competition I was very focused and I did not really pay attention to the atmosphere. When I reached the semi-finals, I realized that anything was possible and I was very concentrated. Then, only in the final I asked my team mates to support me.
P.S. How does it feel to get this title and beat the 2013 European Champion 2013 and World #1, Simone Nai Oleari?

J.F. Getting the title of European Champion makes me happy! I had been dreaming about it for a long time... It is always a big achievement to beat the world number one! For me it is a dream come true, but I will not stop dreaming for all that, because there are other competitions to win.
P.S. What are your personal goals for the WFSC? Who will be your main opponent(s)?

J.F. My personal goal for the WFSC is to finish in the top 5 - it would be a good result! At this level of competition, everyone is dangerous, you should not underestimate any skater in the running.
Thanks?

J.F. I would like to thank everyone who supported me during the European Championship, my coach Pierre Célat and my brother Yohan Fort, as well as all my team mates from Team France! I hope to see a lot of people at the World Championships in Paris!
Polina Semenova for WorldSlalomSeries.com
Proof Reading by Chloé Seyrès

Photo by Focale 8
October 2014