INTERVIEW w/ Ye Hao Qin

"This year might be my last year of competition"

Chloé Seyrès for WorldSlalomSeries.com
2013 Top-5s Interview Series
Collected February 2014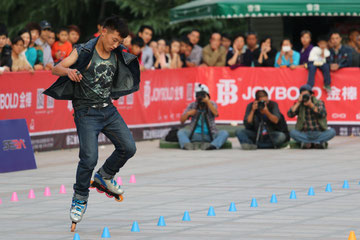 Ye Hao Qin (CHN)
ID: 10411000792
Freestyle Men's World #2
Nb of Comps in 2013: 10
Total score: 2301
Best-5: 1538
Winner of the Battles at the Slalom Opens of Namwon and Lishui, 2nd at Beijing and Shanghai behind Zhang Hao and 2nd at Paris behind Lebois, World #2 Chinese Ye Hao Qin is the biggest threat of current #1 Romain Lebois. Not only because he is hot on his heels at the world ranking (being 62 points behind), but because in six meetings this season, he defeated the French five times.
He won the gold in Battle at the World Championships last year and renewed the feat in Taipei. Let's also mention that he is the current World Champion of Classic in the… Junior category, just in front of his team mate Zhang Hao (World Vice-Champ) whom he often exchanges places with.
Ye Hao Qin attended 10 competitions, which is not much compare to the average skater, but it is the highest attendance for a Chinese top freestyler this season, together with women's #6 Feng Hui.
INTERVIEW
C.S. You compete quite a lot compared to your Chinese team mates, but 10 competitions a year is still not much. Why don't you compete more?

YHQ. Because now that I am in High School, I need to spend more time on my studies. And I still haven't recovered from my injury, so I can't attend more competitions. (1)


C.S. Will you come back to Paris this year for the PSWC?

YHQ. I really want to go to Paris, but it depends on my study schedule and my form, and whether I can be selected to go there.


C.S. What do you think of the European skaters' style?

YHQ. European skaters are able to learn anything that's new, but they are also creative. They attach importance to explosive power and now their technology is much higher than before.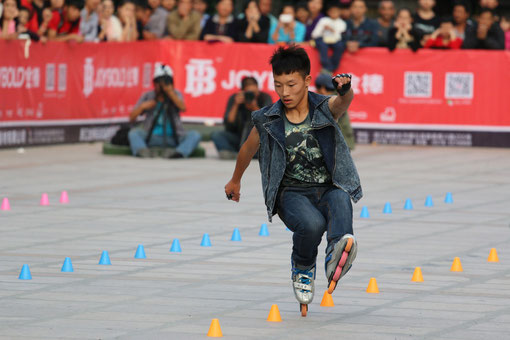 C.S. Who are your most dangerous opponents?

YHQ. Zhang Hao is my best friend but he is also my biggest opponent. In Battle, he is an amazingly versatile skater with perfect skills. He is always stable with complex technical combos during competitions. In Classic he is so strong, especially on choreography, he is stable with good rhythm sensations. 
Romain Lebois is also a tough opponent for me in Battle, he is so skilled, he really surprised me.
 "Zhang Hao is my best friend
but he is also my biggest opponent"

C.S. Which skater do you admire?

YHQ. For girls, Su Fei Qian, because she is a top skater -even the best- in the Women's category. She is a hard worker, and she can make some incredible tricks. She also has her own style for choreography.
In the Men's, Romain Lebois, he is accessible to anything new, no big mistakes in competition, his performances are always stable.
2013 WFSC CLASSIC PERFORMANCE
C.S. How long do you prepare for a classic run? how do you choose the music? how do you create the choreography?

YHQ. Normally I spend 2-3 months to create a choreography. I search the music on a music website and submit it to both my skate coach and my dance teacher. They give me some advice, and then I start creating the choreography according to the rhythm of the music.
C.S. What is your training schedule?

Because of my studies, I can only train 3 days a week, on Tuesdays, Thursdays and during the weekends, one hour per day in working days, and 4-5 hours on weekends. I also train more than 5 hours every day in my holidays. I usually train by myself, except for holidays where I train with Wang Heng, Guo Fang, Pan Yu Shuo and Lu Qian Qian.

"Because of my studies,
I can only train 3 days a week"
C.S. What new tricks did you work on in 2013 and which ones do you plan for 2014?

In 2013 I worked on wheeling Christie up and down, connected with other tricks. And for 2014 I'm currently training on spinning wheeling Christy and wheeling foot gun swing.
C.S. What are your competition goals for 2014?

YHQ. My goal is to get the battle title at the national championship, defend my world title in battle at the WFSC and at  the ARSC, and get the 1st place in Classic in the Senior Men's category.

"I want to keep my level in Battle and also
pay more attention to Classic and Speed Slalom"

C.S. What are your skating improvement goals for 2014?

YHQ. I want to keep my level in Battle and also pay more attention to Classic and Speed Slalom: I want to enhance my choreography creation ability and music understanding. In speed I will try to get under 4.65.
Last but not least, I'll try to warm up more before competitions and avoid injuries during training.
2013 WFSC MEN'S BATTLE FINAL: YHQ's LAST TRICK
Free space:

YHQ. Freestyle brings me so much fun, honor and friendship, but even the best friends must part. This year might be my last year of competition (1). I hope I can defend the battle title at the WFSC and at the ARSC. I have to leave due to my injury. But I would never give up skating. I hope I can bring honor to my country again after I have recovered, or work on something related to skating.
(1) Note: Due to a tendon injury during the last WFSC, YHQ was advised to take a break until April when he can start training again. Due to his injury and his studies, YHQ will not attend any competition in 2015, but will be back in 2016!
Chloé Seyrès for WorldSlalomSeries.com
March 2014