INTERVIEW w/ Bohdana Hotsko

"I was training hard, believing that I would win one day, but I didn't expect it so soon, and at the World Championships !"
Hotsko Bohdana (ESP)
Freestyle Slides Women's World #2
Nb of Comps in 2014: 7
Total score: 1146
Best-3: 680
Polina Semenova for WorldSlalomSeries.com
Proofreading by Chloé Seyrès

Photo by Ksenija Komarchuk, Denis Shirobokov and Carroll Wong
Video by SlalomSeries.es
November 2014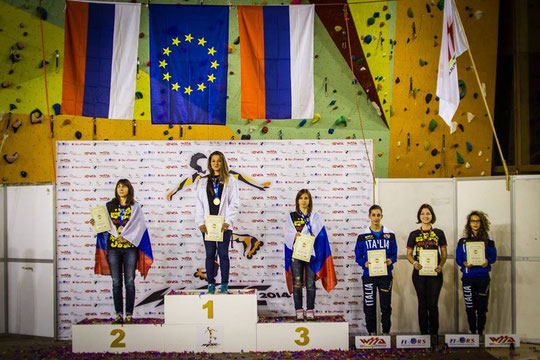 The 2014 Vice European Champion in Slides, Bohdana Hotsko, won her first World title, becoming the brand-new Slides World Champion. Here is an interview with Bohdana after her victory...
INTERVIEW
P.S. First of all, congratulations on your victory! This was your first World Championship and you already got the World title! Did you expect to win? How does it feel to be the world champion?

Bohdana. Thank you very much for your congratulations. Being a world champion is such and unreal and cool feeling! I think it's a very important step and a great achievement for any skater. It's hard to say whether I expected to win or not. After my good results at the PSWC and the EFSC (2nd places) I was hoping for good results at the WFSC. I was training hard, believing that I would get the victory one day, but I did not expect it so soon, and at the World Championship!
P.S. How long have you been skating? How often, and with whom do you usually train?

Bohdana. I've started skating 4 years ago. At first, my attention was focused on slalom, and I would occasionally try to do some basic slides. Then, after getting good results at the national slides competitions, I became more and more motivated by this discipline. Now, I focus more on slides. It's difficult to combine studying and training but, usually, I skate 3 - 4 days a week for 3 hours. I am very lucky with my coaches, Carlos Nelson and Brais Garcia, they are always ready to help me!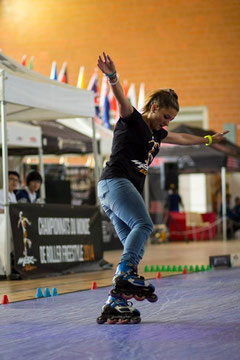 P.S. Was it difficult to win? Who was your strongest opponent? In your opinion, what helped you get the victory?


Bohdana. Of course it was difficult to get the victory. It's never easy to win, it is always hard to practice, to overcome the stress, to focus before competitions. But all the efforts are worth it. To compete with strong skaters such as Olga Fokina and Natalia Krykova, who have been on top for so long, made me nervous. But thanks to all the support, especially from the Spanish team, I was able to believe in myself and achieve the best results!
P.S. How do you like the slides floor used for European and World Championships? What are the pros and cons?

Bohdana. I think this floor was a big surprise for everyone, because most skaters usually slide on asphalt or concrete. This plastic floor is very slippery at first and it is hard to adapt. But with a little training, you can do really long slides and without damaging your wheels. Long slides look better for the audience. The downside is that the floor is unusual and if you do not absolutely control your slide, you can hardly perform it well. But it's a good challenge for all the participants, it's important to be able to slide everywhere. All in all, I think it's a good innovation, but it would be better to have it for every event.
P.S. Who impressed you the most during those World Championships?

Bohdana. I was impressed by so many skaters! The Chinese Team was great! I liked their slalom performances, the tricks they manage to bring to the next level every time. I was very happy to see (finally not only through videos) Huang Hai Yang and his flawless slides. It's very impressive how skaters improve event after event, especially the new generation of Team Russia or, for example, Italian Lorenzo Guslandi who reached the Battle final!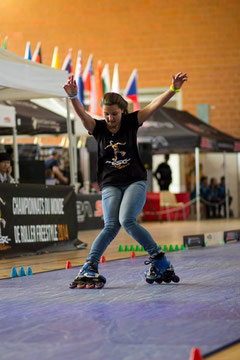 P.S. What are your plans for the new season? What would you like to change and improve in your skating? The new tricks you want to learn? The events you plan to go to?

Bohdana. My plans are almost entirely focused on the improvement of my slides. I will work on the technique and length, also, for the new season, I would like to add one-wheel slides. And improve my slalom, which I also like to practice! I would like to compete as much as possible! For sure, I plan to come to Paris again, and I dream about China.
P.S. How were the World Championships for you? What did you like or did not like, was there something that particularly impressed you?

Bohdana. The WFSC brought me so many different feelings! It was the most emotional competition I have ever done. I saw competition tears, tears of joy and tears of despair. You could see that so many skaters had worked so hard to get there and perform well. The organization was very good, so many participants from all over the world came to compete, it was really nice to see everyone.
P.S. Your wishes and thanks.

Bohdana. First of all, I would like to thank the Spanish Slalom Series, without which I couldn't have participated in the World Championships. Huge thanks too for their support to all the Spanish Team. To my coaches, Brais and Carlos, and all of those who were there with me every day during training. And of course, thanks to my parents who have always believed in me. I wish you all the daily victory over yourself! Thank you!
2014 WFSC Women's Slides Final. Video by SlalomSeries.es
Polina Semenova for WorldSlalomSeries.com
Proofreading by Chloé Seyrès

Photo by Ksenija Komarchuk, Denis Shirobokov and Carroll Wong
Video by SlalomSeries.es
November 2014