INTERVIEW w/ Sergey Timchenko

"I really wanted to win this competition, but I knew that it would not be easy."
Timchenko Sergey (RUS)
Freestyle Slalom Men's World #1
Nb of Comps in 2014: 17
Total score: 4065
Best-5: 1600
Polina Semenova for WorldSlalomSeries.com
Proofreading by Chloé Seyrès

Photo by Ksenija Komarchuk, CP Slalom and Carroll Wong
Video by SlalomTimTeam
November 2014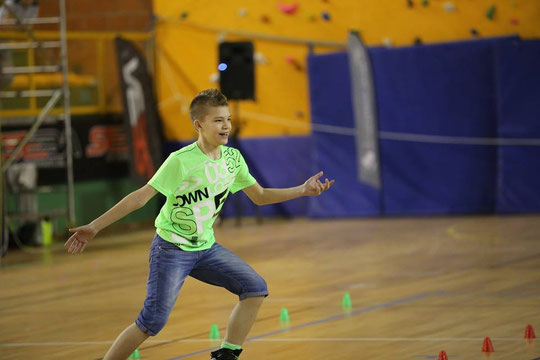 Interview with the current world number one in Freestyle and brand-new Classic World Champion, Sergey Timchenko, on the 2014 World Freestyle Skating Championships...
INTERVIEW
P.S. Congratulations for your excellent results at the WFSC! Your Classic performance was brilliant! What did you feel when you finished your run? And what did it feel like to stand on the first step of the podium? Did you expect to win?

Sergey. Thank you! When I finished my run, I understood that I had performed really well and I was just happy about this. On the podium, I was so happy - it's hard to describe all the emotions. I really wanted to win this competition, but I knew that it would not be easy. All competitors had prepared very well and a small mistake could change everything.
Video by SlalomTimTeam
P.S. Regarding Battle, what happened in the final? Why did you fall down? What do you think about your performance in the battle final? And what do you think about your opponents' performances? What would you change in your runs for the next competition?

Sergey. I saw the video of the Battle finals, it's hard to say what happened exactly. I guess it was slippery and I lost the balance. If not for that unfortunate falling, it would have been one of my best battles ever. Also, all my opponents were very strong. Zhang Hao and Ye Hao Chin did many difficult combos with very hard sitting tricks, almost impossible to do. Lorenzo (Guslandi) was very well prepared for those Worlds too. For the next competition, I probably won't change anything. I'll try not to make mistakes and perform smoothly and clean.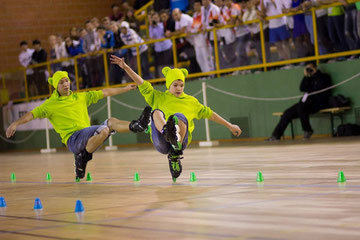 P.S. In your Pair Slalom performance, did you expect such a high ranking? How long did you prepare for your run? Who impressed you the most amongst the Pair performances?

Sergey. It was our beginning in the Pair Slalom discipline. Asian skaters are always very strong, they have great style and almost perfect synchronicity. Competing with them is not easy. We decided to do a funny run, but with a high technical level. We created it in August, but due to the fact that my brother, Sasha, studies a lot, we didn't train together often, so our performance was not that synchronised... I was mostly impressed by Zhang Hao and Guo Fang. They showed a great and technical skating. I was also impressed by the Italian pairs.
Video by SlalomTimTeam
P.S. What is the general impression you keep of those World Championships? What did you like, or didn't like, and what was the most memorable?

Sergey. I have only good memories after the World Championships. The atmosphere was awesome and the organization was great. We all supported each other, no matter the countries: France, Poland, Russia, China :) We had great friendly company.
P.S. Who impressed you the most of all the Championships, regardless of discipline?

Sergey. It is difficult to choose one skater in particular... I guess Savio Brivio - I was impressed by his self-control, calm and endurance in the crucial moment.
P.S. What about now? Did you have some rest or have you resumed your training already?

Sergey. I countinue to train. There is still one more event, in China. And then I will have some rest, but not for long time: I will need to start preparing for the new season already.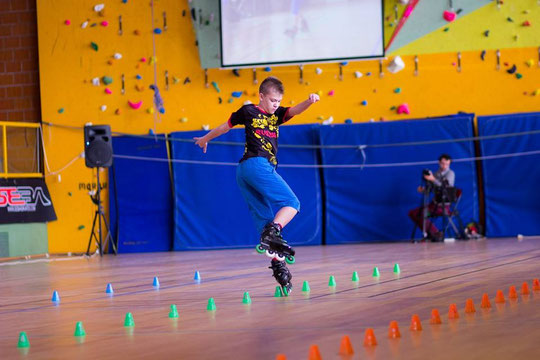 P.S. What are your objectives for the new season? The tricks you want to improve and learn? The competitions you plan to participate in?

Sergey. I will try to show good results next season. We plan a lot of work on style, which is still unfortunately my weak point. I want to improve my sitting tricks, as well as learn new wheeling combos. PSWC, EFSC, WFSC and many others, all these competitions are interesting and I hope I will be able to take part in them all...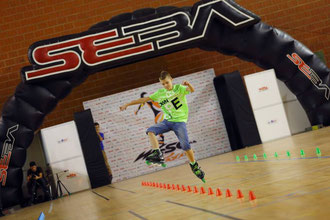 P.S. Your wishes to all skaters and thanks.

Sergey. I want to thank our parents and my brother for their support, thank my coaches, Angelica Babiy and Denis Islamov, thank all the Seba team and Rollerclub, and thank you, Polina, for your help. Many thanks to all who supported me and and voted for me!! I wish good luck to all the skaters for this new season and see you there!
Video by SlalomTimTeam
Polina Semenova for WorldSlalomSeries.com
Proofreading by Chloé Seyrès

Photo by Ksenija Komarchuk, CP Slalom and Carroll Wong
Video by SlalomTimTeam
November 2014