2014 WFSC
Oct. 22-26, PARIS
DAY 1 – BATTLE QUALIFIERS, SLIDES & JUMPS
INTRODUCTION
Those 8th World Championships of Freestyle Skating are the second edition that takes place in Europe -against 6 in Asia so far, after the Geisingen Worlds (Germany) in 2011.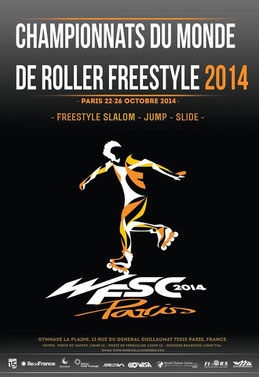 38 countries are represented by none the less than 170 skaters, dispatched in 4 categories: 43 Senior Women, 22 Juniors, 84 Senior Men and 21 Juniors, are taking part in 6 disciplines of Freestyle throughout the four days of competition – slides, jumps, speed slalom, pair and individual classic, and last but not least battle.
The 5 biggest delegations this year are Russia (with 21 skaters), France (19), Italy (16), Chinese Taipei (14) and China (10). They have skaters in all categories, seniors as well as juniors. Let's also note the presence of Spain, Ukraine and Poland for Europe as well as Korea and Malaysia for Asia, with serious contenders in their ranks.
High level freestyle skating is not reserved to the established countries anymore: It is now spreading deeper into the heart of Europe and more and more in South America – proof here with the presence of countries such as Bulgaria, Estonia, Iran, Czech Republic, Portugal but also Peru, Colombia, Mexico, Chile, Paraguay, Argentina...
OPENING CEREMONY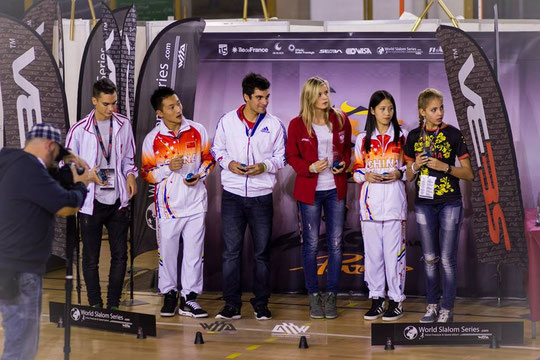 The competition started on Wednesday with warm ups all afternoon, punctuated by judge and team leader meetings. The highlight of that introduction day was planned in the evening, with the Opening Ceremony.
After the marching of the represented countries, the officials – representatives of the National Commission of Freestyle, of the FIRS and WSSA, as well as of the 15th district of Paris where the championships take place, delivered their welcome speeches. Three skating performances followed: A funky rollerdance routine by SkateXpress, a 1920's Parisian slalom act by the Fanfarons de Paname, and a Buggy Rollin' demo by Rollerman. The evening finished with the 2014 WSSA awards ceremony, during which about 40 prizes were given. The freestyle community had voted online for their favorite skaters in various categories. Here are a few rewards:
Russian juniors Sergey Timchenko and Daria Kuznetsova were elected Male and Female Skaters of the Year. Hands down.
Russian Sofia Bogdanova and Lio Bo were elected European and Asian Skaters with the most potential – and Li Weng Zhuo came very close second.
As for the 'Best Event of the Year' award, it was attributed to the PSWC for Europe and to the Shanghai Slalom Open for Asia.
FACEBOOK PHOTO GALLERY of the AWARDS CEREMONY

The real competition kick-off was given the next morning, on Thursday, with the Battle Qualifications for men and women at 9:00, followed by the Freestyle Slides Competition at 15:30 and the Free Jump Open at 19:00.
The next three days will focus on slalom disciplines, with -mainly- Speed Slalom on Friday, Classic Freestyle on Saturday and Battle on Sunday. Check out A MORE DETAILED SCHEDULE if you want to come and cheer!
BATTLE QUALIFICATIONS
Since the event is on four days, there is time, and the Battle Competition was organized to be as fair as possible, with qualifications for all skaters, including the top-ranked superstars... This decision of the organization resulted in 12 groups made of 45 skaters for the women's qualifications, and 16 men's groups with 58 skaters. They had 2 runs of 30 sec to make the difference, and the first 2 skaters of each group qualified for the 1/8th finals that are going to take place on Sunday.
No real surprise to mention for that first round. The two best-ranked skaters of all -but one- men's groups went through, and results were consistent with the rankings in the women's too, with all favorite skaters qualifying, as well as most no.2's. However, if you have a closer look at the results, you'll find out that the ranking order of the better half may vary: The favorites didn't always end up no.1's of their groups! ...Meaning that, at that stage, there was already some serious competition going on. And things are not going to get any better... Check out what is yet to come:
BATTLE GROUPS FOR THE 1/8th FINALS on SUNDAY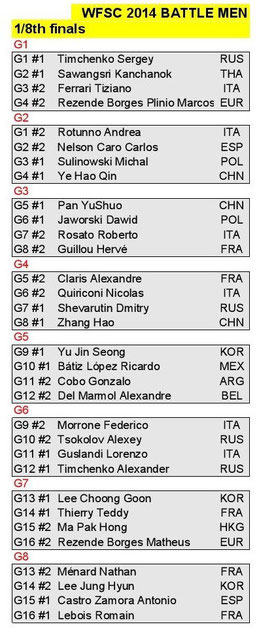 FREESTYLE SLIDES
13 women from 7 different countries had registered for the slides finals, divided into 4 groups for the first round. The men started with 1/6th finals: 23 skaters from 12 countries!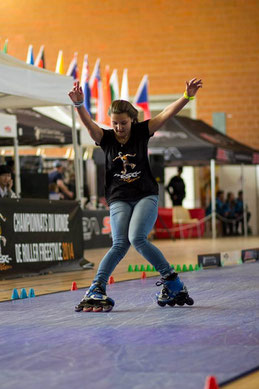 WOMEN'S SLIDES
In quarter-finals, the women's groups are dominated by two Russians, with top-ranked skaters Olga Fokina and Natalia Krykova leading their respective groups, and by two independent challengers, Miriam Fatmi Garcia (EUR) and Bohdana Hotsko (EUR).
Miriam Fatmi Garcia fails to enter the final but makes up for it in winning the consolation group, in front of Chiara Puricelli, Angelika Prucnal and Yulia Koroleva. The three other 1/4 leaders fight for the title, with Chiara Lualdi, who seized the second qualification spot in semi-finals behind the world leader, Olga Fokina.
Bohdana Hotsko puts and end to the Russian supremacy in finishing first of the final group. With a great combo of soul slide to reverse UFO, a full reverse eagle and a 4m unity, she highly deserves the title.
The two Russians take the silver and bronze: Natalia performs a good back slide and a sui-slide, but her failed faky heel parallel and her unconvincing last combo cost her the gold.
As for Olga, with a fall on her first slide and a failed combo, she has only three slides left to compete with: her impressive savanah as well as her 8m sui-slide are not enough to make her climb higher than the third step.
Last but not least, Chiara finishes at the foot of the podium. The overall level of the slides she performs is lower than that of her opponents. Let's still note a very good 4m unity on her behalf...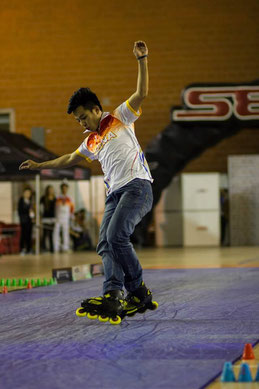 MEN'S SLIDES
In the men's, the final gathers two Europeans and two Asians. 2013 World Champion, Chinese Huang Hai Yang, keeps the title with 4 very good slides (he repeated heel back slide). Let's mention his toe backslide to toe-toe savanah combo, and his heel-toe unity perfectly balanced until the very stop.
Brais Garcia (EUR) did a good overall performance during the final but his slide endings lacked cleanliness. Yet he didn't steal his silver medal: His best try? A 7m backslide...
Ukrainian Alexey Martsenyuk gets the bronze with more shaky and less stable slides than the first two skaters.
As for Chung Yung Tzu from Chinese Taipei, he is downgraded to the fourth place for having failed two of his slides.
FREE JUMP OPEN
The first day of those 2014 World Championships ends with an open of free jump, in which 8 women and 22 men take part.
WOMEN'S JUMP
The women's competition has a full French podium. It is won by Maëliss Conan, with 115 cm. Mallaury Dubernet finishes 2nd, 5 cm below (110 cm), and Maud Oguey 3rd (105 cm).
MEN'S JUMP
In the men's, France also dominates the competition... and heights are significantly bigger: French Thomas Rataud wins hands down with a best jump at 155 cm, 10 cm above the 2nd, Flavien Dupeloux (145 cm), another French, who is himself 5 cm above the 3rd, Italian Enrico Sordi (140 cm). Two French follow in the rankings, Alexandre Fantuz (135 cm) and Dylan Couitti (125 cm). Argentinean Gonzalo Cobo and Victor Caballero from Paraguay also fail at the same height.
THE VICTORY JUMP OF THOMAS RATAUD (1m55)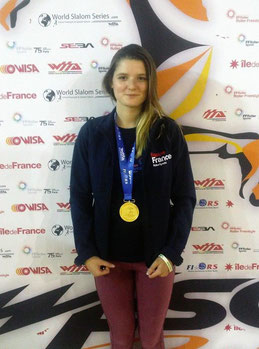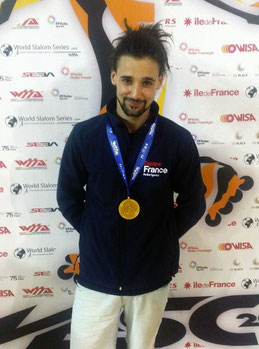 FULL RESULTS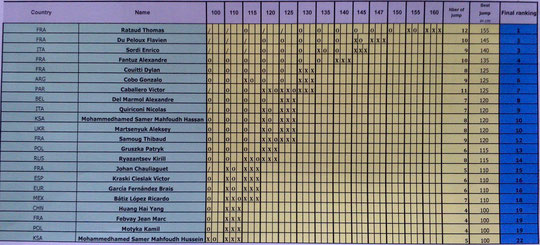 The next review will focus on the second day of the event.
On the program of Friday: Speed slalom from 9 to 5...
Then Pair Freestyle and Senior Women's Classic Freestyle qualifications!
MEDIA SELECTION ON DAY 1
RELATED REVIEWS
WFSC Paris 2014 DAY 3: Classic
WFSC Paris 2014 DAY 4: Battle
Chloé Seyrès for WorlSlalomSeries.com
Photo by Ksenija Komarchuk and Equipe de France Roller Freeride
October 2014