INTERVIEW w/ Angelika Babiy

"Any kid is able to become a real athlete, just for some it takes more time than others…"
Polina Semenova for WorldSlalomSeries.com
Proof Reading by Chloé Seyrès

Photo from Angelika's collection, Nadia Zelenova and Emelyanova Karina 

Video by SlalomTimTeam
October 2014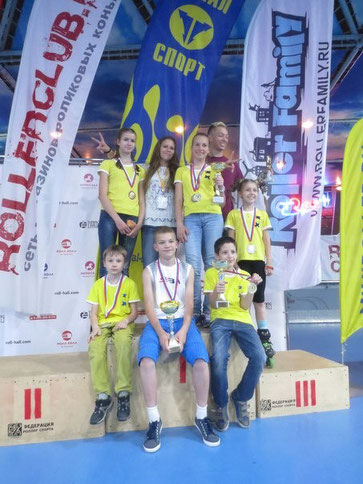 The number of young skaters, successfully competing with adults and getting impressive victories against more experienced competitors, has increased a lot lately. However those successes do not show the number of hours of training that made them possible, as well as the vital support from their parents and coaches.
The following interview features Angelika Babiy, the founder and instructor of the kids roller school Miniroller.ru, as well as the coach of Sergey Timchenko, who is none the less than the new #1 at the World Ranking, the 2014 double European Champion in both Battle and Classic, as well as the first European to win the double in Battle and Classic in an Asian event (2014 Shanghai Slalom Open)...
INTERVIEW
P.S. When was your school created? Was it difficult to start your own business?

A.B. Roller school for kids, Miniroller.ru, was founded on December 2012, thanks to my students who inspired me to give it a go. This decision was a chance not only to develop myself as a coach and as an athlete, but also to make a new step into the roller sport business. Of course it is always difficult to start something new but nothing ventured, nothing gained!
P.S. How many students are there in your school now? And how many instructors? What are the main disciplines you focus on?

A.B. There are so many students now, it is impossible to count. We have 6 instructors who do basic skating coaching for kids. We promote kids training in speed slalom and freeskate as well. We also provide training courses for kids instructors. But the main focus is on kids freestyle slalom training.
P.S. Is it difficult to be an authority for the new young talents?

A.B. No, we are all growing together towards those goals. Kids show excellent results sooner or later, so everybody is happy.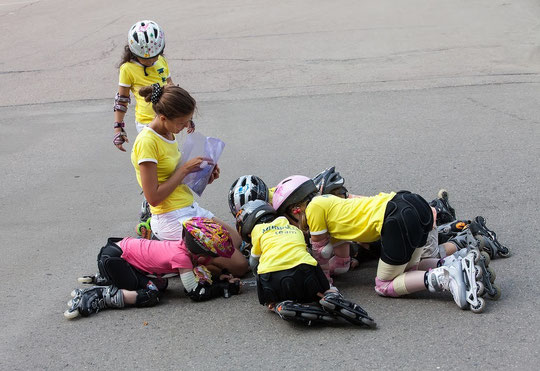 P.S. You are the coach of Sergey Timchenko, who is currently winning nearly every competition. How long have you been training together? Do you remember your first training day with him? Did you understand that he would become a true champion?

A.B. Sergey is a very talented skater and he is working hard to get those good results. Already after a few lessons, I saw that he had all the skills to be a very successful athlete. We started our trainings in 2011. Sergey came to my lessons already knowing the basics of freestyle slalom, after having won kids competitions, so everything was pretty easy already.
P.S. How often do you coach and what do your trainings look like?

A.B. During times off competition, we train twice a week. I develop combos and new tricks, we try them together, then Sergey works hard to make them clean. Before competition he trains more, to be ready for all disciplines.
P.S. Do you work together to create Sergey's classic runs or do you make his programs and he performs them?

A.B. Of course we create them together, otherwise nothing good would come out of it. I think that if the student's level of skating is high enough to invent moves, the coach should definitely listen to him. If not, all the runs, created by the coach, would be the same.
It is usually really cool to work with Sergey. Often I am about to say something, and I realize he is already doing it on the cones as if he had read my mind!
P.S. Do you remember Sergey's first victory? Was it a surprise, or already quite expected?

A.B. I remember for sure, it was a two-cone competition in Minsk, in 2012. Sergey has always worked conscientiously, but competition level at that time was still high for him. None of us expected him to win that event, amongs all those adult and experienced competitors.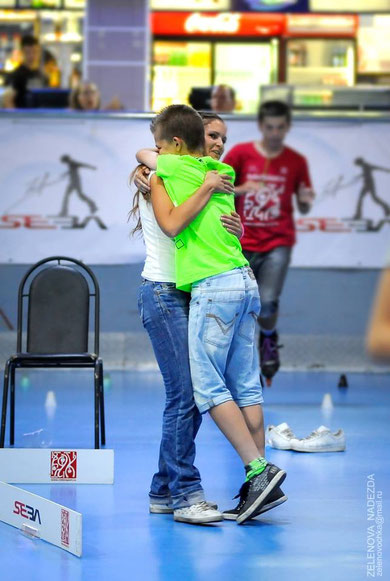 P.S. What are the main goals for Sergey before the World Championships?

A.B. I don't want to think about any ranking. Together we will do our best to get the best results as possible and proudly represent Russia.
P.S. On what tricks are you working with Sergey currently?

A.B. We are developing high level combos with spins, different variations of shifts and training to do perfect front and back Christie toe footguns, in order to use them in new interesting combos in the future.
P.S. In your opinion, who is the strongest opponent for Sergey? On what you should focus to keep on winning?

A.B. There are so many strong skaters now. In Europe, there is Romain Lebois (Fra), Sergey's brother - Alexandr Timchenko (Rus), Alexandre Claris (Fra), Lorenzo Guslandi (Ita) and many other good athletes. In Asia too, there are Zhang Hao (Chn), Pu Hao Yang (Chn), Ye Hao Qin (Chn), and more: We all know there are very strong skaters in Asia and every year new stars are rising! In order to keep on winning, we should keep on improving all the time, and work on style and technique, and above all, we should keep moving on!
P.S. What is more exciting between competing and seeing your students perform?

A.B. I think both are pretty exciting, but it is always more interesting to work in a team, because then it is not all up to you!
P.S. Would you want to come back to competition or do you have your lot of emotions with your students?

A.B. I would like to compete with my students, but I have no time at all for training now.
P.S. I have seen Sergey warming up before competitions. He always looks very focused, and hardly talks to anyone. Do you help him cope with pressure before events or it is better for him to stay alone?

A.B. We discuss in advance about all the awkward moments, so before performing Sergey adjusts himself, and occasionally asks for advice. But for that, he is a big boy, he handles it well.
P.S. Sergey is not your first star student. How many students are now successfully competing in your school and what are their best results?

A.B. We have 10 athletes competing now. Besides Sergey, amongst the adults there is Olga Semenikhina, who is a member of the Russian Seba Team. Unfortunately she had to take a small break, but still she took the 3rd place at the 2014 Rollerclub Cup in Classic and two 3rd places, in Classic and Battle, at the EFSC.
Ksenia Dubinchik finished 3rd at the 2014 Hannover Inline Games, as well as 4th in Classic and 6th in Battle at the EFSC.
In the kids' category, there is Gleb Velikanov, who won the Junior Classic at the 2014 Rollerclub Cup, Mikhail Lazarev - 3rd place at the 2014 Rollerclub Cup and Olga Bamatter-Rodriguez, also 3rd at the 2014 Rollerclub Cup.
Sergey Timchenko / 2014 Shanghai Slalom Open 2014: Classic Senior, 1st place
Ksenia Dubinchik / 2014 Rollerclub Cup
Olga Bamatter-Rodriguez / 2014 Rollerclub Cup
P.S. Roller sports in Russia are getting younger and younger recruits, just like in Asia. In Europe, there are not that many young athletes. Why? Are roller schools responsible for such a big jump or are there other factors? How important is it to attract new generations to the sport?

A.B. I think it has less to do with the presence of roller schools, than with the presence of qualified kids instructors in the country, who have some competition experience and, most of all, who want to pass on this experience to the kids. It is easier to work with older students. With children you should always keep them interested in what they are doing, make them love the hard work and do sport every day. Bringing a kid to competition level is hard but interesting. Moreover, in order to develop kid slalom it is important to organize more local contests, for kids only: They have more chances to get a medal for their efforts, which is all the more motivating!
P.S. Are there some fundamental differences in the skating styles of European and Asian kids? What about the Russian style? Does it have some specific characteristics that are different from the other two?

A.B. Asian kids impress me a lot and I think I am not the only one! It is a complete delight! Chinese style is renowned for its smoothness and fluidity. Even the very young athletes are very stylish. There are not enough kids in Europe to identify their style. As for the Russian style, it is still developing, all the kids skate different.
P.S. Is there is a any special recipe to grow Champions or you never know which of the kids would potentially become a serious contender?

A.B. Any kid can become a real athlete, just for some it takes more time than others. The main important thing is to work hard for something you love.
P.S. Free space:

A.B. I want to thank Vladimir Tkachev for his help into the development of kid skating in Russia and for supporting my ideas. I thank Rollerclub and Seba for supporting young athletes, thanks to them they can see the world and use the best skates for their trainings. And of course a big thank you to my students and their parents for their tenacity, desire and great results!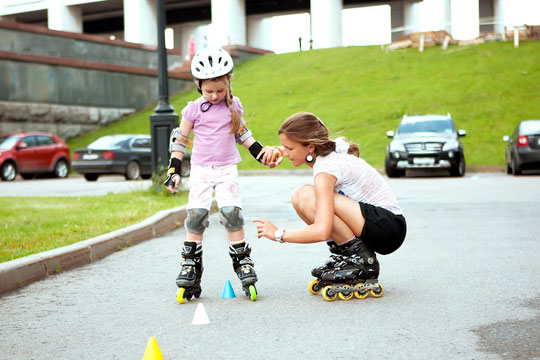 Polina Semenova for WorldSlalomSeries.com
Proof Reading: Chloé Seyrès

October 2014