Freestyle Slalom in Colombia

the birth of the Colombia Slalom Series

By Carolina Ochoa
Colombia Slalom Series

A few years ago in the North of South America, between two oceans, the Atlantic and the Pacific, in a Country where skating is one of the national sports, began the dream of spreading Freestyle Slalom in Colombia.
THE FIRST EVENT
After three years of practicing freestyle, the taking part in three international Battles in 2012 and 2013, and the passing of the WSSA judge test level 1, this March 2nd took place the First Mini Battle in Bogotá, Colombia - South America. It was a one-cone event, the first official event in Colombia. 34 competitors, 14 women and 20 men, had registered for Battle. The event began at 1pm on a sunny Sunday, in an atmosphere filled with anxiety and excitement, since it was a first for most of the competitors.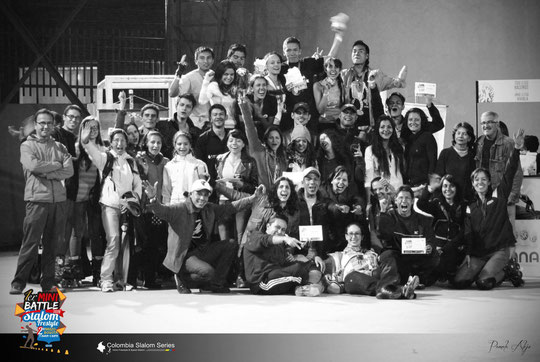 RESULTS
Women:
Tatiana Rueda (COL)
Carolina Ochoa (COL)
Juliana Velandia (COL)
Adriana Arango (COL)
Men:
Dubán Fino (COL)
Fito Buelvas (COL)
Jonathan Mendez (COL)
Alexander Reyes (COL)
CLOSE-UP ON THE WINNERS
The winners of the men's and women's battles were Dubán Fino (COL) and Tatiana Rueda (COL), two 20-year-old students in the health field who have been practicing Freestyle Slalom for no more than 8 months.
Both Tatiana and Dubán began Slalom skating after seeing the Freestyle Slalom Colombia group practicing one day at the Ciclovía. Those city streets are car-free on Sundays and holidays, allowing pedestrians, bicycle riders and skaters to get around safely and freely. And that day, they fell in love with slalom. Tatiana already knew how to skate, but this was a new challenge for her.
"It is a very artistic sport, where I can dance between the cones, combining movements that need agility, flexibility, flow and your own style," says Tatiana. Dubán learned how to skate a few months ago but when he saw slalom, he was captured by the "dedication and the way you can move to the rhythm of the music while making some art in the line of cones on your skates."
Tatiana and Dubán were motivated to participate in the battle competition because it was the first in Colombia and they wanted to show their skills to their friends and family. And they did it, they took the first place! They won't stop there, they want to compete internationally and continue growing in this sport, teaching new people who want to begin Freestyle Slalom.
THE CSS TO BE CONTINUED...
The Colombia Slalom Series were born with this battle, and aim at organizing more national events, so that Freestyle slalom can be practiced in the whole country. Later this year, an international Battle with guests from all over the world is scheduled! Keep an eye on Colombia, we will have much more to tell!
By Carolina Ochoa Mesa
Colombia Slalom Series