EFSC 2016 brought us two WSSA WORLD records!
The recently passed European Freestyle Skating Championships held in Ciudad Real, Spain, was rich and brought us 2 new world records! 
The winner of the Junior Women's Speed Slalom competition, Lily Granjon (Fra), made the new Free Start WSSA world record in the Women's category! She beat with a time of 4,640 sec her previous record, which she achieved in March 2016 during the Acrocéan french event (4, 674 sec)! The new record was officially recognised by the EFSC head judge and the World Slalom Skaters Association. Lily shares her emotions about her great achievement : 
"I am really happy about it!", Lily said, "Even if my two records are very close to each other. During this season, I was very close to beat my record and finally it happened during the EFSC! It showed me how much I improved my skills and it gave me more self-confidence for the future! Of course I would want to do even better and to pass under 4.6 seconds. The season is not finished yet so i will have my chance during the WFSC. But it's a great achievement to beat the world record and to win the European Champion title, just like my older sister did!
Once again, I want to thank the French team for their amazing support and my coach, Pierre Célat for his trust. Also big thank to Seba for their great and high-performance skates and the 3x3 frames."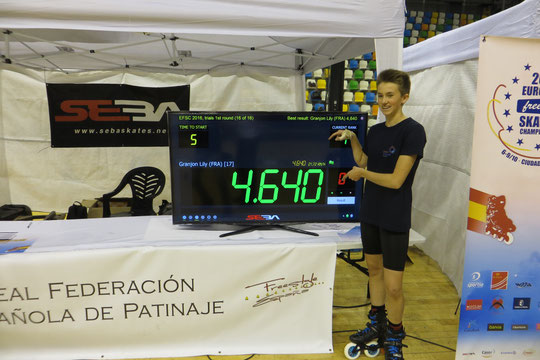 The current world number one, Maeliss Conan (Fra), not only received the European Champion title but also made the new WSSA world record in the Women's Free Jump discipline, performing a 120 cm jump! Her previous world's best jump was over 118cm. 
Maeliss tells us about her future plans after the victory :
"I'm really surprised and happy about my achievement!", Maeliss shared her feelings, "Actually I didn't expect to beat my record during the EFSC. I was pretty tired this month so I was not in my best shape.
Anyway I was really focused and my team supported me a lot! I was trying to beat the world record during the last 4 years. I think there was a psychological part which stopped me from reaching this aim before. My next goal is to give my best to the World Championship in Thailand. I will try to focus on the reaching the height of 1,22m!"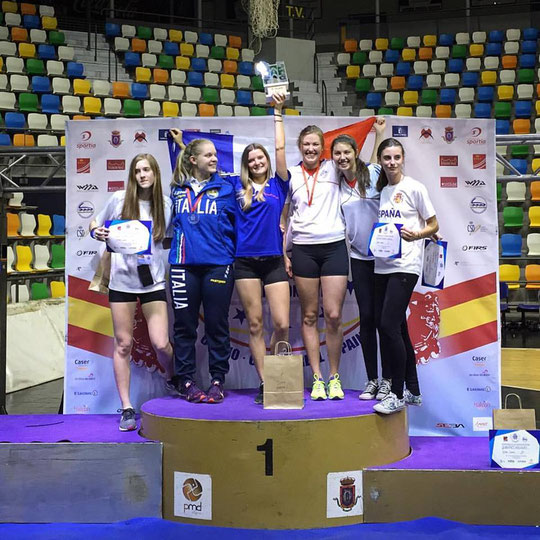 Polina Semenova for WorldSlalomSeries.com
Photos by Rollerclub & Maëliss Conan
October 2016