Alexander Timchenko at the top of the Speed Slalom World Ranking!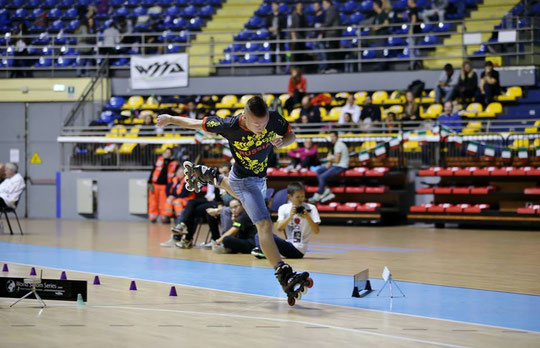 Alexander Timchenko (Rus) successfully started his 2016 skating season! Thanks to his triple victory of the first main event of this year, which was held in Namwon, Korea, he went up directly to the first place of the Men's Speed Slalom World Ranking! Alexander is the first Russian skater ever on the top of this discipline! He is also the current world number two of the Men's Freestyle World Ranking, staying just one place behind from his brother, Sergey. Here, the new world number one is sharing his feelings about his new title! 
"I feel very happy to become finally the World Number One!", Alexander said, "Actually, I am a little surprised, because my main discipline is still the Freestyle Slalom, and I still spend much more time to practice Freestyle than Speed. There are so many strong skaters in the Men's Speed Slalom category, so it's always hard to predict who will be at the top. That's why the result's stability is very important for every event and it's exactly what i showed last season so it helped me to reach the top! The new Speed Slalom season i will skate on my new three-wheeled frame and I will need more time to train. To keep my new world number one title, I will try to attend the maximum events and to show my best! Thanks for the support to everyone who believed in me!"
Polina Semenova for WorldSlalomSeries.com
Photo by Carroll Wong
May 2016