The whole Sunday was destined to BATTLE. Both categories were crowded: Four stages, starting with a first round made of 6 groups for the women and 8 for the men... preceded by qualification rounds for the non-ranked freestylers.
The weather was quite mild and the tents were not needed.



The WOMEN'S BATTLE is won by Chinese FENG HUI (#20) who delivered the final blow with her last trick: a 10-cone christie wheeling, the cherry on top of three very good runs puctuated by combos and variations of sevens. Russian OLGA SEMENIKHINA (#10) ranks second with solid and varied runs – a complete panel of toe sitting tricks and various sevens and shifts, including a 15-cone toe shift for her last trick. The two Polish of the final, KLAUDIA HARTMANIS (#2) and ANGELIKA PRUCNAL (#6) are 3rd and 4th with less regular performances... yet with high technical peaks: cf. K.Hartmanis's toe footgun on the 80's and toe external seven on 10 cones).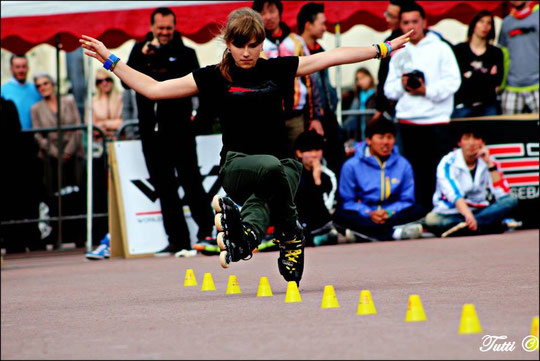 Most of the other top-skaters failed at the threshold of the final. The CZAPLA SISTERS, Ewelina (#8) and Paulina (#9) were knocked out by A.PRUCNAL and FENG HUI, while French ZOE GRANJON (#5) and Ukrainian MARYNA BOIKO (#4) were overtaken by O.SEMENIKHINA and K.HARTMANIS. Let's note that between the Ukrainian and the Polish, it was a 2 vs. 1 decision of the judges: Variety prevailed.
World leader Russian DARIA KUZNETSOVA was the victim of circumstances: She bore the consequences of a deadly quarter-final group which gathered three candidates to Gold (with O.SEMENIKHINA and FENG HUI). She faced two opponents mastering toe christie... and had only two runs to convince the judges.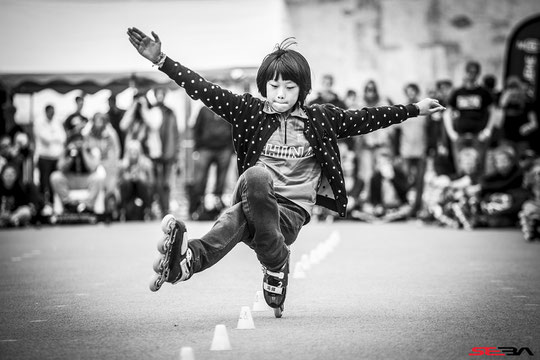 WOMEN's TOP-8: 1. Feng Hui (CHN) / 2. Olga Semenikhina (RUS) / 3. Klaudia Hartmanis (POL) / 4. Angelika Prucnal (POL) / 5. Paulina Czapla (POL) / 6. Maryna Boiko (UKR) / 7. Ewelina Czapla (POL) / 8. Zoé Granjon (FRA)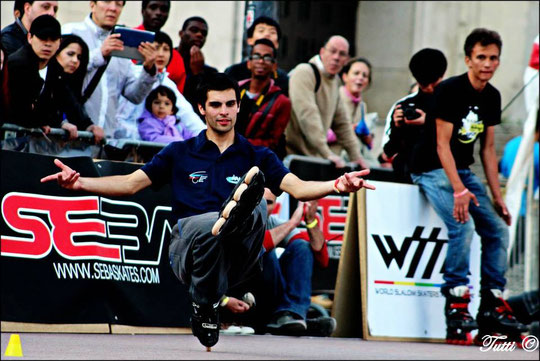 In the MEN'S BATTLE the final is a real titans' fight. It is won by French ROMAIN LEBOIS (#1) who beheads World Champion Chinese YE HAO QIN (#7) after a tough outbidding game. R.LEBOIS's overmastered, clean and balanced runs with almost 100% rate of success get the better of YE HAO QIN's last trick: front toe christie to back toe christie. Videos speak better than words:
The two other places of the final are taken by two challengers, Polish DAWID JAWORSKI (#13) and Spanish CARLOS NELSON (#22), respectively 3rd and 4th, who were not expected to reach these heights, given the number of better-ranked skaters attending the battle. Yet, they highly deserved their positions, knocking down the best skaters, and carrying out the good work in the final.

As soon as the 1st round, C.NELSON manages the feat of ranking 1st in front of the group favorite, Polish MICHAL SULINOWSKI (#2)... It will lead to the making of a deadly quarter-final group, in which M.SULINOWSKI and French ALEXANDRE CLARIS (#3), two of the main skaters expected to reach the final, will be knocked out by favorite Chinese YE HAO QIN and outsider ALEXEY TSOKOLOV (#124). As for D.JAWORSKI's first round, he gets rid of Chinese LAN WANG HENG (#47) in taking the 2nd qualifying place behind YE HAO QIN.
The two future unexpected finalists then meet in quarter-finals, where they team up to oust Chinese GUO FANG (#11) who lacks sitting tricks to go through. As amazing as it is, the footwork of the Chinese was not enough to save him this time. Indeed, his freestyle was so stunning in the first round that it propelled him to the first place of the group, in front of A.TSOKOLOV (#124) and knocking out German MARTIN SLOBODA (#8)!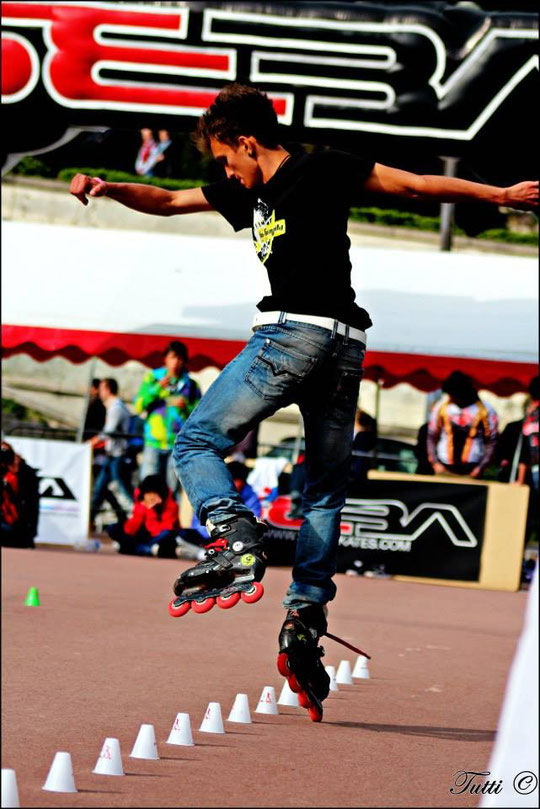 Other deadly situations:
The head chopping starts as soon as the first round (eighth finals). LEE CHOONG GOON (#5) is 3rd of his group, won by Italian LORENZO GUSLANDI (#18), a whisker behind lucky Spanish TONI CASTRO (#97). Once again, variety and footwork linking prevailed. (YU JIN SEONG (#6) is the last Korean standing: he will hold on until the semi finals and win the consolation final, ranking 5th of the battle.) As for T.CASTRO, he regains strength and offers impressively mastered runs in quarter-finals: he qualifies behind R.LEBOIS, eliminating his main rival Spanish JON LARUCEA (#10). His fare will stop at the foot of the final. He will rank 7th in the end, just behind Italian LORENZO GUSLADI (#18) and in front of Russian ALEXEY TSOKOLOV.


MEN's TOP-8: 1. Romain Lebois (FRA) / 2. Ye Hao Qin (CHN) / 3. Dawid Jaworrski (POL) / 4. Carlos Nelson (ESP) / 5. Yu Jin Seong (KOR) / 6. Lorenzo Guslandi (ITA) / 7. Toni Castro (ESP) / 8. Alexey Tsokolov (RUS)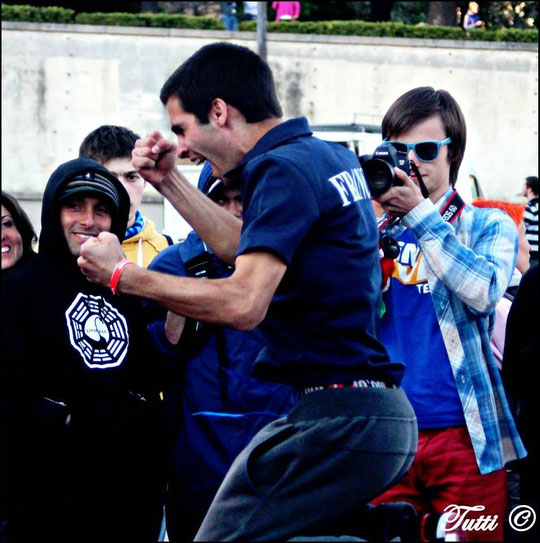 Interview with the Winner if the PSWC BATTLE 2013, Romain Lebois.

Your feelings after winning the battle?
R.L. –  I was really surprised to win against Ye Hao Qin as the 2012 World champion of Battle, but above all I was really happy to beat my idol.

What does it feel like to win in front of Ye Hao Qin?
R.L. – Winning in front of Ye Hao Qin is exhilarating, it's something I've wanted to achieve since the 2012 World Championships in Lishui, it gives me even more motivation to be in top form for the 2013 World Championships in TAIWAN.

What do you think about your overall performance during the battle, and of your performance during the final?
During the battle, my aim was to try to reach the final without meeting Ye Hao Qin before, thus to make good runs without too many mistakes.
Then for the final, everything I planned to do succeeded, I was really proud of my toe christie on the 120's and up to toe wheeling, destination the 80's to add a few wheelings/sevens. For my third run, I was very glad to do the reverse of the shift opposite (whatever the name, sorry...) I've been working on it since China (Battle Masters) and nobody ever managed to do it in competition… all the more on 8 cones! So yes, I am quite satisfied with my performance in the final, especially on the Trocadéro ground and facing my idol.

Despite that impressive rate of success, any regrets on tricks you didn't manage? You were pulling a face after your last trick...
R.L. – Yes, after all the big sitting tricks I did, I was quite tired and I wanted to try to go down in toe christy seven, but unfortunately it didn't work out. I'll do better next time, in Shanghai in August with Zang Hao as a bonus!


Report by Chloe Seyres for WorldSlalomSeries.com / May 2013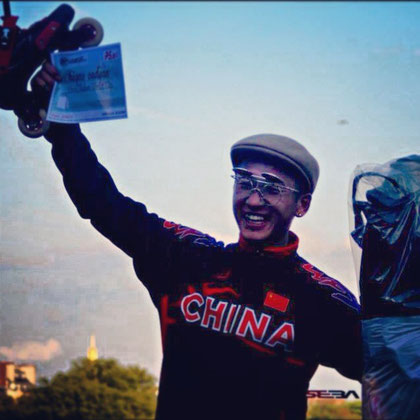 The Freestyle Slides is still the smallest category in the PSWC, with 16 men and 8 women competing, but the level is still growing and more and more skaters are discovering the slides each year. Zhao Zhen Hua (Chn) came to Paris for the first time this year, and offered us a great show with great tricks ! The world Champion 2011 won the final in front of Kirill Ryazantsev (Rus) and V.Demidov (Rus).

In Europe, Men and Women's category are strongly dominated by Russians, with 4 russians in the top 5 in the men category and 2 in the top 3 in the women's category.

In the women's category, Olga Fokina (Rus) won again this year in front of N.Krykova (Rus) second, and K.Komarchuk (Ukr) took the 3rd place.
Better than words, here is the video of the slide contest's men's final :