Dasha Kuznetsova (RUS)
"Working one's wheels to the

hub pays off"


World #1 Freestyle (Jan.13)

2012 Facts:
- 10 competitions in 2012
- Best 4: 1300 (Total score: 2598)

Dasha Kuznetsova reached the world's #1 place last July and has hold on to it since then. With amongst other wins, national and European titles in both Battle and Classic, as well as a silver medal at the World's in Classic outclassed in the Senior category, the young Russian scores the maximum points at her Best 4 this season. She seems unstoppable. The only obstacle left? The Chinese bastion…. but for how long ?

You went from the Top15 to the world leadership in six months this season... What does it feel like ?
It was unexpected for me. I was very happy of course when I saw myself at the top of the world ranking of the strongest riders. I started slalom when I was 10 and I was very impressed by the girls who skated such hard tricks, but I could not even imagine the results achieved this year.

You seized the 1st place to your compatriot Polina Semenova. The leadership remains into Russian hands. The country's honor is safe ?
Polina is a great authority for me in slalom. The level of slalom is very high and it is constantly growing, so that it is very hard to keep the leadership. I have to train hard and believe in success. I will try.

What title you got in 2012 do you like best ?
I became the champion of Russia, the European champion, World Vice-Champion in Classic in 2012. I had very long and hard trainings for each competition. All of these titles a very honorable and important for me. I cannot choose one, I like each of them.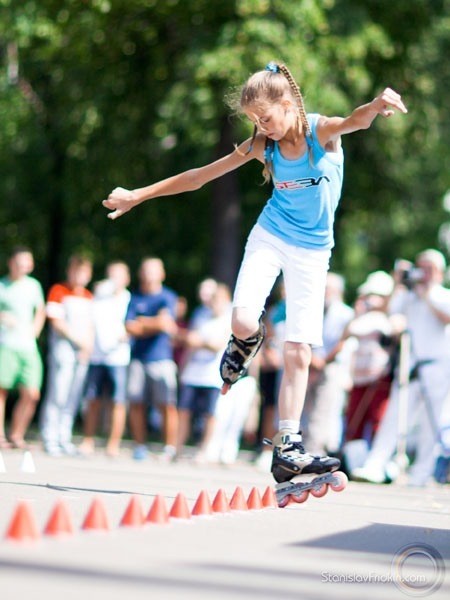 Classic Freestyle, WFSC Lishui
Skaters you want to beat ?
The Chinese national team.

What do you plan to improve in your skating for 2013 ?
I would like to learn christy wheeling forward and backward. It seems that all the tricks have been invented, but every year there is something new. It is very interesting to see what will appear in the future.

What competitions will you go to next season ?
I do not think I can participate in more competitions than this year. Of course, I would like to take part in the championships of Russia, Europe and the World, in the stages of the world slalom series. But many of them take place during school studies, and if I go more often, I'll be kicked out of school!

Other things you want to add ?
I like to skate slalom, compete, and learn something new. I skate and get great pleasure of slalom :)
Many thanks to my parents, friends, coach, Rollerclub and everyone who supports me. Big thanks to the Seba Team, I am proud to be a member of it.
Interview by Chloe Seyres for WorldSlalomSeries.com / January 2013