Namwon Korea Open


S.Nai Oleari and E.Czapla

on the top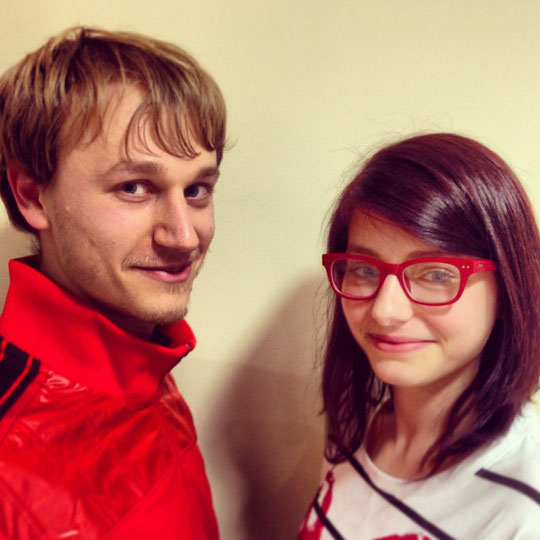 After London, Bangkok, and the Inline Games, Simone Nai Oleari (Ita) added another main event's victory in his career ; in the same competition, he beated 2012 Asia Champion Yang Hsin Chiao (Tpe) and 2012 World Champion Guo Fang (Chn).

"I feel very happy about this victory because i had a chance to compete against strong skaters like Guo Fang (Chn) and Yang Hsin Chiao (Tpe). Last year i went 4th but this year i could do my best and win the competition. This is my best victory in Asia, the fact i beated the last world champion means a lot to me."
"I was in a really good shape ; in the last two KOs against Guo Fang and Yang Hsin Chiao, it was not easy, but I did a very good competition, I could go faster than them without doing mistakes, and without losing my focus on the cones. I was feeling good for the final against Yang Hsin Chiao", because in the qualifications I didn't push at my maximum, so I wasn't worried about the time différence between me and YHC after qualifications."

Yang Hsin Chiao (Tpe #6) did the best time of the qualifications (4.41 sec) 0.2 sec in front of S.Nai oleari (4.61 sec), but the 2012 Champion of Asia lost 0 - 2 in the final :
"I feel a little disappointed because I didn't do my best run. I was slower than usual when training, where I usually go below 5 sec., but this time I was only 5.1 sec. » 
"I think that I was feeling a bit nervous, because I was skating against the World N.1, he his very skilled and fast, but it was a really good experience for me, I will practice harder to recover this"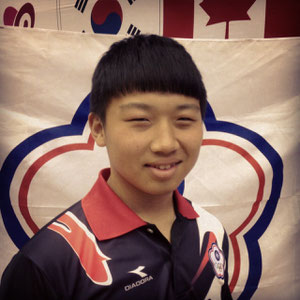 Alexandre Claris (Fra) wasn't very precise during the tournament, but took a good 3rd place, beating World Champion Guo Fang (Chn) during the 3rd place contest.
"I did bad 1st runs during all rounds, but experience and technique allowed me to come back in the duels"
In my duel for the 3rd place, I did a good start at the first run, and I stayed focus until the end. My goal was to keep clean without doing any mistake. Fortunately, Guo Fang, who was a little faster than me, did many small mistakes"
Top 5 :
| | | |
| --- | --- | --- |
| 1 | Nai Oleari Simone | ITA |
| 2 | Yang Hsin Chiao 楊昕橋 | TPE |
| 3 | Claris Alexandre | FRA |
| 4 | Guo Fang 郭方 | CHN |
| 5 | Yu Jin Seong 유진성 | KOR |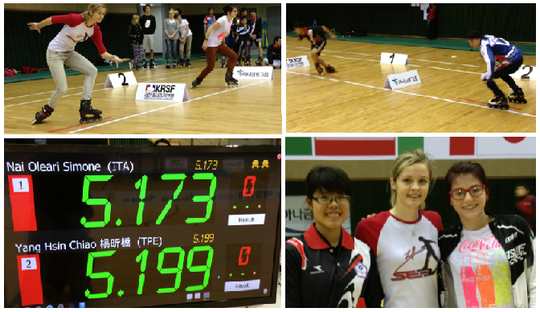 Ewelina Czapla (Pol) got her first victory in quite uncommon circumstances.
« it was a kind of surprise to win because yesterday i thought i wouldn't be able to participate in the competition, since I didn't get my luggage at the airport, and my skates were inside ! »
"I just found someone kind enough to lend me some skates before the compétition !"
During the final against Klaudia Hartmanis (Pol), E.Czapla could control her emotions to do her best :
"It's always stressful for me and it's never easy to win a KO. I was afraid of false start and I was taking care not to do it... I didn't run as fast as possible, my strategy was to be careful to perform clean runs, to keep my speed on the cones, and also to focus my attention until the end of the line."
I felt that Klaudia was very near so i had to go fast... but i think i could go a little faster."
Klaudia Hartmanis (Pol) finished 2nd despite her 1st position after the qualifications, and Liang Hsuan Min (Tpe) took the third place beating French Zoé Granjon in the small final.
Top 5 :
| | | |
| --- | --- | --- |
| 1 | Czapla Ewelina | POL |
| 2 | Hartmanis Klaudia | POL |
| 3 | Liang Hsuan-Min 梁宣旼 | TPE |
| 4 | Granjon Zoé | FRA |
| 5 | Huang Tsai-Chen | TPE |
The full results of the speed slalom contest are available here.