Zhang Hao and Guan Yu Xiang,
Battle Masters 2013 !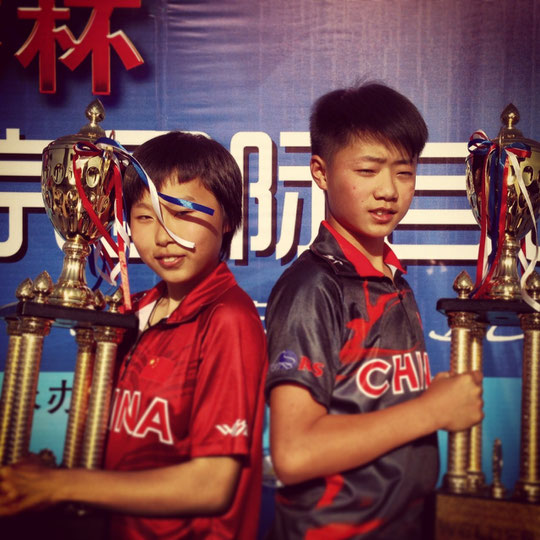 The Battle Master's title stays in Chinese's hands ! After the victory of Ye Hao Qin and Su Fei Qian in 2012, their young compatriots imitated them and got the gold medal this year. The level was very high this year, the highest ever, but the conditions were quite difficult, the wind was carrying dust on the competition floor, and made it very slippery, causing a lot of mistakes in both men and women competitions.

Zhang Hao :

"I was excited during the competition, my ambition was to win the first place. I think I did quite well my tricks, despite of the slippery floor, you know it was quite difficult for me to finish my toe sevens, the first thing I had to focus on, was my balance and my steadiness. After my last trick, I was nervous while waiting for the final result. You can't imagine how excited I was when I knew I won, I was pleased and proud, it is a big honor to be the champion of the 3rd BMB, I want say thank you to my coach and my teammates who give me power and courage."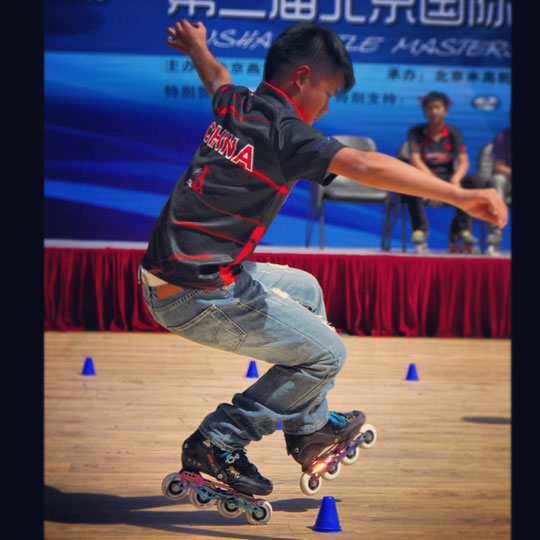 Ye Hao Qin, who was the favorite of the competition, took the second place after a final where he couldn't manage to finish all his tricks, especially during his second run where he did a lot of mistakes, he was quite disappointed with the second place :

"Everything i planned for this competition didn't go well, is not good enough, i am so disappointed about the result, I did bad in the second run during the final. I did many mistakes because of the difficult conditions, slippery floor, also it was quite windy and dusty"

Romain Lebois (Fra) took a good third place, and was satisfied to be on the podium. He is quite close to be on the highest step of the podium, but is missing some links and sometimes, his balance is not perfect, but his results are very encouraging for the future, and Romain Lebois is playing on the same level as the chinese skaters :
"For the final I was a bit stressed because I was against three Chinese skaters and it is very hard to be strong against them. I wanted to beat Chinese skaters, I beated only one, but I am really happy for my result and I hope to do better in Paris, and also for WFSC. I failed some tricks and to win you shouldn't fail any trick ; it is very hard on this floor, because there is a lot of dust, and it is very slippery, next time I will do better my toe christie, my sevens, my heel tricks, etc…"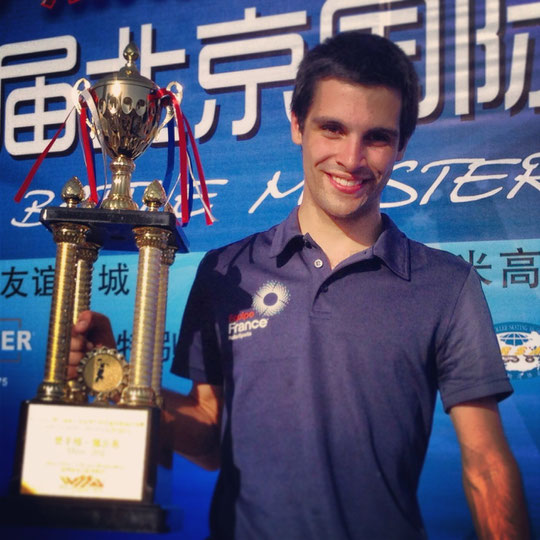 The women final was quite balanced, and the 4 skaters had a chance to win the title, but they all did many mistakes, not finishing off their tricks, or kicking a lot of cones, and finally, it is Guan Yu Xiang who was crowned Battle Master 2013, thanks to longer high level tricks, and her easiness in doing them.
"I did my best to prepare for this event, my aim coming to BMB was to get the gold medal. I did my best during the competition, and it was very exciting for me to win this event, it is a honor to be the champion of BMB !"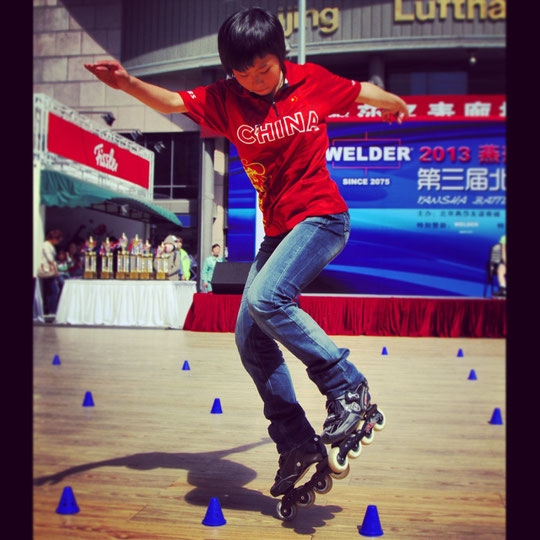 Klaudia Hartmanis (Pol), was very close to win the title, but most of her tricks were not precise and long enough to get the final victory. K.Hartmanis' level is going up, and her versatility is a big advantage against the other skaters.
"My objective was just to pass the first group, I think I did a very good job ; maybe I did a lot of mistakes, but I'm very happy that I took the second place, and congratulations to other girls who were also very strong. In final, I just tried to do my best, because I had to fight against the floor, but I am quite satisfied and it was good experience for next time"

Maryna Boiko did very good during the previous rounds, but couldn't repeat her performance during the final, and even if she finished third, she could win this final as her level is very high and she has enough weapons to win !
"It is my third time I am in final on battle masters, and it is third time that I got the third place… anyway, it is very good result for me and this day was really lucky because I missed many tricks and finally I got a place."