WSSA European Freestyle Skating

Championships 2013
July 12th-14th, Warsaw, Poland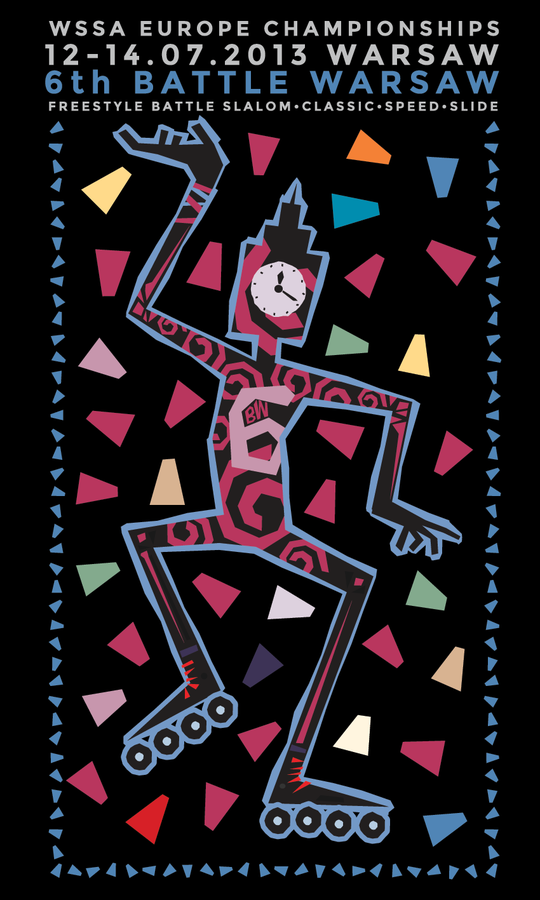 After the Inline Games of Berlin last year, it is the turn of Poland to host the Continental Competition, at the occasion of the 6th edition of Battle Warsaw, in mid-July. It will be held in the BGZ Arena, a huge velodrome close to the city center.
More than 40 women and 70 men representing 15 countries have already registered to take part in this year's European Championships. Hi Five to the handful of men and women who have enlisted for the four disciplines, Freestyle Classic, Freestyle Battle, Speed Slalom and Slides.
Russia will be present with an overwhelming number of competitors – around 30! Far over the other countries. Italy comes in numbers too with 20 skaters; Poland, the hosting country, is in the Top-3 represented countries but yet half less than Russia; France and Ukraine are also above 10 registered skaters... Let's also note skaters from the Czech Republic, Ireland, Spain, Slovakia, Belgium, Belarus, Latvia, Germany, Hungary and exceptionally Brazil.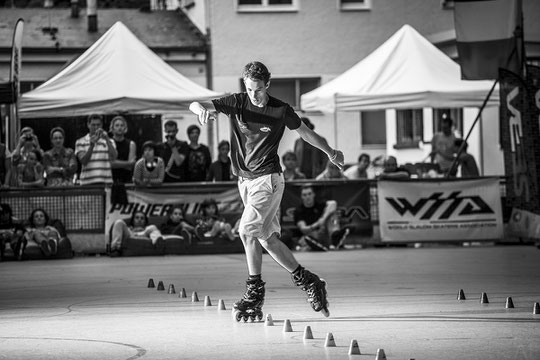 The two Men's Freestyle titles are currently in the hands of the French...
The Battle title still belongs to ALEXANDRE CLARIS (#3) until next week when it will be put back in play.
"I took time to work on my Classic, now with the time remaining I will focus on battle to ensure a place on the podium. Now with Dawid (JAWORSKI – POL, #11), Lorenzo (GUSLANDI – ITA, #13), Michal (SULINOWSKI – POL, #2), Romain (LEBOIS – FRA, #1), Jon (LARRUCEA – ESP, #8)... we are too many for a final. I tend to bet more on Battle because you can play your cards right on D-Day, whereas in Classic the die is cast since everybody have their runs prepared in advance."


Most of last year's edition top-skaters will be there to secure their rankings, their titles, take their revenge and prove their worth. Only German MARTIN SLOBODA (#7) will be missing, busy studying, leaving free room on the Battle podium for another challenger.
"I won't be able to make it this time, I am studying and doing many exams till August. I can't afford to be absent right now, it would affect my level."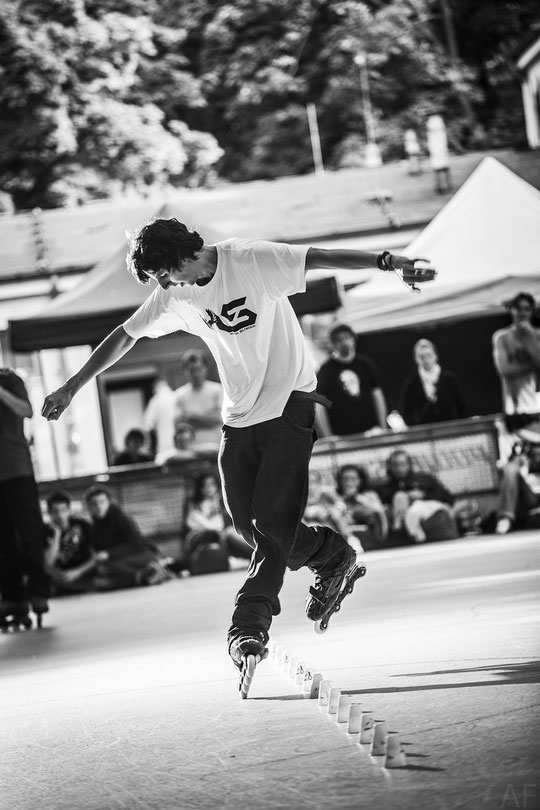 ROMAIN LEBOIS (FRA, #1) won the Classic last year. He will be there to repeat his feat and why not win the double this year? After his PSWC performance, nothing seems impossible! Yet the gold with be expensive this year and the bidding will go very high with all the motivated pretenders coming.
Let's particularly mention MICHAL SULINOWSKI (POL, #2) who is constantly hot on the heels of the world leader, 81 points behind at the world ranking and a silver medal in Classic last year. Constantly revising his freestyle goals upwards, the Polish (who will then be skating at home) will be one of the major threats of the event.
"It's difficult to say 'I'm ready' because it can always be better and sometimes I can make very big steps in a very short time. But I'm training very hard specially for the classic run because I made a new performance, so my objective is to do classic well. For battle I'm trying to perfect some tricks and keep my level in progress.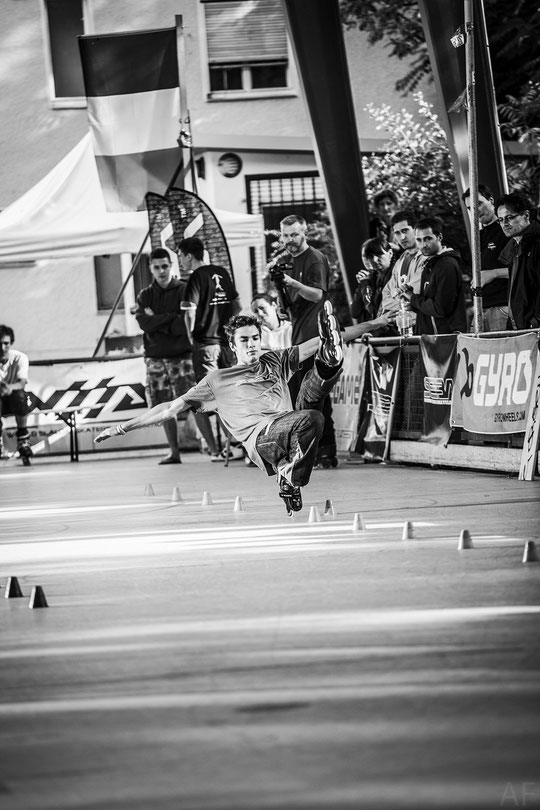 And let's not forget JON LARRUCEA (ESP, #8) the 2011 double champion, who has ambitions in both categories and counts on his experience to make the difference:
"My objective is to reach the final in battle but I know it will be very hard. I couldn't train as much as I wanted but still I think I can make it. In Classic I will try to be first or podium: I think I have a very good run with good music and training.
This year will be bloody with new riders that are very strong. But I think now I've got more experience and my attitude has changed to be more tactical and more relaxed as for competition. I want to win of course but the main reason I do all that is because I like freestyle slalom and I like to meet with everybody and have fun."
...While the two Women's Freestyle titles still belong to Russia.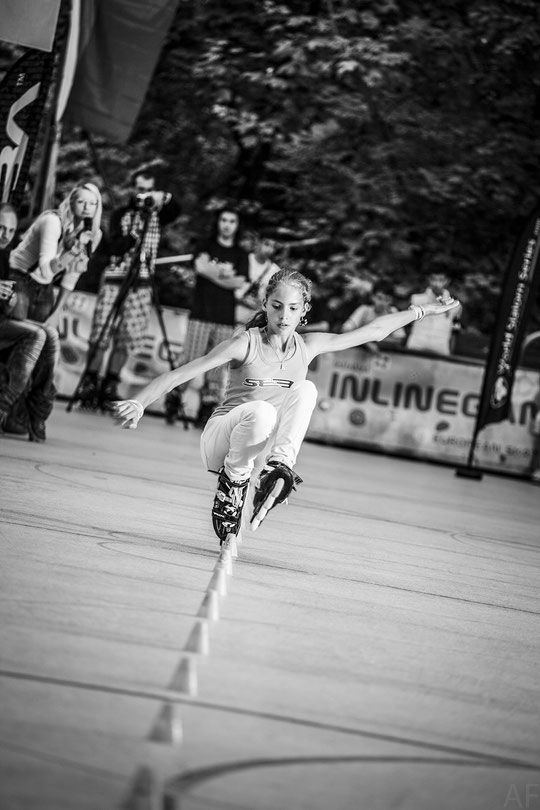 2012 Women's Double Champion in Classic and Battle, DARIA KUZNETSOVA (RUS, #1) will be there to protect her titles, especially from her main threat KLAUDIA HARTMANIS (POL, #2), the current Women's double vice-champion, who is also dangerously challenging the world crown, being only 19 points behind her.
"Well, in 2011 I was 3rd, last year double 2nd so I only need the gold medal to complete my EFSC collection (Laughter). More seriously, I'm aware of the high level of the other girls. It's not easy to win such a huge contest. I'll do my best and we'll see... This competition will be quite important for my position in the ranking. Yes I'm close to #1 and of course that would be awesome if I were 1st but that's a game. I shouldn't be too confident and care about winning too much. Instead of that I'm going to focus to show the best freestyle I can."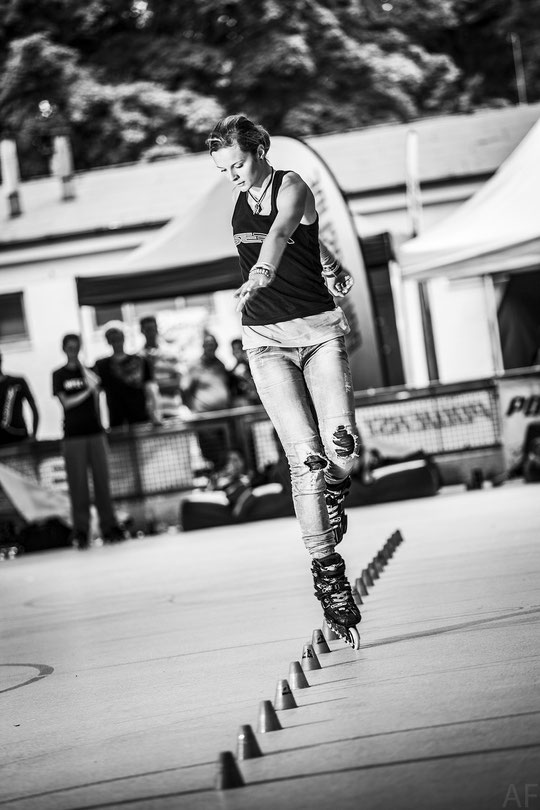 The competition will be tough too in the Women's Category. For information, 8 freestylers of the Top-10 will be there... (versus 9 of the Top-15 in the Men's)
MARYNA BOIKO (UKR, #3) is an opponent not to be neglected: she seized all the bronze last year, finishing 3rd in Battle and Classic! Her ankle has healed and although she lacked time for her preparation, she has the potential to cause a sensation!
"I didn't have enough time to train but I tried to practise every day, even just 30 minutes. I'm a little bit worried before the EC. I'll try to do my best and hope to get better results than last year. My ankle is fine, I don't feel the pain and it's very good."
ZOE GRANJON (FRA, #4) will be there to take her revenge, overprepared and ready to skate. She had been knocked out in quarter-final last year (battle) but this year will be another story:
"I am ready for it, my Classic is ready, everything's ready, and I can't wait to go! I've worked hard on my battle runs and I'm going to give my max as soon as the first round. I am 400% ready to take my revenge on last year! I don't have any particular objective, above all I want to enjoy and skate well, that's the most important. Then, indeed reaching the final in battle would be awesome..."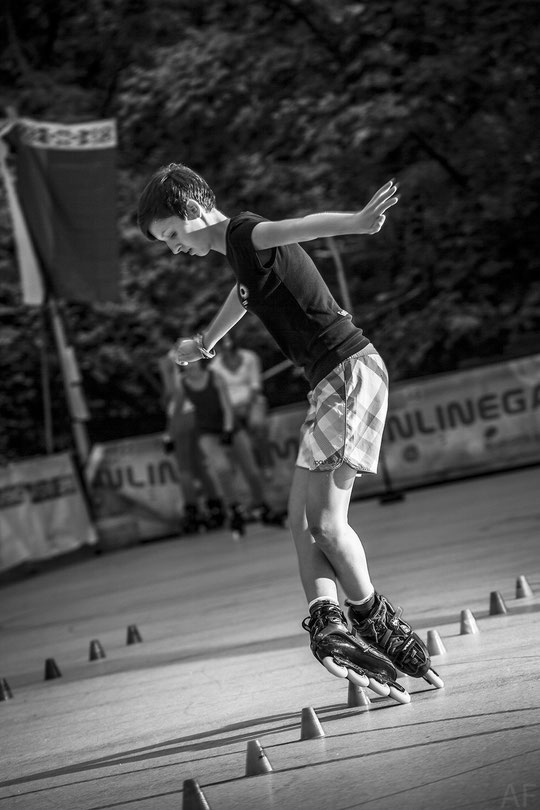 As for Speed Slalom all the favorite men will be there.
The European crown will be re-staked after two years on the head of YOHAN FORT (FRA, #11) who will try to keep it at least in the family. Indeed, JIMMY FORT (FRA, #662) the 2011 European Vice-Champion won't miss the meeting either although he wasn't much present lately.
"I am ready and in good shape. Yet I train less now that I coach the juniors, it takes me a lot of time. And I'm also quite busy with my coaching company... But I count on my little brother to try to get the first and second places!"
His main rival, ItalianSIMONE NAI OLEARI (#1) has changed his training and feels at his best, he has stacked all the odds in his favour, a bit of luck to guide him during the competition would be the cherry on top:
"There will be all the top European skaters. I have improved my preparation compared to that of the PSWC: To be honest even if everything seemed well, I really wasn't at my top then because of some mistakes in my preparation, which I have avoided this time. Last year Yohan (Fort) and me were really close and you can't imagine how happy I was even with my 2nd place! Anyway this year it's different and I'm sure of my condition. Whatever happens, I'm already satisfied with my training. Yet you can't predict how the competition will go, because that's the thing about competitions! The winner will be the one who will deserve it more than the others... and I am going to fight hard for it!"
SAVIO BRIVIO (#13) and DIEGO DE ARAUJO (#6) should seriously complicate things... And all the flexible freestyle skaters who handle speed skating very well should add to the suspense. To name but a few: the Freestyle Top-3 Lebois, Sulinowski and Claris, as well as Rozbroj, Ferrari, Cheremetieff...
A coveted first place in the Women's Speed Category too...
In the Women's category, the current title holder, CRISTINA ROTUNNO (#1) "want[s] to repeat the feat of last year. The competition won't be easy but [she] will do [her] best to keep the title." She is right indeed, she is not the only pretender to Gold! Although French CLEMENCE GUICHETEAU, one of the main threats of the competition (European 2011 champion and 2012 vice-champion) has hung up her skates this year, it won't be much relaxed. Her colleague French TIFFANY DERISBOURG (#10) who seized the Bronze to Barbara Bossi last year, is pretty clear about it:
"This year, it's Objective Gold of course. I am ready, on form and well trained thanks to my coach Yohan Fort. I think it won't be a piece of cake with Barbara Bossi and Cristina Rotunno but I won't drop anything to go and get the title for the first time."
BARBARA BOSSI (#2) is more philosophical and less impetuous, but none the less trained and aiming at gold. Her victory at the PSWC gave her extra motivation:
"I hope I'm ready! I'm training and I feel quite good, but I can't be 100% sure... My opponents are really good and today can be my day as well as it could be the day of anybody else."
Last but not least, just as in the Men's category, the pure speed skaters should beware of the good freestylers having a very decent go at speed skating. The world ranking speaks for itself... Ewelina Czapla, Klaudia Hartmanis, Zoé Granjon, Chiara Lualdi, Angelika Prucnal, Kristina Lysenko, etc.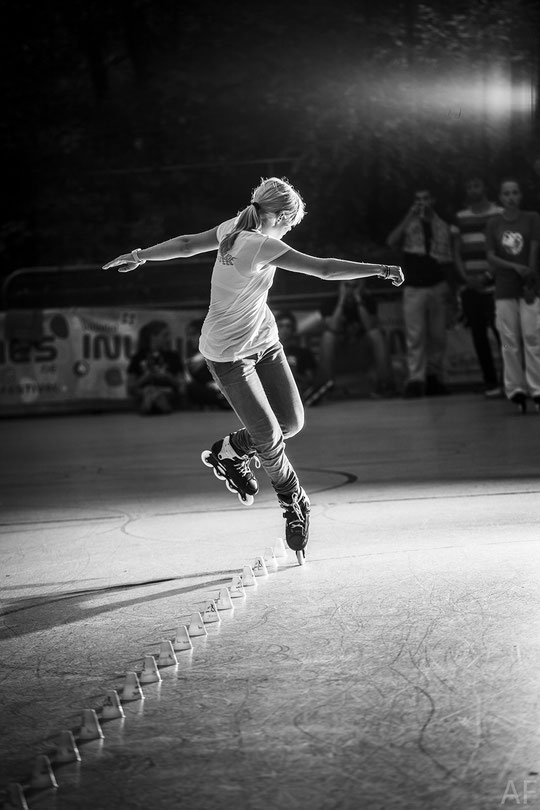 Stay tuned and get ready, Warsaw will be the place to be next weekend!
By Chloe Seyres // for WorldSlalomSeries.com
Website of the event: