Looking back onto the
2012 World Slalom Series
New years are always occasions to look back onto previous years. Let's have a little recap on 2012 and the evolution of the World Slalom Series!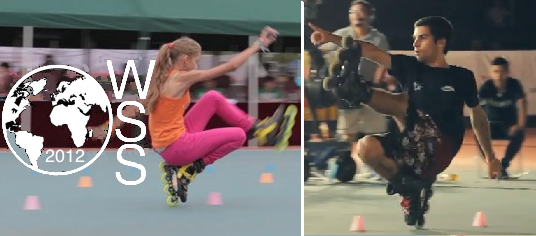 Statistics
Since the first season back in 2008, the WSS have become real grown ups. Competitors are more than twice as more, reaching the bar of the 1300s, and although the men's freestyle category is stagnating for the first time this year (yet, above 900!) the progression of the women's number is still incredibly impressive: Almost +25% women than last year, their number has tripled since the opening of the WSS, being now over 400 in Freestyle.
Let's note that the competitors in Speed slalom, who were heavily outnumbered, has almost totally caught up the Freestyle stats in 2012, after a big boom in 2011 which started the going upwards: 1218 speed skaters vs. 1309 freestylers.
The number of events, as well as the countries they take place in have also increased since last year: 28 countries hosted 87 events in 2012 vs. 24 countries and 76 events in 2011… and 18 countries for 38 events in 2008! The nationalities of the skaters taking part in the WSS are still getting more varied, and this year we are at the threshold of the 50 different nationalities (49).
The WSS are settled everywhere in the world: Europe and Asia of course and above all, but also Africa and Oceania, North and South America. The latter is indeed experiencing a boom and should be closely looked after!
World Rankings
There have been quite a few changes in the world ranking landscape in 2012.
FREESTYLE SLALOM MEN

Rank

Prev.

Dif.

Name

Country

Nb

Total

Best 4

1

1

0

Lebois Romain

FRA

26

5739

1300

2

2

0

Kim Sung Jin 김성진

KOR

9

2258

1300

3

3

0

Sulinowski Michał

POL

17

3422

1169

4

4

0

Lee Choong Goon 이충군

KOR

10

2248

1157

5

5

0

Claris Alexandre

FRA

18

3841

 
The only constant in the Men's Freestyle Top5 between 2011 and 2012 is Korean Kim Sung Jin, who goes from the 1st place to the 2nd place (in fact: 1st place tie). All the other skaters have changed places. The two Chinese are gone, leaving room to new challengers: Pu Hao Yang, the young technical prodigy has disappeared to concentrate on his studies, and his team-mate Ye Hao Qin has dropped down to the 12th place with only 7 competitions in the year… Just as the 2011 No.3 Jon Larrucea, who finds himself at the 16th place by the end of 2012. German Martin Sloboda still holds on but steps out of the Top5, going from 5th to 6th.
The top of the ranking is invaded by the new French generation, with Alexandre Claris as the basement (No.5) and Romain Lebois as the cherry on top (No.1). His Best 4 is a tie with former No.1 Kim Sung Jin, but he gets the advantage for having competed in 26 events this year, against 9 for the Korean. The two other Top5 places are squatted by young Polish Michal Sulinowski and Korean Lee Choong Goon, KSJ's 2012 pair freestyle partner.
The places are getting more and more expensive: No.5 (Claris) is only 7 points behind No.4 (LCG) and 19 points behind No.3 (Sulinowski)! The Top9 skaters are above 1000 points at their Best 4, and the first 14 skaters are above 900.
FREESTYLE SLALOM WOMEN

Rank

Prev.

Dif.

Name

Country

Nb

Total

Best 4

1

1

0

Kuznetsova Daria

RUS

10

2598

1300

2

2

0

Hartmanis Klaudia

POL

22

4821

1219

3

3

0

Boiko Maryna

UKR

17

4137

1210

4

4

0

Su Fei Qian 苏菲浅

CHN

7

1500

1100

5

5

0

Semenova Polina

RUS

12

2495

1080
In the Women's Freestyle ranking places are almost as tight! Young Russian Dasha Kuznetsova is first with the max points at the Best 4 (1300), No.3 (Boyko) is only 9 points behind No.2 (Hartmanis), and No.4 to 8 are in-between less than 80 points! The Top15 of the women's ranking is above 900.
Just like for the men, new challengers have seized the first places and sit on top of the world. Dasha Kuznetsova climbed from place No.13 to No.1 in hardly six months, ending the Chinese domination of last year: Su Fei Qian, Chen Chen and Feng Hui were occupying places 1, 3 and 5. Only Su Fei Qian (current No.4) remains in the Top5. Feng Hui (No.18) is dangerously getting closer to the edge of the Top20, and Chen Chen (No.46) is slowly disappearing in the abysses of the ranking.
Ukrainian Marina Boyko (current No.3) and Russian Polina Semenova (No.5) stay around, losing one place each compared to same time last year. Let's note that Boyko had a great fright with a consequent drop this summer while Semenova treated herself to two months of No.1 during the spring. Polish Klaudia Hartmanis made the most of the free room to pass the door of the Top5, going from 2011 No.6 to the 2nd place by the end of 2012.
SPEED SLALOM MEN

Rank

Prev.

Dif.

Name

Country

Nb

Total

Best 4

1

1

0

Nai Oleari Simone

ITA

10

2466

1250

2

2

0

Claris Alexandre

FRA

9

1844

1037

3

3

0

Brivio Savio

ITA

4

1024

1024

4

4

0

Guo Fang 郭方

CHN

5

1096

1010

5

5

0

Yang Hsin Chiao 楊昕橋

TPE

4

965

965
2012 was hectic for the Men's Speed Slalom ranking too! French Yohan Fort and Korean Kim Sung Jin, who were the No.1 and 2 by the end of 2011, are relegated to places 7 and 9. Fort's absence at the World Championships cost him much.
Long-time Italian challengers Simone Nai Oleari and Savio Brivio stepped into the breach to seize the Top3, being respectively the new No.1 and No.3. French all-rounder Alexandre Claris makes the most of the summer general confusion to settle at the 2nd place!
Chinese Guo Fang and Taipeian Yang Hsin Chiao complete the Top5. Place 4 (Guo Fang) is only 27 points away from place 2 (Claris), with Brivio in the middle.
SPEED SLALOM WOMEN

Rank

Prev.

Dif.

Name

Country

Nb

Total

Best 4

1

1

0

Rotunno Cristina

ITA

5

1300

1200

2

2

0

Bossi Barbara

ITA

5

1263

1083

3

3

0

Hartmanis Klaudia

POL

12

2227

975

4

4

0

Wang Tzu Chien 王姿茜

TPE

4

940

940

5

5

0

Codazzi Barbara

ITA

5

990

904
On the other hand, it seems that the Italian pair in the Women's category has settled for good up there: Barbara Bossi and Cristina Rotunno exchanged places during 2012: Rotunno (current No.1) has improved her results a lot, going from 919 points to 1200 at her Best 4 in 2012, overtaking Bossi whose results have stagnated, and seizing the golden throne.
In speed slalom, Italians always come in threes (at least): last year, Chiara Lualdi completed the Top5, this year is Barbara Codazzi's turn. French Clemence Guicheteau and Russian Kristina Lysenko go from the 2011 Top5 to the 2012 Top10. Here too, Polish Klaudia Hartmanis steadily improves her ranking with a moving upwards modeled on her freestyle progression: last year in the Top10, this year in the Top5 at the 3rd place!
But the real shooting upwards is that of Taipeian Wang Tzu Chien who gets the 4th place with the bare minimum competitions in the year: 4 competitions for a Best 4 at 940! Last year, she had competed only once and was ranked 299th...
From 2012… to 2013!
The next season has already started in January with local events in Indonesia, France and Italy. But the real kick-off will be in Hannover on Feb.1-3 for the three-cone Winter Inline Games -- Check out the competition's website: http://www.inlinegames.de/index.php?id=13&sub=68
Stay tuned on the World Slalom Series' schedule: events are being added and confirmed! http://www.worldslalomseries.com/events/
To be continued… with interviews of the Top5's!