INTERVIEW
with
VIKTOR MELESHKEVICH (RUS)
By Close Yr E's
Collected: June 2009
FRENCH Version Available HERE !!
Viktor is Russian. He's been practising slalom-skating for only three years but he is fond of super high technical wheeling tricks. He's one of the main actors of this new wave of mad Russian freestylers who constantly push further the technical challenge.
Viktor is the current #28 at the WSSA World Ranking (August 2009). He is also the 2008 Russian Champion in Classic Freestyle, and he stakes his Russian title this weekend (October, 10) at the Sea Battle in Novorossiysk (RUS) – his hometown, a port town on the Black Sea... a town where you can see cats flying when it's windy!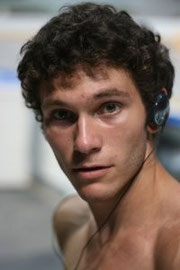 TECHNICAL FACTS
Name: Viktor Meleshkevich
Birth date: 23/01/1989
Nationality: Russian
Job/occupation: skatepark instructor
What is freestyle skating for you?
First of all freestyle skating is my life style. I personally think that freestyle is a kind of new and developing sport which, in my opinion, has great future. Today more and more young people, teens and adult people are involved in this movement. Freestyle is not only sports for me, it is much more: it is a means of meeting new interesting people, new friends, and simply having fun =)
PROGRESSION
How long have you been practising freestyle slalom skating?
I have been practicing freestyle for 2,5 years. I began to practice freestyle at the very moment when I tried skating for the first time.
I decided to start skating after I saw Dmitriy Milyohin's performance in Novorossiysk (my native city). I was very impressed by his skating and I decided to skate like him one day.
What are your influences?
Mostly I train by myself. When I started there was a lot of guys who skated freestyle, who showed and explained me the bases of freestyle; I also saw videos on the Internet with Igor and Seba and it helped me to discover new elements and chains and learn how to do them. Now sometime I do train with my friends from the Novorossiysk inline club.
What are the key-moments in your evolution?
Well...I got enthusiastic about the idea of starting artistic slalom with Dmitriy's performance. After 6 months, I took part in my first competition for beginners in Rostov on Don (where I ended up first :рррррррррр). Then I went to Samara (it was the first important event in my sports career), where a professional competition took place. There I met Rekil, Polina, Nadya, Vladimir Tkackyov and many other interesting people, It was great! And I got the 6-th place, which was also great for me!) Then I tried to take part in every competition. And the second important event in my sports life was Moscow IFSA 2007, where I met Igor and Chloe and other colleagues.
The first time I reached the podium was in 2008, during the Russian championship final. After this event, I got sponsored by «Sport collection» (but our team has been reduced recently, becauseof the crisis). After the Russian championship, I did several successful perfomances in Russia and one in Ukraine, in Kiev. My first success at an international competition was during the last two Russian international battles (St.Petersburg and Moscow, March 2009)
COMPETITIONS
Things you are proud to have accomplished in skating? Titles or rankings?
Of course it is the 2007 Russian championship final (where I took the 6-th place) and I'm very proud of my first first ( =) ) place at the 2008 Russian championship final (I'll never forget the feelings I experienced that day). And of course I remember all my successful performances.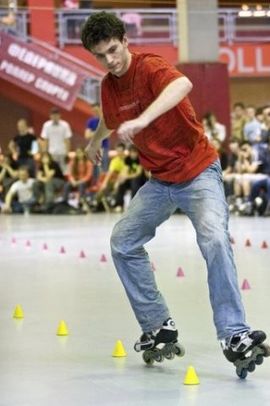 You're taking part in both individual and battle competition.
What do you get out of these two different formats of competition?
Pros and cons according to you?
These are two absolutely different kinds of comp-s. In individual performances I try to match the music to the max for my program. I don't try to do very difficult tricks there, because I keep them for battles;). When I train for battles I try to work on the most difficult technical tricks (1-wheel turns, sevens, no-wipers etc…) but it is not as nice as individual performances =)
I prefer battles as the last one allowed me to show the most difficult tricks, and battles give me the feelings of non-official event and I see some street culture in it!:)
Do you get any opportunities thanks to skating?
Thanks to skating, I communicate with a lot of guys and now I can go to many Russian (and other countries') cities and abroad, where my friends are always ready to meet me and spend some time with me.
TRAININGS & SLALOM TASTES
What about your slalom sessions now? What does your typical slalom-session looks like?
First of all I'm warming-up doing 1-wheel elements and after this I begin to train my chains and new elements. My training lasts 3 to 4 hours and I like to train without music, because I train on the sea-side ;)
What aspects do you like best in slalom?
Most of all I like the feeling of freedom: when I put on my skates I forget all my problems and troubles, I just enjoy skating. And of course I'm attracted to difficult tricks: when I finally manage to do them I have a feeling of great satisfaction =)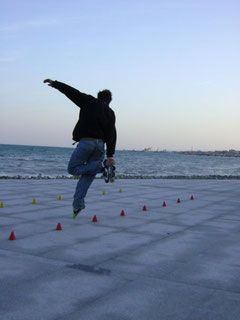 What are you favourite kinds of tricks?
Of  course 1-wheels!;) especially I like 1-wheel turns on all of the cones and day-nights.
What are your aims in your personal improvement?
I want to improve my sitting tricks, because it's my week side.
I would like to take part in all comp.
Do you have other aims or projects related to skating?
I want to open an inline-school to develop this kind of sports in my city, and improve myself of course =)
BESIDES
Do you practice other skating sports?
Yeah!) I try to train speed slalom and recently I have trained shuffles also.
Do you have other passions?
When I don't skate I spend time with my friends =)
More to say ? Special thanks… ?
I want to wish good luck to all beginners and I want to say that one of  the most important things is not to lose heart after unsuccessful performances, because it can happen to anyone. You should just keep on training, but don't stop in front of difficulties.
I want to say special thanks to my native Novorossiysk inline club (if there would not be you, that would not be and me). Thanks to Syoma and Goga for their present (it helps me a lot). And I want to say thanks to all the people who believe in me and support me on all comp.:)
MEDIA
Links to videos of you (competitions, edits/parts?)
This is Samara 2007))))))))))))))))))
And the 9-th may of 2009 Russian's cup
Links to some websites you would recommend?
Here is my page in «Vkontakte« website
Here you can take all info about russian competitions: RollerClub Forum
Collected by Close Yr E's
June 2009