Interview with Kim Sung Jin
Collected March 12, 2010
By Close Yr E's
FRENCH Version Available HERE!!
I took the opportunity of interviewing Kim Sung Jin during our March trip in Russia for Battle SPB and Battle Moscow.
Behind his quietness which could easily be mistaken for shyness, hides a kind and modest young man who has revolutionized Slalom-skating: hard to realize that this guy invented all in a row Korean Spins and Sevens (…and more!) – Super-popular must-do tricks… and this after one year of slalom-skating only … at the age of 13!
First time I saw him, it was in 2005 through his famous video-edit – so smooth and alien we couldn't decode what he was doing with his legs… Remember, it was a cannonball and it went like this:
Kim Sung Jin is the current World #3 at the WSSA World Ranking (March '10), and he is back for good after a year off. His style is a mix of speediness, smoothness and lightness, which gives an impression of easiness while watching him executing unbelievable high-tech wheeling and spinning tricks.
GENERAL FACTS
• Name:
Kim Sung Jin
• Birth date:
August 22, 1990
• Nationality:
Republic of Korea
• Occupation:
Student, University of Business Administration
BEGINNINGS
• Introduction
When did you start skating? And how did you discover slalom-skating?
I started skating in 2001. But I discovered slalom-skating in 2002, one day I went to the park with friends, and there we met a guy who was slalom-skating…
• Passion
What do you like in Slalom-Skating?
It's the feeling of freedom when I skate, and the feeling of achievement when I manage to do some tricks.
POPULARITY
• Tricks
You invented a good bunch of tricks which became fashionable must-do stuff… How do you feel about it?
I invented some tricks, like the (Korean) screw in 2003, the Seven in 2004, and the Special One Foot in 2006. I'm so happy when I see people doing my tricks!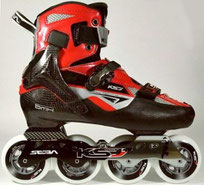 • KSJ Pro-Model
Tell us the story of the KSJ Pro-Skates?
At first, it is An Seong Bae who told me to contact Seba skates Asia. At the time, in 2007-2008, I had to study a lot for my exams, but they wanted to contract me. During this first year I couldn't be active for the development of my pro-model… and the KSJ 1 were not exactly what I imagined because I couldn't properly test them. I'm very satisfied with the KSJ 2: they are light, flexible, and the cuff was improved, it was the biggest weak point of the first model.
COMPETITIONS
• Trainings
How often do you train? How long is your average session? Where do you train, and who with?
It depends on situations. When there's a competition coming soon, I usually train four or five times a week; if not, there are some weeks when I only train one or two times. My sessions can last three, four, five hours… [laughs]
I train with skater-friends. In winter we have to skate indoor, in basements. There are no skateparks. And in summer we skate outside!
• Competitions
You take part in all the categories of Freestyle: Individual Classic, Jam, Battle, Speed Slalom… What do you like best?
I do everything just to enjoy the whole competition – but I don't do slides! Though I'd like to take part one day… I can do some slides but I'm not good: I don't practice.
I prefer Classic Freestyle because it shows what I have worked on so far, I can follow my music and make programs.
• Opponents
Who are you afraid of?
I'm scared of all the good skaters, like Igor (Cheremetieff), Xuan (Le), Martin (Sloboda), the strong Chinese (Guo Fang and Wang Heng), and the tall Russian guy (Dimitry Shevarutin).
• Travels
On which competitions do you plan to go this year (2010 Season)?
I plan to go to Paris for the PSWC, to Kiev, maybe to the US, and wherever I can go!
• Aims for 2010?
I want to travel more outside of Asia, try to do my best in all the competitions, and I'd like to meet more good foreign skaters.
BESIDES
• Besides…
Any other center of interest?
If I hadn't started skating, I would probably do Tae Kwon Do. I was in the Performance Team of Korea, I wanted to get into the National Team… but then I started slalom-skating and I quit Tae Kwon Do…
• Thanks?
…So many thanks…
First I thank my family, especially my mother for having made me [smile]. And a special thanks to Muno for introducing me to slalom-skating.