INTERVIEW WITH POLINA SEMENOVA
By Close Yr E's
December, 2008
French Version available HERE
She is the present world number 3 at the WSSA World Ranking. She may be quiet, but she's none the less talented. Her speciality? Compasses… extensions and evolutions, of which she makes the most in every possible way.
Here is a little flash-back on her skating development till today…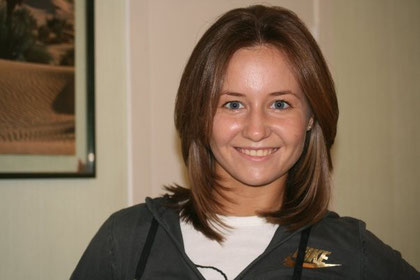 General facts
Name: Semenova Polina
Birth date: 22.02.1985
Nationality:  Russian Federation
Occupation: children instructor and slalom-skater)))
What is your vision of freestyle-slalom?
For me style-slalom is like dancing. Today, there are different styles of skating developing very quickly, and while some skaters will combine dance with acrobatics elements, some others will integrate more plastic and stylish elements, others will be more dynamical... And everyone have their own unique style.
The genesis
How long have you been practising freestyle slalom skating?
Well, my first competition was in 2004, so I've been freestyle-slalom skating for 5-6 years) I don't remember exactly.
But my parents bought me my first skates when I was 10). In fact, the first time I tried to skate, I decided that skating was not for me, just because I had to train to skate well, and it was difficult. But after two months I tried to skate again with friends and since then I haven't stopped skating ))))
How were you introduced to freestyle? Any anecdote?
I moved from the suburb to Moscow with my parents and there was a skatepark near our flat. There I saw some slalom-skaters. The first time I just watched them skate, but the second time I took plastic glasses at the skatepark bar and began to train. So every time someone came to the skatepark, I tried to skate new elements, and I quickly got IKEA glasses instead of the plastic glasses from the bar)))
The progress
Influences: Did you train alone, with other people (emulation)? What was the role of the media in your training?
I've been training alone in a skatepark for a long time, at first. Sometimes, someone came and explained me new tricks and I worked on them.
Then of course, once I'd started to skate with all the skaters I improved much faster – when you skate with someone, it's easier and faster to learn and work on new tricks.
Then someone (Andrey) began to coach me more seriously, every weekend. He showed me new tricks and thanks to him I participated to my first competition.
When I just started to skate, he gave me a CD with videos of Team Russia members skating, I looked and thought – "My God, I'll never be able to do that, I don't even understand what they are doing)))" It was the biggest stimulus for trainings!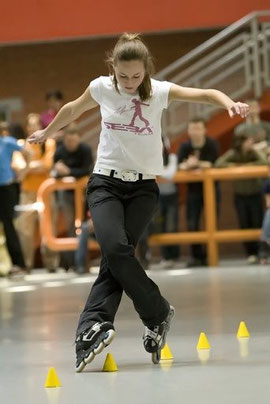 What are the key-moments in your evolution?
In 2004, after a year of training I took part in my first competition. During my first run I forgot my program – it was awful))) but my second run was ok and I got the third place after Rekil and Kommucap! (4 years ago there were not enough girls for the qualifications and I had to skate with the boys).
After a year I had a first sponsor (FilaSkates), with the help of which I was able to go to my first international competition – in France, St.Medard (2005). It was the best competition in my life, unforgettable): We were a united team, so friendly, so lucky... And we won half of all cups))): I ended third behind Katya Dikushina (2nd) and Fanny Violeau (1st), Dlinn was third, and Dima Man won the styleslalom!... and Rekil was first in speedslalom; and last but not least Rekil and me, we won the Team Slalom competition...  So it was better than in my craziest dreams)
Since 2007 I have had a new sponsor. Now I'm in the Seba-Team). It's a new step in my skating: I'm starting to be more technical. And it's perfect to be in a team with the best skaters!
Do you get any opportunities thanks to skating?
Of course! First it is travels: in 4 years I've been in many countries and cities, it is very interesting and amazing).
Thanks to skating I have many friends in other countries.
Thanks to skating, I got my perfect job.
And chatting with foreign skaters enables me to practice my English).
And also I don't need to go to the fitness centre – skating is the best exercise ever )))
And eventually, life without skates was much more boring and more monotonous than now)
Competitions and Trainings
Titles you are proud of?
All titles are very different and all are very important for me.
But most of all emotions it's my third place in St.Medard at the 2005 European Championship, and my first place at the 2005 European Cup in Moscow – a first place that I shared with Katya Dikushina. I was so afraid to skate and I could not hope to be first)
And of course, there's also my 1st place at the 2008 Hannover Inline Games. This weekend was just perfect)) I liked the friendly atmosphere at the competitions, the team-battle and competitions in general were very funny and interesting.
You compete in both Individual and Battle, two different specialties of freestyle slalom. What do you personally get from this diversity of practice? Any preferences?
Well, Battle and Individual are two different things for me. And both of them have strong points).
In individual, you can create an interesting program to music, special moments and elements. It's very interesting on the one hand, but on the other hand it's very difficult, because you have to skate to music and you have to make your program unique.
In battle you can do whatever you want). The best way of skating being: doing more and more difficult and interesting tricks). I like the idea of a best-trick - it's really interesting. And one more plus: in battle, skating is more dynamic, more interesting for the public and less stressing for the skaters… because it's less official than individual program for me, more funny and friendly, I think.
It's two different ways of competition and both of them are interesting for all)
What aspects do you like best in slalom? What are you favourite kinds of tricks, and why?
Now I like style best, and I'm trying to make my skating more plastic. Of course I'm working on my technical side, but I think that style-slalom has first to do with beauty and style, and and only afterwards with technique)
My favourite type of tricks now is compas, because it's not difficult for me and I have thought up several more tricks with this element)
Your aims? Next steps?
My nightmare is wheeling tricks! I don't know why, but I really don't manage))) and it takes me too much time to train on every wheeling trick. So, my next aim is doing wheeling spins at last… and more) but to get good results I have to train hard.
Your job as a Child Instructor…
I'm a child instructor: I'm working in the skatepark and Park of Victory for the Federation of Rollersport, and also in WorldClass – one of the best fitness-center in Moscow.
I'm working with kids from 3 years-old and older, 4-5 days a week – depending on the number of lessons. And I really love it! Working with children is very very difficult, because you have to make your lessons interesting for them. If your training is boring, the child won't feel like skating with you the next time. All your trainings have to be made up of games, which helps to understand how to skate) It's more difficult than training with adults, but more interesting.
This year one of my little kids took part in the style-slalom competition for beginners... and it was so emotional for me))) I was more stressed than if it had been me taking part in the competition.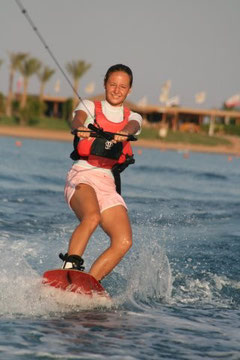 Besides
Other passions?
Too many things)
Snowboarding during winter, and windsurfing during summer).
My new sports are jumping on a trampoline) and acrobatic grid. When I was a child, acrobatics were professional kinds of sports for me and it's so funny to remember different tricks and elements now) it's so nostalgic, I really like it and I go jumping once a week)  
And of course, ordinary things for everyone – friends, cinema, theatre, books, cafe, studying English, shopping and etc))
More to say? special thanks… ?
thanks to Goga, Sema and Rollerclub for all that they do for me) Thanks to Seba for support)  Thanks to Andrey, with his help I started to skate) and thanks to my friends and my mum for everything)))
Collected by Close Yr E's
Dec. '08