INTERVIEW WITH THE NEW WORLD N#1 IN FREESTYLE SLALOM :
Polina Semenova, Russia
Little reminder : 
Name : Polina Semenova
Home : Moscow, Russia
Birthdate : 22 February 1985
-World N.1 since May 2012
-Europe Champion 2011 Freestyle Battle
-Europe Champion 2011 Freestyle Classic
-Winner of PSWC 2012, Freestyle Battle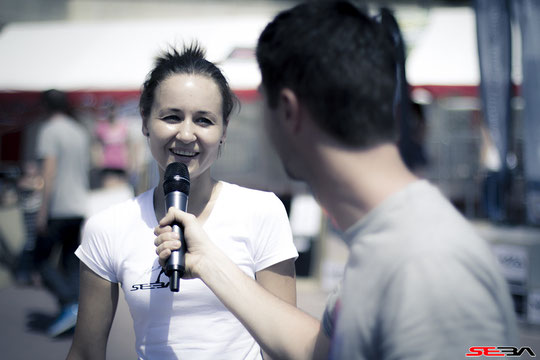 Q1 : You reach for the first time the 1st place at the world ranking, how do you feel about it ? Is it an accomplishment for you ?
I become the number one for the world ranking for the first time so of course i am very happy about it. I didn't expect this so i was really surprised and glad at the same time. I think it is a very good result for me but i guess i was kind of lucky also because there are so many strong girls now and all of them deserve to be number one so i will have to work hard for trying to keep it and to prove that i am good enough for being on the first step.
Q2 : You are the first Russian of Freestyle slalom history to be World N.1, how do you feel about it ? What are the reactions in Russia about your performance ?
I hope that they are happy for me too  And I also hope that it will push the others to do their best to reach the same result in the future. At least i am sure that it will not be so hard for Dasha Kuznetsova, the young russian champion. She is improving a lot, she has her own style and she is pretty good already so i hope that we will have one more russian girl who will reach the first place in the world ranking soon. 
Q3 : Now you won almost every competitions, you were national champion, europe champion, and now world N.1, the only title missing is a gold medal at World Championships (Silver Medal Korea 2010), is it now your main objective of the 2012 season ? Do you have a special preparation for the worlds ?
Well, i am absolutely understand that it will be very-very hard to get the title of the World Champion. There will be so many strong skaters and many of them can win the World Championship, so we will see. My main objective of the 2012 season is to do my best to show all the tricks i can do, to be stronger than competing emotions, stay calm and enjoy skating. 
Q4 : As you are now N.1, what will change in the way you prepare yourself for the main competitions ? Will it be more pressure for you or on the opposite the pressure will be on your opponents ?
I think that it is not the good way to keep in mind the places and titles you've got before. I totally understand that i was quite lucky to became number one, i am happy of course, but i know that i am competing with many strong girls who are deserve this place the same as me and even more than me sometimes. So i will try to do my best to prove that i am good enough for this, if not - i am already happy that i ve got it once, so no changes for me, no looking back; i will just skate and try to be better than i was yesterday. 
Thank you also and thanks a lot to my friends for supporting me all the time, for their smiles, advices and positive emotions.