INTERVIEW with JIREH GOH
By Close Yr E's
Collected: Jan.09
 FRENCH Version Available HERE
Jireh is Singaporean. And in Singapore the favorite skating sports, it's Sliding! Jireh belongs to this first wave of sliders which started a little more than three years ago. And just as his fellow sliders, Jireh's level has peaked up in no time—a progression accelerated thanks to a super bound team spirit, that of the MTS (Micro Team Singapore).
In Asia, Slide is part of the freestyle skating sports; it even belongs to the Classics in competition, just like the Individual, the Jam and the Speed Slalom. And Jireh is the newly sacred WSSA World Champion in Slide (Singapore, Dec.08 – see report).
He particularly impressed me at the Beijing Slalom Open in May '08: Who the hell was that guy doing such long slides with such a high speed and with the arms out on either side of the body??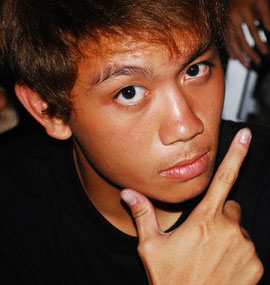 General facts
Name: Jireh Goh En Ci
Birth date: 18 August 1989
Nationality: Singaporean
Job-occupation:Student / Part time skating instructor/coach
The Genesis

How long have you been practising slides?
How were you introduced to it? Any anecdote?
3 years +
This guy Ken Soo (currently a WSSA Judge) impressed me with a few tricks. Then me and 3 other guys (including my buddy Ernest Wong) started learning from him and from the videos from Seba.
What aspect of sliding attracts you?
The high accelerating speed and thrill of playing on the line of falling and standing while moving got me addicted. The constant competition between me and my friends on who can go faster, further, better pushed us on. And the convenience of being able to do it anywhere any time made it easy for us to always do it.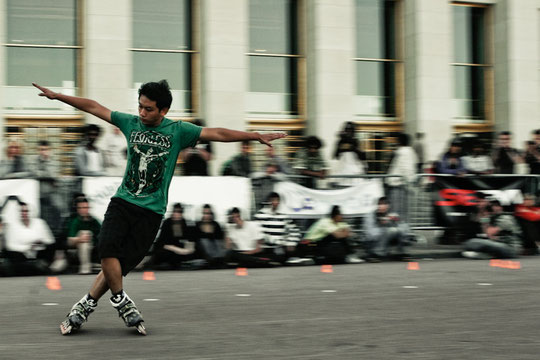 Influences

What are your influences?
My friends and team, constantly supporting me, my sponsor, Micro Singapore, especially Shirley, who always tries to give us the best and provide us with all the important(expensive) stuff like new skates, wheels ,bearings , nearly everything. They even gave us opportunities to compete overseas. Lastly Ernest.

Who are you training with?
I train mostly with my team, MTS (Micro Team Singapore), which consists of Ziyi, Ernest, Rohi, Ryan, Rebecca, Felicia, Zhi Zong, Andy  in the slide team, together with the slalom team, namely Terence Chung and his brother Clarence, Ping Hwee and Carlson. Recently I've been having friendly training with team ZenEarth which is kinda like our buddy team.
You are in the MTS… how and when did you enter it?
Me and buddy Ernest were scouted by Micro to form a slide team in the north of Singapore (woodlands) three years ago. They offered us sponsorship for our equipment and chances to join many competitions both local and overseas thus we happily agreed.

What was/is the role of the media in your training?
We used to use videos from the internet to learn new tricks, but now it's mostly through learning from each other and trying to make each slide unique.
Your evolution in slides?
…I guess it was something like this:
-Powerslide
- Double powerslide
- Acid
- 3x Powersilde
- 2xpowerslide + acid
- cross acid
- fakie fast wheel
- Fast wheel
- Parallel slide
- Fakie parallel slide
- Wheel barrow
- Cross acid to wheel barrow
- Cross acid toe
- J slide
- Soyale
-Back slide
- Toe toe parallel
- Fast slide
- Unity
- Savannah
- heel heel parallel
- Fakie toe toe parallel
- Fakie heel heel parallel
What are the key-moments in your evolution?
The first step would be my first competition Slalomania 2006 where I didn't even enter the top 16, but learnt a lot.
Then after joining MTS the next competition I joined was the IFC (International Freestyle Challenge) Singapore 2006 which was the first time I saw international skaters which really opened my eyes to what you could really do with skates. I won the slide category in that event which spurred me on to continue improving as I felt it wasn't enough.
In 2007, our team went to shanghai for the SSO where we again got to mix with many international skaters thus giving us ideas and set new targets for our slides.
The other key moments would be all the other competitions I've joined like Beijing 2008 and the SNFC (Singapore National Freestyle Challenge) 2008.
Big or small there's always something to learn and improve.
Do you get any opportunities thanks to skating?
I got chances to travel to parts of Korea, China, Thailand and many other countries
But more importantly socialized with many people all over the world and got to make a lot of interesting friends.
Competitions and Trainings
Titles you are proud of ?
Won 1st in the IFC 2006 slides which was the first national slide competition in Singapore.
2nd in the SSO (Shanghai Slalom Open).
1st in the Beijing Slalom Open.
You're the winner of the WSC (i.e. World Champion) in the slide category… how do you feel about it?
I'm glad to have won because it felt like lots of hard work paying off. I felt really lucky too because it was a tough battle as there were many strong competitors from all over the world. I did want to win but not to the extent of longing for it. My approach to competitions was to always just do my best and I guess I did so winning was still a pleasant surprise.
What about your sessions today? What does your typical slide-session looks like? How often do you train?
Currently our official slide training is 2 days a week, Friday and Saturday, which last for around 3 hrs but usually stretches to the rest of the day. However, we do train leisurely sometimes nearly everyday if we have the time. Naturally during near competitions our trainings are increased.
During training, we first practice our basic slides and skating skills like sprinting. Then we move on to practicing the higher level ones. Sometimes we have internal challenges to induce competitiveness and push ourselves harder.
 
Your aims? What do you want to improve in your sliding?
 I would aim for the nearly impossible heel fast slide and aim to master all of what I already learnt, loosen up, be less rigid and try to be more flexible.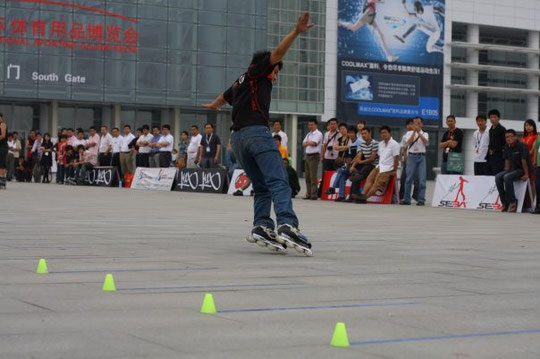 Besides

 
Apart from sliding, do you practise other skating sports?
I recently picked up speed slalom and have tried slalom.
More to say ? special thanks… ?
Once again I want to thank Shirley, my sponsor and team manager for all the hard work, care and concern she has done and shown for me and the team, Zi Yi, my girl friend, Ernest, the 'rival', and Rohi, my brother, Terence, our vice captain, and the rest of team micro Singapore for backing me.
Collected by Close Yr E's
January 2009