Interview with Chloé Seyrès
by Close Yr E's
Collected: May 2008
FRENCH Version Available HERE!!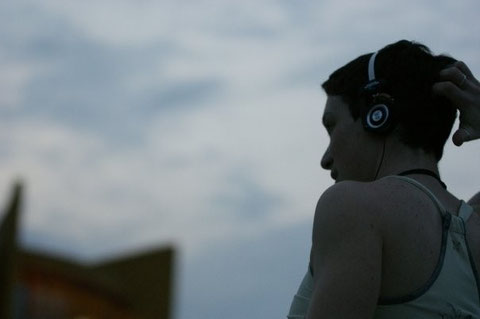 It's useless to introduce Chloé Seyrès to the international slalom-skating scene. What's the point of a new interview, then?
Every two years seemed to be a good rhythm to update news… all the more so as the champion has added wins to her credits since then: Two titles of WSSA World Champion (Battle and Style Slalom) in December 2008, a title of WSSA European Champion (Battle) in March 2009, and she's just got the world #1 place back in Freestyle Slalom (March 2009), in front of the Chinese Chen Chen. Chloé travels around the world from one competition to another, and bags nearly all the podiums, even when she has to skate against boys!!
"In a few words: My name is Chloé Seyrès, I live in Paris, I'm 22, and I'm a freestyle slalom-skater (special dedication – she will know who it is about). I've been on the competitions circuit (whatever the event as long as it has a link with freestyle skating) since 2002. I got some titles (but I'm not here to recite my CV)."
Introduction by S.Laffargue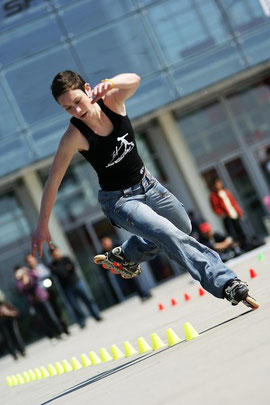 Name: Chloé Seyrès
Birth date: 14th of July, 1986. (French national day. I've got fireworks for my birthday. Every year. Yeah. Kind of boring in fact.)
Nationality: 100% Made in Bordeaux (Fra)
Job: I have a degree in English Linguistics Research. It is not very useful apart from the fact it is nice on the CV. I'll probably attend more useful courses next year. In the meantime, I'm skating, doing music, and writing articles...
A personal definition? What is your vision of freestyle-slalom?
When I have to define freestyle slalom to a neophyte, I'm used to describe it as a kind of dancing with obstacles (cf. the cones). I am linking slalom-sating and dancing because of this creation aspect and this artistic side (style) present in both. To the style, you add a good amount of technical challenge… and when you mix, the result is the idea I have of slalom-skating (very roughly speaking).
The Genesis
How long have you been practising freestyle slalom skating?
I started precisely in May 2001. Afterwards, I skated more or less intensively depending on the years. The rock bottom being without hesitation in 2003-2004 when I had to stop practising sports for a dozen of months (such a hell), and then I resumed with no real motivation… until 2006 when I doubled my efforts (not to say that I quintupled them).
How were you introduced to freestyle? Any anecdote?
I was introduced by mere chance, finding myself watching an exhibition. I saw a girl on quad-skates doing a super-fast cross eagle… and my first reaction was: Ok, uh how does that work? What can serve as cones? Yeah pine cones will do… let's go!
What aspect of slalom first attracted you?
I'd been practising ballet dancing for quite a good bunch of years, and at that time (2001) I was looking for substitute sports.
Slalom-skating immediately suited me well, not only because of the common points there were with dancing (combos of steps, games of balance, link with music), but also because of the non-common points, which can all be summed up to one concept: Freedom… that of creating your own combos (contrarily to the set choreographies and exercises of ballet dancing) and thus let your creativity go; that of deciding where, when and how to skate (and not to tamely have to wait for your course and get locked indoors in your dancing classroom); that of choosing your circle of sessions friends (instead of having to get on well with your class-mates).
And I've always felt like doing "not like everybody", and slalom-skating being a confidential discipline, I found the idea of having a not-well-known passion very appealing…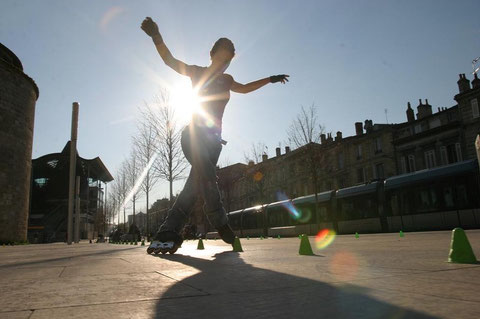 Influences
Did you train alone, with other people (emulation) ?
I've been influenced a lot by the people whom I was skating with (and this is still the case). I've tested a lot of training methods: alone, with one friend, with more, in clubs… I'm not such a fan of the Club method, as it is precisely that kind of teaching I wanted to run away from in quitting dancing. After comparison, I would rather skate with one or two friends: in my opinion this is what triggers the best emulation. Anyway, it is sometimes nice to find yourself alone (along with your mp3player) from time to time, but sessionning for a too long period of time on your own is quickly depressing!
What was the role of the media in your training?
As for the medias… I've been lucky enough to have the right people to hand at the right time (at that time there were top-skaters in Bordeaux) and to go and refer directly to them rather than loop-watching skating videos on the Internet! And I kept this (luxurious) habit to go and get to the source…
Evolution
Steps of progress: the key-moments
The debuts (2001)
It had been a while that I knew how to skate, and already a few months that I was trying to street-skate, so that my first tries in slalom-skating were not too disastrous.
The first six months I had been training with a friend who was beginning just like me. And this enabled us to motivate one another (oh yeah, you managed four cones doing crazy? Watch this, I'll manage five at least!).
I've held out for six months before buying Twisters (no comparison whatsoever with my old step-in skates…)
The shooting upwards (2002-2003)
After that first year of slalom-skating, I directly had a go at the French Championship which took place in Bordeaux that year (i.e. at home, on my skatepark) – urged by my friends. This was the first key-moment: the fact of winning (in my category) opened the door to the French Team and to my first sponsorship (Sports Aventure, a big non-specialized sports shop in Bordeaux).
In 2002-2003, I was encouraged a lot (not to say coached) by my super-friend Christophe – he made me do lines and lines of specials and toe-crazys, back and thro, normal and switch, again and again… (this is just one example). Please note: he was my torturer by my own request, it was just to help me.
And in the Summer of 2003, he is the one who made my very first custom: Twister boots on 237 FSK frames (it changed my life, after the 250 Twister frames).
My first two Starway Contests in Lausanne (CH) (2002 and 2003) were also turning points, each one in its own way. At that time, this contest served as a European Championship, and the competition was still mixed. In 2002, I ended up first girl (5th at the general ranking) and in 2003, I did my first international podium (3rd).
That 2003 Lausanne Event, it is also the weekend when I met a guy called Francky… we never skated a lot together finally, but as time went by he really became a top-friend.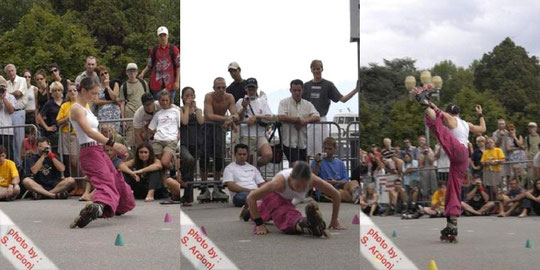 The rock bottom (2004-2005)
The following year (2004) was depressing sportingly speaking: I got such a pain in both of my knees that I was unable to do any physical activity (problems which still remain unexplained today)… and I had to shut my skates in a cupboard. Eventually I decided to fight fire with fire, putting my skates on again, only three weeks before the international contest in Amsterdam… which I won (thanks to a less disastrous run than those of my rivals). A title I never assumed, as I always had the impression I had stolen it.
Then, I change sponsorships, and I found myself in a little surf'n skate shop, Escape Outside at that time. It was less a production line there, and much more convivial, with a nice team: Max and Thaleeloo the slalom-skaters, Guillaume the young aggressive-skater, and Termi the freeskater.
It is also at that time that my first video came out. I had been urged by Mathias Wexcsteen to take part in the second rollerfr video competition (main argument: "you've got to show them guys what a girl can do on skates") …which explains the choice of the soundtrack "I'm Just a Girl" (of No Doubt) which naturally imposed itself. VIDEO HERE
After that, this is when I've been stagnating for quite a long time (a year, in fact) having nothing and no one in particular to boost me up. I was freeskating and ramp-skating a bit… but it was not like the craze of the first years. So that in late 2005 I was seriously thinking about giving up skating – I had found other occupations (a music band on its way, plans to spend a year abroad with Erasmus…)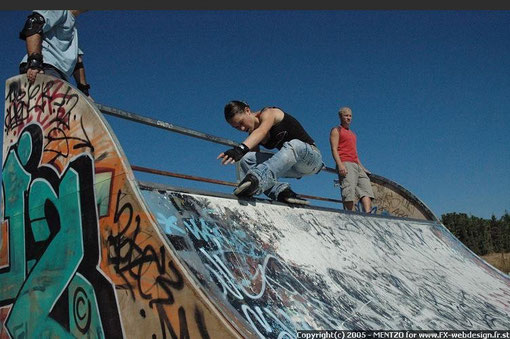 Back in style, back to style (2006--)
And this is at that very moment (fate is sometimes a great provider) that Igor Cheremetieff turned up for a four-month work experience at the French federation of roller-skating (luck had it that it was two streets next to my house)… and he lived in a student's room (luck had it that the room had a look out onto my university campus). And last but not least, luck had it that there was a strike which freed me from all university obligations. The campus being closed, we did not lose time and recycled it in a dream-spot (a perfect covered ground, with lights on 'til 11PM, at roughly 53 seconds by skate from Igor's 9m² room).
VIDEO: An Afternoon at the Fac
It is useless to say that we have been skating with great abuse for five months (we could do sessions lasting up to 8 hours long without any break). This period was extremely productive because we advised and influenced each other a lot. It ended with the best reward ever (a double style-slalom World Champion title in Barcelona 2006) and with a film chef-d'oeuvre (let us not be afraid of words): Catch Me If You Can in Besançon.
…this video was shortly preceded by that of the Clopinettes' Gang, a video aiming at promoting girl style-slalom (and also my music band with the soundtrack).
From then on (late 2006), I am taken on as a member of the SebaTeam, I have a go at Battles (not easy to let go to improvisation when you are used to control everything wit a set run), and I start travelling because of competitions… and I keep skating on and on, whatever the weather: nothing can stop the twisted imagination of a neurotic addict …I hold the proof of it with the video of a session improvised in Igor's bedroom on a snowy day (Bedroom Rollin')
Then in 2007, I episodically started to migrate to Paris (nearly each week-end in fact), to finally settle down there. There I discovered a real community of skaters – all at once, I felt less lonely. And I skated for a long time (until the summer of 2008) with Thaleeloo Rager, the very girl I met thanks to my mum (yes indeed, she was her linguistics teacher at the time she was studying English).
Last but not least, the 2008 Season was extremely rich in experiences: I must have done about twenty competitions all around the world, which enabled me to discover, observe and to get confronted to lots of different styles and visions of Freestyle – which opens the door to a huge field of possibilities… a very inspiring season !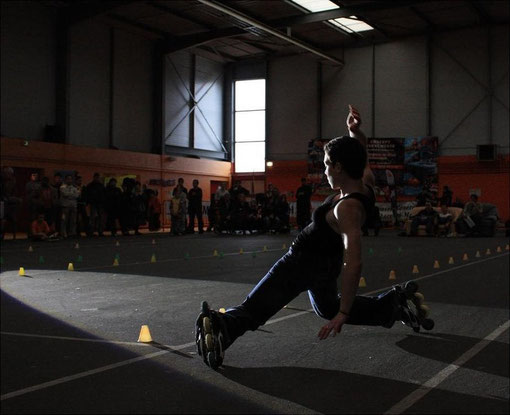 …Preferences
You are present in different slalom circuits (individual style, and freestyle battle).
What do you personally get from this diversity of experiences and practice of slalom?
Individual style-slalom and Battle are two very different exercises which I think are very complementary to improve.
Individual incites to a previous building-up, well-thought and calculated, of a combo of tricks. It is the creation and building-up part which is interesting, as well as the chorographical link with the music of your choice. I like this kind of competition, principally for the satisfaction I get when I can show a product of my own brand (i.e. my run, with my music, and my combos).
As for Battle, it is a competition which makes you work on the "situationality" (where did you say there was a complex word?). Whereas Individual mainly hangs on 'before' (building-up), Battle concentrates on 'now' (the situation). You have to use your capacities of adaptation: to the rivals, to the jury, to the groups… you will not make the same tactical skating choices if you have to fight against Top-10 skaters or against non-ranked people, if the jury focuses more on technique or on style, if you are in a qualification group or in the final group, etc…
And you can re-use these capacities you develop in both exercises when you find yourself in trouble: never mind if you forgot your combos in Individual if you can improvise, and never mind either if you lack inspiration for a moment in Battle if you can rely on set combos. These techniques are to be used with moderation – exces is always a bad thing!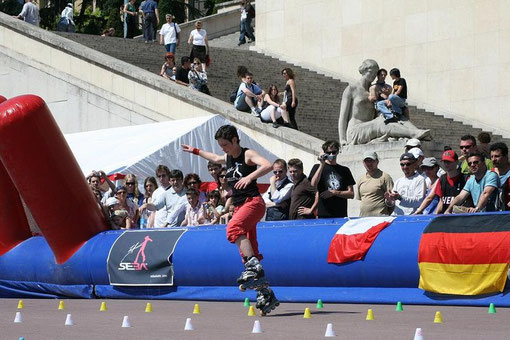 What do you like best in slalom?
What I like about freestyle-skating is the fact of being unbridled by conventions (as for the tricks), it is its non-academic side: the more you invent, the more you do it yourself, the better it is. There is still this idea of freedom and release, the potential of which I immediately felt when I began, that is predominant: a freedom, both creative and physical (so good to feel the wheels under your feet).
What are you favourite kinds of tricks?
I do not actually have tricks I like best... I have more like fads that come and go. Generally, I like it when it turns... and the best is when I manage to put a kick of my free leg somewhere – anywhere! I love this concept of voluntarily challenging your balance (with a kick) to then use it as a base to do another trick (i.e. starting a trick being voluntary unbalanced – an unbalance generated by a kick). You can get things more complex in adding a pivotal parameter: the association of a kick and a turn, and how to make the most of it. (and things can get even more crazingly complex when you realise that a mastered kick can enable you to find your balance again).
And recently I have found a brand new game: putting jumps here and there. And the top is when I manage to put a kick AND a jump AND turn!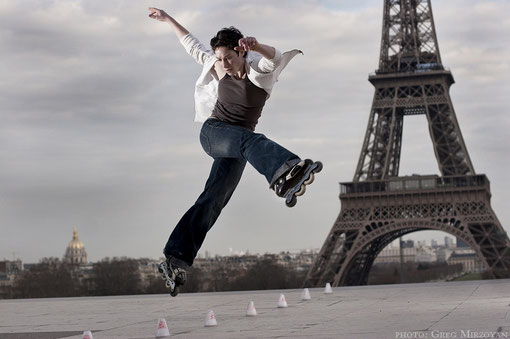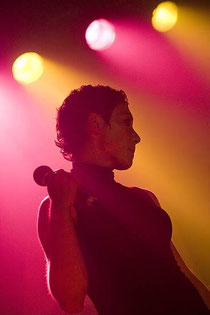 Other passions?
You must have felt it in my previous answers... but well...
I've got another great passion in parallel, which is music. I used to play the violin before starting seriously roller-skating (...and before ravaging my fingers, and thus jeopardising my evolution in violin). After having quitted the Conservatoire (2003) (all the better to skate, hehe), as I missed music, I learned chords at the piano and at the guitar and I had a go at writing and composing. Two years later (2005), I met a band-looking-for-a-female-singer, a electro-rock band from Bordeaux (Akouphën) with whom I performed quite a lot on stage and made an Album. (2007) Once again I found myself in front of that same dilemna: skating or music? ...once again won by skating, and I left the band to settle down in Paris.
Freestyle-slalom skating is a kind of a compromise as it is a creative physical activity (which reminds me of the good parts of dancing – an old passion, at least in its Ballet aspect) where music is welcome.
Thus, both of these passions (music and skating) have some common points, but it is hard to hold them currently...
Anyway, I miss too much music, and I intend to get back on stage one day or another! I've got two new projects on their ways – one in which I'm working on my own personal compositions (still at work), and another one in which I'm a performer for a French Pop-Rock composer (Chloé-TV Myspace).
More to say? Special thanks… ?
Above all, I wanted to thank myself to have offered me the opportunity to deliver such a long monologue about my skating life.
And special thanks to the people I cited during this auto-interview (particularly Seba for all the opportunities, Igor, Nat, Francky, Christophe) and to the people I did not cite but who were (and still are) none the less of great support (particularly Mylhie, Oph, 'n friends)