INTERVIEW with KIRILL RYAZANTSEV
aka ReKiL
Collected on May 20, 2010
By Close Yr E's
FRENCH Version Available HERE !!
ReKiL, it's a simplified shortcut for the complicated initial gobbledygook Kirill Ryazantsev. ReKiL is part of the first generation of Russian Freestylers. And he holds the national longevity record, as he is the last survivor in competitions (in the skaters' side – not in the organisation's).
But he is not just a common ordinary representative: he is none other than the current World Champion in Slides! You want to know his secret? Being into everything to improve your performances in the different skating fields.
Skating is [his] life... This sounds like the motto of an obsessional skating nerd. But in fact, he managed to create a multitude of dimensions to skating, and turned it into a colossal project with far-reaching interests: through skating (the key element of his project), he combined a bunch of activities, the basic common idea of which being: contributing to the evolution of skating by sharing.
Sharing of knowledge: His Roller School, founded 5 years ago in Moscow, is now gathering more than a thousand sudents.
Sharing of information: Since 2001, ReKiL is one of the most prolific shooter/editor of videos, edits, summaries and trailers of events...
Here is a complete interview recounting ReKiL's evolution in the diverse projects he's been working on, from 1999 'till today.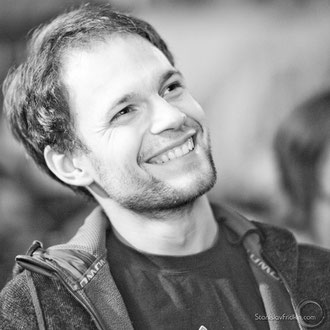 • Name: Kirill Ryazantsev
• Pseudo: ReKiL
• Birth date: 05 January 1984
• Nationality: Russia
• Job/occupation: 
Inline skating / Roller School REKIL.RU founder and trainer.
• What is skating for you?
Skating is my life.
A JACKOFALL TRADES
You practise lots of skating disciplines… which ones?
Speed and freestyle slalom, but also all kinds of freeskate disciplines: long-, high-, free-, freestyle jumps, slides. And sometimes speedskating on short distances. 
How come you do so many different things?
My major aim and interest is to improve my overall skating level. It's easier to do freeskate after doing slalom, and if you skate fsk a lot, it helps to do slalom tricks. I also have to know all the tricks to show them to my students. So I stay tuned up, always watching for new waves in skating.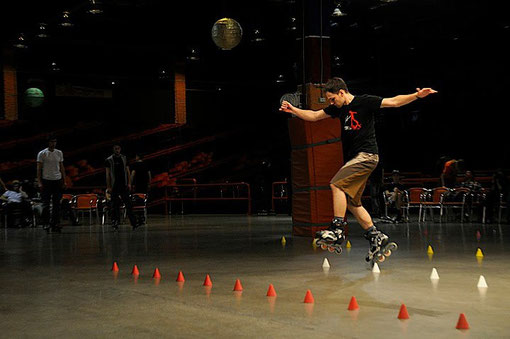 EVOLUTION
How long have you been skating?
This year in June, it's been 11 years since my first steps on skates.
Do you have an anecdote on how you started skating?
It was 3 A.M., out of town in the streets of my holiday village, when I asked my friends to give me skates. At that time I had a girlfriend, who liked to skate, and I decided to spend more time with her. That was my motive to start skating. Two years after, I won a slalom competition.
What aspects of the different disciplines attract you?
• Slalom-skating is a perfect thing to improve your understanding of skating. You can discover and create new tricks and combos every day. It's very interesting.
• Freeskating, it's freedom, it's a way to prove yourself. And it's really extreme when you do big jumps, long slides.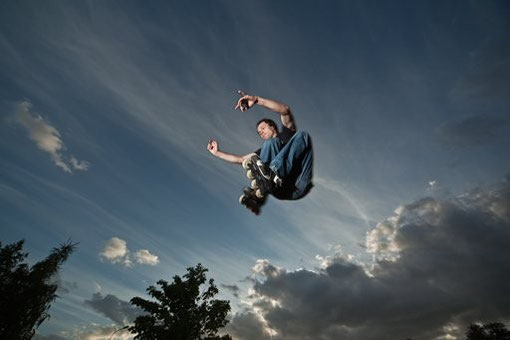 SEVERAL HATS
You are a skater but not only, you exploit skating to the max: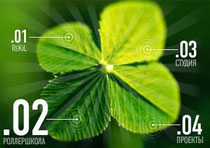 …As a teacher: Tell us the story of your Rollerschool (Rekil.ru)?
• I started to teach people to skate about 10 years ago, when I wasn't a professional in skating. But I did my best to improve my skills, and day after day I gained experience.
• 5 years after, I felt myself ready to try group lessons: my level of skating was higher, and I had many ideas about how to make people skate better in safe and easy ways. It was FSK-1 course, which included many freeskate tips and tricks. I received many positive responses, and started courses for beginners and slalom skaters.
• Today we have about 20 different programs, and more than a thousand students.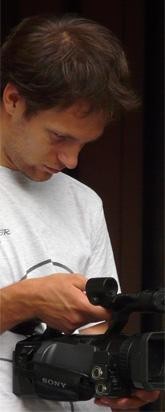 …Through videos, entertainment?
• I started to shoot videos in 2001. In 2002 I edited the slalom video ISSUEs, and it was very interesting at that time. In 2004, I made the film MUVI, and went on shooting events.
• Today, it's a hobby: Making videos of contests, and footages of major events, it's my contribution to skating, to its history. My videos of 2010 are here...
…Others?
• REKIL.RU in Russia, it's not only a school: now it's also a team and we have many interesting projects. The oldest project from 2005 is FSK-TNT: it's not a contest, but a main fsk event in Russia every year. It's a kind of meeting and show of the best freeskaters, who compete in jumps on real hard spots at night. Seeing is believing.
[See Video below]
This year we plan to finish the official website and upload more than 15 videos from FSK-TNT, from part 1 to part 10.
• A youngest project is RAN: Roller Adrenaline Night. It's a slide and jumps contests, the Slide Cup of our school. There were 6 stages in 2009-2010, and we plan to continue it this year.
And that's not all, there are other projects…
COMPETITIONS
Tell us about your trainings?
I can't say that I train much. I skate a lot, train people a lot, learn all the tricks that I see, but for competitions it's not enough. But I like competing, and winning with skaters who train much more than me.
You take part in all freestyle categories (speed, battle, slides, jumps)…
Because I like skating, that's why. And it helps me to improve my skating level. My preferences for the moment are slide competitions.
Which Titles you are proud of, and why?
I have more than 50 wins, and I was in Top3 more than a 100 times. But every place on competition is a result, which is important for me.
• I'm proud of my first international win in 2005 in St.Medard (fra) in speed slalom, and of course I'm proud of my World Champion title in Slides in Shanghai 2009 (chn).
• I remember once in 2005 In Russia, when I won all the 4 men disciplines in a competition in St.Peterburg: speed and style slalom, slides and jumps. Today it is much harder to stay in the top everywhere.
• Heh, and I remember in Kiev 2009, when I beat Igor Cheremetieff in all disciplines. It was partly my luck (especially in battle), but it's a fact. He swore not to enable me to do this again.
You are the current World Champion in slides… tell us about it! Did you think you could do it? How does it feel?

I don't remember that I thought about winning before it. The one time that I was sure I was 1st, in Shanghai 2008, I ended up 3rd. So I just did my best, using all my competition experience, power and skills. But it was quite nervous waiting for the results. It was a real surprise when one of judges, going out of training area after competition, saw us sitting on a bench, and said:
-          Hey.., Russians!
-          Yes?
-          One of you guys won slides, great, yeah?
-          )))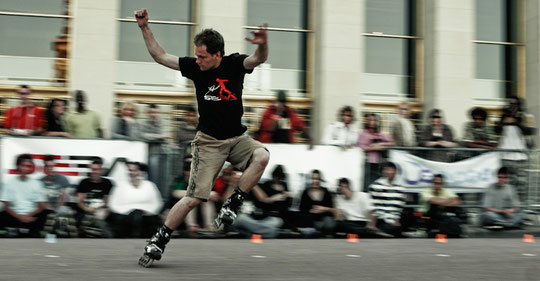 BESIDES
• Do you have other passions?
Of course! But I have not enough time for them. For example, I like volleyball, it's my first sport. But I haven't played for one or two years, now. As for wintersports, it's snowboarding, but I spend only one week a year in the mountains. Now, my passion is acrobatics. Next winter I plan to try skies.
• What do you do when you don't skate?
Sleeping, driving car, kissing girl)) *joking*
• More to say? Special thanks… ?
Thanks to my sponsors, SEBA and ROLLERCLUB. Seba created the real inline skates, I've loved them since 2005. And Rollerclub does a lot for the school and for me, so that I can concentrate on skating, making video and developing skating. Thanks to you Chloe, for giving interviews. It's very interesting to read about others. "Priviet" to all my friends also!
LINKS
• Websites?
ReKiL's Website
ReKiL's Facebook 
ReKiL's videos on Vimeo
• Pics?
ReKiL's interview,
Collected on May 20, 2010
By Close Yr E's