World Slalom Series 2009
REPORT
FRENCH Version available HERE!!

FIGURES...
In 2009, the number of participants in the World Slalom Series increased a lot: The WSS attracted 810 skaters this year, against 629 in 2008. The increase is more important in the Womens Category than in the Mens.
• In Freestyle Slalom: +28,8% skaters compared to 2008 (+24% for Men, and +41,4% for Women).
• In Speed Slalom: +35% skaters have compared to 2008 (+29,8% for Men, and +51,6% for Women).
This year, the number of represented countries has also increased: a total of 36 nationalities from all over the world – Europe, Asia, North and South America, Africa, Australia, Middle-East…
…Here is a feedback report on the WSS 2009 Season.
MENS FREESTYLE
The most significant upheaval of the season is the climbing up the World Ranking of the young German Martin Sloboda, who collected victories and honorary places until reaching place #1 at the Top of the Ranking in August (3 wins in Main Event + a European Champion title). The Chinese Guo Fang, who had robbed Igor Cheremetieff of the first place in March, retained it five months in a row – until Martin Sloboda got hold of it.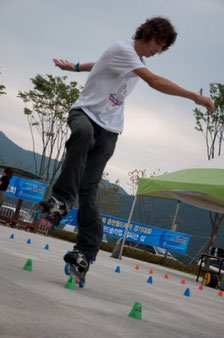 • Martin, what is your feedback on the 2009 Season?
M.S. – My first, and nicest, victory was in Moscow (March) for the European Slalom Battle Championship, where I came first. After this competition, I was self-confident for the rest of the season. Then, the most important competition was in Paris (May) where I came second after a very tough battle against Kim Sung Jin (Kor). After that, I knew I could do even better and I went to Hannover for the Inline Games (August), where I won against the title-holder Rudy Op't Veld (Ger).
Two weeks later, this is when my big trip started: first stage was in London, then around the world in Shanghai (China) and ChunCheon (South Korea) all in a row. The final results were two wins, in London and in ChunCheon, and a good second place in Shanghai against Wang Heng (Chn).
I also took part in other smaller competitions, like Madrid, Munich, Cologne and Kiev where I won too.
• Which skater impressed you the most this year?
M.S. – This year, Xuan Le and Igor Cheremetieff impressed me a lot because of their ease on skates and their unique styles.
• What are your objectives for 2010?
M.S. – The main objective for 2010 is to have fun. That's the most important. Enjoying freestyle slalom with nice people. And meeting new skaters and discovering different cultures around the world.
Igor Cheremetieff had his ups and downs this season. He who had won nearly everything in 2008, had to fight to reach the finals in the Main Events this year, and he won only one Main Event competition, in Classic Individual at the ChunCheon Leisure Games (Kor). However he still got eight wins in Basic events, and his results enabled him to reach place #2 at the World Ranking.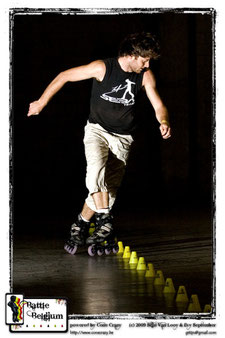 • Igor, what is your feedback on the 2009 Season?
I.C. – I'm very satisfied with my final ranking, especially when I think about my results in the Main Events where I didn't reach the finals! (Paris-Moscow-Beijing). I really did a lot of competitions this year and met so many skaters, it was awesome.
I was very surprised with my final ranking in Speed slalom because I never considered myself a real speed-slalom skater, but I did good performances (for example, I came third at the Shanghai World Championship). It is astounding how much the World Series have develop – it's only two years old, I wonder how I'm going to do to take part in all the events I'd like to go in 2010… I'll have to make choices!
• Which skater impressed you the most this year?
I.C. – Martin Sloboda: he improved spectacularly in only a few months, between January and March. He has acquired an impressive mastering of wheelings (Special one foot, back wheelings…)
• What are your objectives for 2010?
I.C. – I'll try to remain in the Top-3. You know in finals, most of the time I'm ten years older than my opponents, I want to try to show them that they should respect their elders!!
I also want to get more involved in organizing and judging to help develop slalom-skating in places where I can bring and share my experience.
Kim Sung Jin (Kor) ends up in #3 position with two wins in Main Events.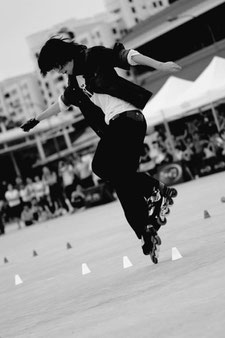 • Sung Jin, Can you analyze your performances of 2009?
KSJ – My performances? Well… actually I don't know because I was pressed for time. As you know, I had been studying for the Uni during 2008, so that in 2009 I was one year late compared to the other good skaters. I think my 2009 season was to fill a 1-year gap with the others. Actually, I was lazy after my exam to enter at the Univ in winter (2008-09), but I knew well what I had to do at that time so I could start again.
In Beijing competitions, I think I was lucky because I got prizes in four fields out of four. Especially, Speed competition was awesome. I have never practiced Speed intensively. But I got the second place. I think it's because I had a good list of matches.
In Paris, I was very happy to get a first place because that was the first time. Actually, it was very hard to skate with the tilt ground but I tried to enjoy all the same. I think that's why I managed to do that.
In Shanghai, I was in the worst condition ever: I wanted to drop out because I had fever. My temperature was a bit more than 40°C (my tattoo sticker even melted). And although I did the worst performance ever, I'm glad I finished my show without giving up – for the audience, and above all for the Korean team.
• Which skater(s) impressed you the most this year?
KSJ – There are two skaters: the first is Martin (Sloboda) from Germany and the other is an unknown Chinese slalom skater. Martin was good in Russia and in so many other competitions. As for the unknown Chinese slalom skater, I couldn't see him well in Shanghai, but I heard he was very impressing. These are the reasons.
• What are your objectives for 2010?
KSJ – For the 2010 season, I'd like to do my best for myself. In 2010, I'd like to take part in the most competitions I can in the world. Fortunately, I did apply for a leave of absence from Univ this semester so I will be waiting for being invited~:D If you want to invite me, just contact me to my mail~! Haha! My first competition in this year will be Battle SPB in Russia. I will do my best and enjoy skating with the other skaters.
MENS SPEED SLALOM
This year, Speed-slalom was dominated by the Italian Tiziano Ferrari who ends up #1 on top of the 2009 World Ranking with two wins in Main Event and a European Champion title.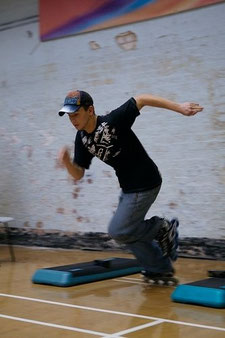 • Tiziano, Can you analyse your performances all along the 2009 Season?
T.F. – My season started in Moscow (European Championship), I was a little bit nervous because I knew there were a lot of fast skaters. After Moscow I was so excited and I repeated my feats during the Italian championship, which motivated me all the more. It made me feel just like as if I was the fastest, and I trained more and more to improve my times.
Afterwards, there was the PSWC (Paris). I was so lucky, because Yohann (Fort) got out at the qualification run… During the KOs I was still nervous because there were still Savio (Brivio), KSJ, Jimmy Fort, and Romain (Lebois)! But once again I said to myself "be careful, you mustn't do any penalty." And wow for the second time I won in WSSA!
One of the best rivals this year was Davide (Piacentini), my friend: he won against me in Battle Belgium in final, and in Hannover, all the same in final!
Maybe I was nervous because we trained a lot together and I know how fast he can be. In fact it was the occasion for me to improve more and more.
I also did a good competition in London!
I'm very happy about style slalom too: I did good places during the year, and this, thanks to other skaters who helped me; I learnt a lot from them.
At the PSWC I got a double 5th place in classic and battle, in Mönchengladbach I ended up 2nd in speed and 5th in style, in Belgium 3rd, in Hannover 5th, in London 6th, in Madrid a 4th place in style, in Munich a very good 2nd place and another victory in speed slalom… and... I'm sorry I couldn't be there in Shanghai and ChunCheon! I tried to, but it was impossible…
So, on the whole I'm very very happy about my 2009 season.
And now the most difficult thing is to keep my ranking, because next year is going to be tough for sure! But I'll do my best!
• What are your objectives for the 2010 season?
T.F. – I have many objectives: I hope to keep my ranking, but I will have to work hard to defend it! And I want to improve in style slalom, to get better and better. And meet more skaters. And have fun, as always.
Tiziano Ferrari (#1) is followed by Igor Cheremetieff (#2) who won one Main Event and showed steady results on the other important competitions. JB Milleret (Fra) gets the #3 place thanks to good performances during big events.
• JB, Can you analyze your performances of 2009?
J.B. – First of all I have to say that I am very happy with my world rankings in both speed and freestyle slalom for 2009. However, if I have to analyze my performances, I think I can do better at speed slalom and this gives me an objective for 2010: practice more and try to do better.
On the other hand, I wish I had gone to more competitions. I only had time to go to main events and I wish I had had more time to go to more smaller events as they are my favorite :) more time to skate with people, more relaxed atmosphere and they are excellent training.
• Which skater(s) impressed you the most this year?
J.B. – I have been very impressed by Rekil (Kirill Ryazantsev) and all the slides he has been doing at the different slide competitions. I really like slides, I thought his technique was very good and his slides were "clean".
• What are your objectives for 2010?
J.B. – For 2010, I would like to go to more competitions, smaller events as I like to meet new skaters. I will also try to maintain or improve my ranking in speed slalom and finally I am looking forward to defending my UK title in our FIRST UK series! :)
WOMEN
In the Womens category, Chloé Seyrès (Fra) establishes her superiority in getting back the world #1 place in Freestyle to Chen Chen (Chn) in March, and ends up the season with a double first place in Freestyle and Speed thanks to four wins in Main Events (3 freestyle and 1 speed) and one European Champion title. This year was no easy task though, and the fight was tough, especially against the skaters from Russia, Italy and China.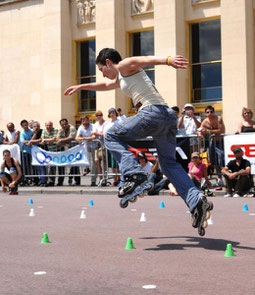 • Chloé, what is your feedback on 2009?
C.S. – My season shot off at top speed: after my double World title in Singapore in December 2008, there followed a 2009 European title (unhoped for) in Moscow, which enabled me to get back the first place at the World ranking. All along the season, I did good results on the whole, and this enabled me to retain it 'till today, despite a little down in international competitions at the end of the season.
• Which skater impressed you the most this year?
C.S. – The first I'm thinking of is Nadezhda Zelenova (Rus): a formidable technique. There's also Marina Boyko (Ukr) who has drastically improved her technique in only a few months. And in speed slalom, there's Barbara Bossi (Ita) who can compete with men's times, and whose steadiness is impressive.
• What are your objectives for 2010?
C.S. – My objective is to keep my ranking, which isn't going to be a piece of cake given the other opponents springing up from everywhere… but this is a good challenge! I know that 2010 is going to be much trickier than 2009.
Barbara Bossi (Ita) makes a sensational entrance in the World Slalom Series in winning 3 Main Events (2 speed and 1 freestyle) for her first season: she is #2 in speed slalom at the final 2009 World Ranking.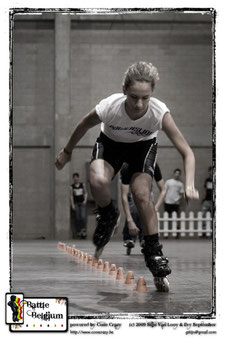 • Barbara, what is your feedback on 2009?
B.B. – Well, first of all it has been a great season for me. I didn't expect the results I had and I'm very glad about it :) I think that it has been a 'growing' season: at the beginning it was not so good and it got better in the end. And that's always a good thing!
I'm also happy because I started this year with battles and I have a lot of fun meeting new people, going to places I've never been, and the context is very different. If I compare to the competitions I did before, it reminds me of the old urban contest in Lausanne… I mean, it's very friendly :)
As for the bad points... Well I don't know :) I think that maybe in Paris I could have done something better but... we'll see next year!
• Which skater-girl impressed you the most this year? 
B.B. – Oh that's difficult! When I first saw the Russian skaters (for example Zelenka and Lika Babiy), I was stunned because of their balance and flexibility, but Chloé Seyrès is also amazing, she's so strong and, I don't know how to say but, she seems to be surrounded by pure energy!
• What are your objectives for 2010 ? 
B.B. – Getting better results than last year and improving my style a lot. But if I don't pass my final exams I won't do competitions! I had almost forgotten it!
[About Speed] Who doesn't want to be n.1? Of course I want to and I'll fight for it!
[About Style] Well, maybe get nearer to the podium :)
The only performance of Chen Chen (Chn) this year was a double World title (Classic+Battle), which enabled her to remain at place #2 in the world ranking. She couldn't get out of China because of Visa problems, but she's been efficient just at the right time.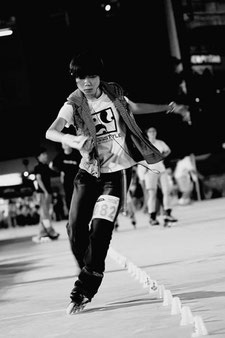 • Chen Chen, Can you analyze your performances of 2009?
C.C. – Actually, I am not very satisfied with my performances of the 2009 season. For example, I didn't manage perfectly some difficult tricks, which I found dramatic, especially wheeling seven which I didn't show fully at the 2009 World Championships in Shanghai.
And I need to update my style of performance. My goal is to do powerful and memorable performances. As for technique, I need to focus on stability for all kinds of forward wheeling tricks.
• Which skater(s) (girl) impressed you the most this year?
C.C. – Su Feiqian (Chn) deeply impressed me at the world championship 2009. She puts her dancing and her unique style into freestyle sport, and I find this amazing.
• What are your objectives for 2010?
C.C. – For me, I really don't know what will be happen in 2010.but I will try my best to stay in the world Top-3.
Because my studying becomes more important, I need to find a balance between skating and studying. And I need to crack some difficult tricks and improve my style.
But I won't stop training and skating!
Polina Semenova (Rus) has been regularly on podiums all along the season, without any wins, but this enable her to reach place #3 at the World Freestyle Ranking.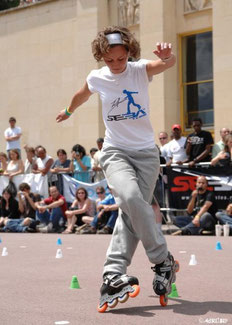 • Polina, Can you analyze your performances of 2009?
P.S. – Well, I can try at least. :) I think my performances weren't stable last year; results were different from one time to the other: One month I was on the podium and the month after I wasn't even qualified for the final… but I think it's not so bad: I was trying to do some new tricks and to do more wheelings. But in fact it's much better to skate perfectly, and play safe without anything new. I also tried to make an individual program for Shanghai, more or less to the music. I can't say that I liked my program, but I even got a place on the podium for it and I was surprised, honestly. I wish I can skate more… I don't know, more stylish… not just trick-trick-trick, but more open and interesting. I hope I'll be able to do it next year. So, it was a good year with many competitions and I hope it will be even better in 2010.
• Which skater(s) (girl) impressed you the most this year?
P.S. – Only talking about girls, it's not difficult to say, it's Chloe (Seyres) for sure. The main reason – her skating is not boring, it's just dynamic and it's really cool, it's important to be able to improvise on skates and make it both so easy and technique,  that's great. I should stop preparing lines and do the same I think, it's much better, but more difficult for me.
• What are your objectives for 2010?
P.S. – Well, first of all, I hope that I'll feel like skating more and more, and that I will find an interest in it, that it won't be just like some "must-do" training. I hope I'll be able to change my skating style and skate freestyle without any preparing before. I want to do more tricks of course and I hope I'll have fun with my skating, competitions and trips. And I'LL NEVER LOST MY BAGS WITH DOCUMENTS AGAIN.
…I hope! =)
Chiara Lualdi (Ita) the young Italian, achieves a good performance and ranks #3 at the Speed Slalom World Ranking for her first WSSA Season, thanks to, amongst others, her first place at the PSWC.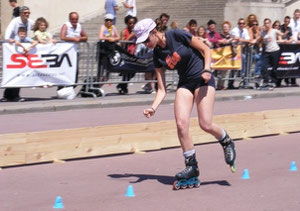 • Chiara, can you analyse your performances of 2009?
C.L. – I'm very glad with my performances of 2009: in Italy I won nearly all the competitions, like the Regional Championship, the two National Championships (UISP and FIHP), and the Rollercup. As for the other foreign competitions, I got a first place in speed slalom for the first time in an international competition at the PSWC :D it was just like a dream come true! And still in Paris, I came second in Classic. At Battle Ancona I did two second places, in battle and in speed;  in Hanover I ranked third; in London second in Speed and third in Battle; and in Munich second in Speed.
• Which skater (girl) impressed you the most this year?
C.L. –Nadia Zelenova: she does super amazing tricks for a woman! And Chloé Seyrès too: I love her style… she does very good and very hard combos.
• What are your objectives for 2010? 
C.L. – My objectives for 2010? Well… I hope I will confirm my results of this year, and even improve them!
I would love to go to Asian and American competitions too… it's a great dream I have. I also hope to meet even more foreign people than last year, I love meeting new people!
The EVENT OF THE YEAR
according to...
Chloé Seyrès – The event I liked best was the PSWC in Paris, because of the huge proportion the event took: A three-day comp' with skaters from all over the world, an amazing general level… in my own town! On top of that, it enabled me to share with my friends a glimpse of what I experience in the big competitions abroad.
The destination I liked best was Kiev in Ukraine; it was one of the discoveries of the year, a very nice surprise.
Tiziano Ferrari – Humm. My favourite....waaaas.... in Moscow I had a lot of fun and adrenaline! but… it was the PSWC. I preferred the PSWC. It was a upholding for me. I had incredible moments, and there were also other Italians to support me =)
Kim Sung Jin – I think it was Paris competition. There were so many viewers, good skaters and the venue was very very good and famous because who's never heard of the Eiffel Tower? In addition to this, Friday night was awesome although I couldn't take part. It was like a festival. :D
JB Milleret – My favorite event was the Chuncheon Leisure Games competition as the location was nice (It was my first time in Korea) and the atmosphere was relaxed amongst skaters. Also being part of such a big event was a great opportunity to advertise for our sport :)
Barbara Bossi – At the PSWC I had a lot of fun and the whole organization was veeery good. But for the results I choose SkateLondon of course :D
Igor Cheremetieff – The PSWC, even if I didn't make the most of it because of my taking part in the organization, but it was just so cool to see all these skaters coming from everywhere, with a beautiful weather and an hysteric public. There were other events which in which I really had my fun, like the ChunCheon Leisure Games and Kiev.
Chen Chen – Of course, the World Championships 2009 in shanghai were perfect for me.
I could communicate with different friends from all over the world, and study their advantages. Because my improvement comes from communication, not only from myself.
Martin Sloboda – I really liked the Inline Games (Hannover) best, because for me, it was a relaxing event. Moreover, there was a good atmosphere and I had great fun with the other skaters :)
Polina Semenova – It's not so easy to say, I have really good memories about every event of last year. And of course my China trip was the most emotional; it was a crazy experience to stay alone without documents in China and try to get back home [nb: got her bag stolen]. But seriously, Paris Slalom World Cup is still my favorite event: skating on the Trocadero and seeing most of the skaters at the same place, it was just great. Especially this year when we had a Barcelona Battle just after; so I choose this one for many reasons. It was really good time. ;)
Chiara Lualdi – The event I liked best was the PSWC. It was very entertaining superb… with the sun, the atmosphere, just in front of the Eiffel Tower, very well organized… and I met lots of very nice people from all over the world ;) everything was perfect!
The SKATER OF THE YEAR
according to...

Chloé Seyrès – This year, it was the discovery of Martin Sloboda, whom we saw rocketing in only a month, blowing up everything, reaching place #1 at the World Ranking, and showing his worth in the international Freestyle world. Amazing feat!
Tiziano Ferrari – Martin Sloboda because he's a good friend and he really showed incredible skills all along the season. He is the "NEW" pro skater, he's got a real talent.
Kim Sung Jin –  Hmm…. I think this question is duplicated with the above question. But, if I have to choose one, then I'd choose Martin Sloboda. He is young and he has only a short career behind him, but he was outstanding in 2009. I think it's enough to be the skater of the year.
JB Milleret – This is a tricky question to answer. I think I will remember the performances of Pichaya Pinyojarassang. I met her in 2008 in Singapore and was very impressed by how much she improved in one year. Congratulations Pichaya!
Barbara Bossi – Without any doubt, the best male skater (like Oscar awards XD) is Martin (Sloboda), because he's so young but very very technical and with style... He possesses the perfect mix of what a skater needs: balance, elegance, good tricks... And of course because he had the best results.
Igor Cheremetieff – Martin Sloboda, for his results this year. I also want to give a special distiction to Liao Jie (Chn) who surprises me each time I meet him: he's got his own original way of skating, both technique and very clean.
Chen Chen – In my opinion, Bao Huifa (Xiao Mo) is the best skater of 2009. His creation, appropriate rhythm with music when he does his Classic, he just not only makes a show for the audience, he enjoys freestyle skating with passion.
Martin Sloboda – It's a very difficult question. After reflexion, I'd like to give the title of Skater of the Year to Viktor 'Generator' Meleshvich from Russia. A good skater, very powerful, and I hope I will be able to take part in more competitions in 2010.
Polina Semenova – Arrrr, it's not fair… only one??? Ok, I was impressed so many times by Martin last year. When I thought that it was impossible to do something more difficult with wheeling, he did another crazy trick and it's just amazing. I think his results are a big stimulus to train for the other skaters and especially for beginners. That's what I could see in Moscow at least. But I hope that this year he will start to do more different tricks, and that Battles are not going to become some kinds of wheeling contests.
Chiara Lualdi – I'd say the "Skater of the Year" is Martin Sloboda. He does absolutely super tricks. For example at the PSWC when he did four lines doing wheeling transitions front/back I said to myself "Wow! Incredible". And in each competition, he just did amazing things. And he's not been freestyle skating for a very long time… so it's just great!
FINAL Top-10 of 2009
The complete final ranking is available HERE!
• Mens Freestyle
Sloboda Martin

(

Ger)

Cheremetieff Igor

(

Fra)

Kim Sung Jin

(

Kor)

Zeng Jian Bo

(

Chn)

Opt'Veld Rudy

(

Ger)

Le Xuan

(

Fra)

Liao Jie

(

Chn)

Guo Fang

(Chn)

Lan Wang Heng

(

Chn)

Shevarutin Dmitriy (Rus)
• Mens Speed Slalom
Ferrari Tiziano (Ita)

Cheremetieff Igor (Fra)

Milleret Jean-Baptiste (Uk)

Ryazantsev Kirill 'ReKiL' (Rus)

Shitov Andrey (Rus)

Kim Sung Jin (Kor)

Laffargue Sébastien (Fra)

Le Xuan (Fra)

Ulivieri Luca (Ita)

Gurevich Mischa (Rus)
• Womens Freestyle
Seyrès Chloé (Fra)

Chen Chen (Chn)

Semenova Polina (Rus)

Nadezhda Zelenova (Rus)

Babiy Angelika (Rus)

Bossi Barbara (Ita)

Violeau Fanny (Fra)

Ziertmann Anya (Ger)

Boyko Marina (Ukr)

McIntosh Megan (Usa)
• Womens Speed Slalom
Seyrès Chloé (Fra)

Bossi Barbara (Ita)

Lualdi Chiara (Ita)

Violeau Fanny (Fra)

Lysenko Kristina (Rus)

Fadina Olya (Rus)

Ziertmann Anya (Ger)

Audrezet Emilie (Fra)

Kwasny Miriam (Ger)

Codazzi Barbara (Ita)
WHAT'S NEXT for 2010?
The World Slalom Series' success has been their undoing: they are forced into modifying the categories of competitions for the new 2010 Season.
Until now, competitions were dispatched into four different categories: quoted 0, 1, 2 or 3 cones according to their importance (Local, Basic, Main, or Major Event).
This year, the categories are shifted forward with the arrival of the youngest and brand-new one, called Starter Event, in which will be classified the informal local events which feel like taking part in the World Slalom Series.
No huge upheaval then: only one more category (five instead of four), which triggers a shifting forward of the quotation of the old categories:
0 cone = Stater Event
1 cone = Local Event
2 cones = Basic Event
3 cones = Main Event
4 cones = Major Event
Full details on the Events categories HERE!!
The National Series are expanding in 2010. It shows that the varied disciplines of Slalom Skating are getting better structured. This year, new national series are organized in Poland, England, Thailand, Italy, Germany, France, Spain…
The 2010 World Slalom Series: