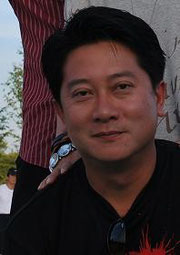 INTERVIEW
with
EDDY CHUA
about the 2008 WSSA World Championship (Singapore)
by Close Yr E's
Interview available in French HERE
Last month I met Eddy Chua, the organiser of the 2008 WSSA World Championship, and I took the opportunity of asking him a few basic things about the organisation:
When will the World Championship take place?
The world championship will last three days: from the 12th to the 14th of December, 2008.
Why three days?
I've got the opportunity to have three days to organise the event. It will enable us to complete everything with less stress.
The 12th and 13th are for the Classics: speed slalom, jam and individual freestyle slalom, and slides. And the 14th is for Battle.
Where will all this take place?
The Classics of the first two days will take place in the Singapore's suburb. The competition area is a thoroughfare because it is just at the entry of a metro-station, next to a big shopping mall (the pictures are taken from this mall).
The battle will be in a different place, at Noveda Square in the city center, also next to a big shopping mall (Velocity), on a concrete surface.
Both areas are outdoors… What if it's raining?
There will be a tent that will cover the whole competition area for the Classics.
But not for the battle, but it can be postponed.
How many people do you expect? As spectators, and as skaters?
For the spectators, it will depend on the places of competition: for the Classics, we hope we will get between two and three thousand spectators; and even more for the Battle, as it will take place in a more popular place into town…
As for the competitors, there should be 20 to 25 countries represented. Altogether on the three days, we should reach 150 athletes.
Will there be prizes for the podiums?
We are currently planning to offer shopping token money for every category.
For the Classics, we are hoping to give 500$ (Singapore) for the 1st price, 250$ for the 2nd, and 200$ for the 3rd.
As for the battle, it also has to be confirmed, there should be 1000$ for the winner, 500$ for the 2nd, and 250$ for the 3rd.
What do you plan for the organisation of the facilities for the skaters?
For the athletes who come, we will provide the food as well as the hotel (three nights: 11-12, 12-13, and 13-14). We have already booked 40 rooms.
Why December for such a competition?
At first, the World Championships were supposed to be in Shanghai in October 2008. But because of the Olympics, Shanghai said they couldn't do it.
So Singapore took over the competition. It was not possible to plan it for October as it is the exam period in Singapore. So we pushed to December because it is a little bit of the Christmas season: it is good for sightseeing, with the Christmas lights, etc…
Eddy, thank you for having taken the time to throw light on these few points. I forward it to the European people to let them know about what is going on! I'm longing to seeing the results…
Close Yr E's
Sept.08