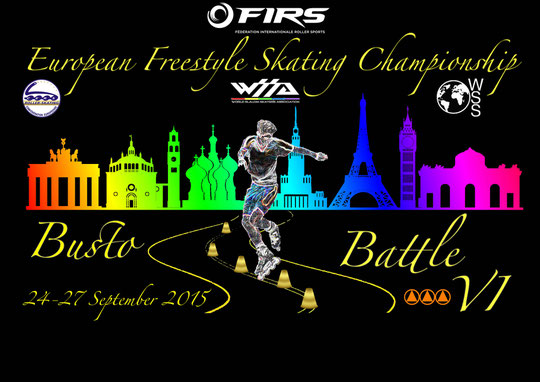 THE 1st CERS EUROPEAN FREESTYLE SKATING CHAMPIONSHIPS  2015
Busto Arsizio, Italy
24 - 27 September 2015
Registration fee : 40 Euros
Freestyle Slides only or Free Jump Open only : 20 Euros
MAXIMUM 6 SKATERS PER DISCIPLINE PER COUNTRY + 2 WILD CARDS* WILL BE ACCEPTED
FINAL REGISTRATION MUST BE SUBMITTED BEFORE 14/09/2015 to ws.polina@gmail.com
MUSIC FOR CLASSIC & PAIR SLALOM MUST BE MP3 FILE AND BE SUBMITTED TO ws.polina@gmail.com BEFORE 14/09/2015
MUSIC PENALTY IS 10pt IF MUSIC IS SENT AFTER 14th SEPT
ORGANIZER RESERVES THE RIGHT NOT TO ACCEPT THE MUSIC FILE IF THE FORMAT IS IN THE WRONG FORMAT OR NOT APPROPRIATE (E.G : BAD LANGUAGE) 
ORGANIZER RESERVE THE RIGHTS NOT TO ACCEPT THE ENTRY FORM IF INFORMATION IS NOT FULLY COMPLETED
REGISTRATION WILL BE VALIDATED ONLY AFTER PAYMENT AND CONFIRMATION OF THE ORGANIZATION (detailed email will be send)
*Only for countries which have two skaters in the July World Top-20

REGISTRATION FORM BUSTO EFSC 2015
Registration form Busto EFSC 2015
Busto EFSC 2015 entry form original.xls
Microsoft Excel Table
675.0 KB
PROVISORY SCHEDULE
Please note, that schedule can change even during the competition and we ask all skaters to be available in competition area at list 1h before the discipline and category they will join.

The training will be possible on September, 24th, Thursday afternoon from 15h00 to 17h45.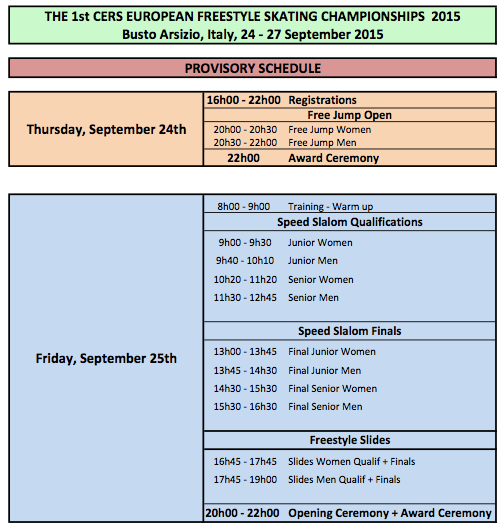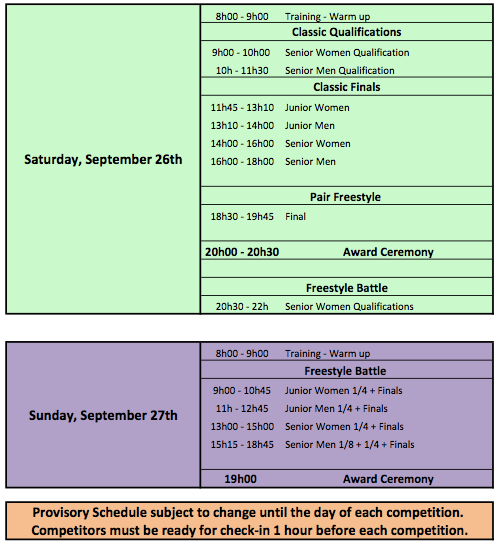 COMPETITION VENUE :
A.S.D. ACCADEMIA BUSTESE PATTINAGGIO
Via Ludovico Ariosto, 3 
21052 Busto Arsizio VA
CONTACT
For questions and enquiries about the EFSC 2015, please contact us by email : 
fabriziolualdi@gmail.com or ws.polina@gmail.com
PARTNERS
Thanks to all partners and sponsors who support our organisation !
ASSOCIATIONS :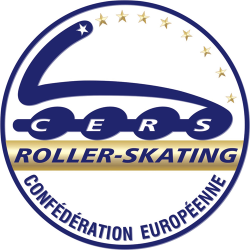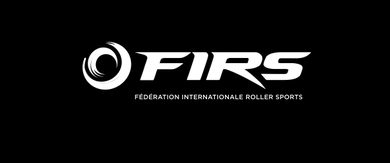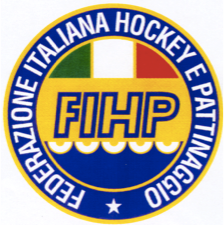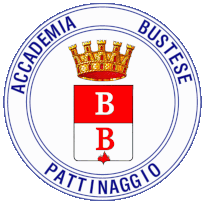 SKATERS' LIST
SENIOR WOMEN
No.
Ctry
Name 
Speed 
Classic
Battle
Slides
Jumps
Pair
1
BLR
Maslowa Vasilisa 
X
X
2
CZE
Miketova Alena
X
X
3
DEN
Lagutina Maria
X
X
X
4
ESP
Fatmi García Miriam 
X
X
X
X
5
ESP
García Patiño Alba 
X
X
X
6
FRA
Cochey-Cahuzac Eva
X
X
X
7
FRA
Daries Aurianne
X
8
FRA
Granjon Zoe
X
X
X
9
FRA
Moreno Laurine
X
10
FRA
Derisbourg Tiffany
X
11
FRA
Arbona Chloe
X
X
X
12
FRA
Conan  Maëliss
X
13
GBR
Peters Chelsie
X
X
X
X
X
X
14
GBR
Williams-Croft Casi
X
X
X
X
X
15
GBR
McKenzie Laura
X
X
X
X
X
16
HUN
Horvath Anna
X
X
X
17
ITA
Raccuglia Valeria
X
18
ITA
Bossi Barbara
X
X
X
19
ITA
Rotunno Cristina
X
X
X
20
ITA
Bertelli Federica
X
X
X
X
21
ITA
Morbidoni Camilla
X
X
X
22
ITA
De Sensi Federica
X
X
X
23
ITA
Lualdi Chiara
X
X
X
24
ITA
Massara Claudia
X
25
ITA
Mazzieri Linda
X
26
ITA
Munari Vittoria
X
X
27
POL
Czapla Paulina
X
X
X
X
28
POL
Czapla Ewelina
X
X
X
X
X
29
POL
Hartmanis Klaudia
X
X
X
X
30
POL
Giruc Paulina
X
X
31
POL
Wojtkiewicz Ania
X
X
32
RUS
Kuznetsova Daria
X
X
X
33
RUS
Korsakova Nadezhda
X
X
34
RUS
Krykova Natalia
X
X
35
RUS
Dubinchik Ksenia
X
X
36
RUS
Zenkova Anastasia
X
X
X
37
RUS
Fokina Olga
X
38
UKR
Boiko Maryna
X
X
X
39
UKR
Boiko Margaryta
X
X
X
40
UKR
Komarchuk Ksenia
X
X
X
X
X
41
UKR
Hotsko Bohdana 
X
X
X
SENIOR MEN
No.
Ctry
Name 
Speed 
Classic
Battle
Slides
Jumps
Pair
1
BEL
Del Marmol Alexandre
X
X
X
X
2
CZE
Pour Tomas
X
X
X
3
CZE
Brandejs Tomáš
X
X
X
X
X
4
ESP
Castro Zamora Antonio 
X
X
5
ESP
Nelson Caro Carlos 
X
X
X
6
ESP
Ramos Nicolás Adrián 
X
X
X
X
X
7
ESP
Guirao Capistany Carlos 
X
X
8
ESP
García Vilar Christian 
X
X
X
X
9
ESP
Piqueres i Gomez Pau 
X
X
X
X
10
ESP
Rodríguez Lozano Gonzalo 
X
X
X
X
11
ESP
García Fernández Brais 
X
X
X
12
ESP
Soler Cabañero Pablo 
X
X
13
EST
Kullap Erki
X
X
14
EUR
Rezende Borger Matheus
X
X
X
X
15
EUR
Rezende Borger Plinio Marcos
X
X
X
16
FRA
Guillou Hervé
X
X
X
X
X
17
FRA
Fort Yohan
X
18
FRA
Claris Alexandre
X
X
X
19
FRA
Fort Jimmy
X
20
FRA
Giron Raphael
X
21
FRA
Lebois Romain
X
X
X
22
FRA
Rayer Alan
X
X
23
FRA
Hairy Jeremy
X
X
X
24
FRA
Fantuz Alexandre 
X
25
FRA
Thierry Teddy
X
X
X
26
GBR
Issy Rahim
X
X
X
27
GBR
Kemp Lewis
X
X
28
GBR
Croft Paul
X
X
X
29
GER
Ferroni Marco
X
30
HUN
Duma Sandor
X
X
X
31
ITA
Rosato Gian Marco
X
X
32
ITA
Rosato Roberto 
X
X
X
33
ITA
Brivio Savio
X
34
ITA
Nai Oleari Simone
X
35
ITA
Piacentini Davide
X
36
ITA
Allegrini Matteo
X
37
ITA
Morrone Federico
X
X
X
38
ITA
Ferrari Tiziano
X
X
X
X
39
ITA
Guslandi Lorenzo
X
X
X
40
ITA
Rotunno Andrea
X
X
X
41
ITA
Quiriconi Nicolas
X
X
X
X
42
ITA
Santoni Nicolhas Yuki
X
43
ITA
Demuru Lorenzo
X
X
X
44
ITA
Sordi Enrico
X
45
ITA
Savi Gianmarco
X
46
ITA
Santos Fernandes Alex
X
47
ITA
Vagnone Lorenzo
X
48
ITA
Chiapponi Gabriele
X
49
ITA
De Marni Marco
X
50
ITA
Gelmi Dennis
X
51
POL
Sulinowski Michał
X
X
X
X
52
POL
Jaworski Dawid
X
X
X
X
53
RUS
Ryazantsev Kirill
X
X
X
54
RUS
Elkin Alexey
X
X
55
RUS
Kozlov Sergey
X
X
56
RUS
Shitov Andrey
X
X
X
57
RUS
Timchenko Sergey
X
X
X
58
RUS
Timchenko Alexandr
X
X
X
59
SVK
Brezník Pavel 
X
X
X
X
60
UKR
Levchenko Anton
X
X
X
X
JUNIOR WOMEN
No.
Ctry
Name 
Speed 
Classic
Battle
Slides
Jumps
Pair
1
ESP
Jiménez Mateos Eva 
X
X
X
2
FRA
Oguey Maud
X
X
X
X
3
FRA
Granjon Lily
X
X
X
4
FRA
Bouquet Alix
X
X
X
5
GER
Mokeeva Elena
X
X
6
ITA
Puricelli Chiara
X
X
7
ITA
Parma Gaia
X
X
X
8
ITA
La Volpe Laura
X
X
X
X
9
ITA
Palo Manuela
X
10
ITA
Romano Sveva
X
X
X
X
11
ITA
Berti Gomathi
X
12
ITA
De Tomasi Sara 
X
X
X
X
13
ITA
Maino Martina 
X
X
14
ITA
Bua Erika 
X
15
ITA
Pollastrini Chiara
X
16
ITA
Guslandi Ilaria
X
X
17
POL
Czapla Justyna
X
X
X
X
X
18
POL
Kozlowska Maja
X
X
X
19
RUS
Smirnova Anna
X
X
X
20
RUS
Bamatter-Rodriguez Olga
X
X
X
21
RUS
Bogdanova Sofia
X
X
X
JUNIOR MEN
No.
Ctry
Name 
Speed 
Classic
Battle
Slides
Jumps
Pair
1
BEL
Van Overloop Hannes
X
X
X
2
CZE
Miketa Ondrej
X
X
3
FRA
Nicolao Ambroise
X
X
4
FRA
Rutard Marius
X
X
5
FRA
Ménard Nathan
X
X
X
6
FRA
Rayer Yoan
X
X
X
7
GBR
Peters Leon
X
X
X
X
8
ITA
Pollicita Upahar
X
9
ITA
Lissoni Alessandro
X
X
X
X
10
ITA
Ferrari Roberto
X
X
X
X
11
ITA
Degli Agostini Valerio
X
X
X
12
ITA
Degli Agostini Lorenzo
X
X
X
13
ITA
Zaghini Eric
X
X
14
ITA
Silva Lorenzo
X
X
15
ITA
Tomasini Alessio
X
X
16
ITA
Monolo Luca
X
17
ITA
Vannucci Nicolas
X
18
ITA
La Volpe Enrico
X
X
X
19
POL
Maczynski Jakub
X
X
X